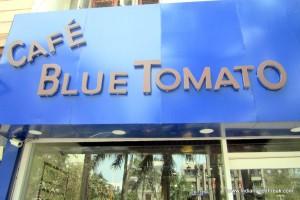 Experience at Blue Tomato can be as unique as the name. Be ready for a bit of walk in the narrow by lanes of "Rajouri" made famous by Kangna Ranaut in Queen, and arrive at Café Blue Tomato only to discover the café bursting at the seams with many many Rajouri ladies in a cozy room with a young, zany décor.
This precisely is our experience as the Café Blue Tomato unravels itself to us. We see a harried owner-cum- Chef Dheeraj Manghotra, a young hotel management graduate from Austria heroically trying to cope with the never ending requirements of the ladies. When he gets the time to catch his breath, he joins us on our table. I first ask him is to ask him what is the magnet that attracts all the ladies to this café and he confesses that this café is a hot favorite amongst the kitty party circuit.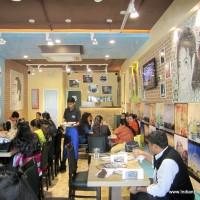 I query him further to understand his choice of location deep in the underbelly of Rajouri. It turns out that there used to be a CCD here where Dheeraj wooed his wife, and realizing that the place was vacant, quickly jumped in the fray.
We start with the drinks first.  Cafe blue tomato refresher (Rs 130) has fresh ginger, basil, lime, soda and sugar syrup making for a refreshing sip. What we enjoy more is the spicy tempt (Rs 140) having guava juice with chat masala and Tabasco which is a truly chatpata treat. The chatpata theme continues with the vegetarian basil and tomato soup (Rs 175) which endears itself to my Punjabi palate, albeit the heat overtakes the more subtle flavor of basil.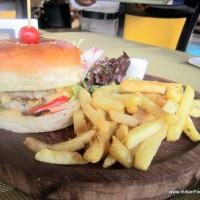 Triple Whopper Burger
For starters we are served Chili Potato cigarolls with a sweet cabbage salad (Rs 195) which is a crisp and competent dish having home-made rice paper sheet stuffed with mash potatoes, green chili, cheese, thyme, served with Sweet chili sauce.  Crunchy chicken Potato salad with garden green lettuce (Rs 190) disappoints with a lackadaisical dressing and wilted lettuce.
For the entrees, I start with a sea food pizza (Rs 270) which has the unusual and tasty combination of fish and prawns on a whole wheat thin crust base. The herb crust fish (Rs 290) is cooked proficiently and I polish the plate. Triple whooper mutton burger (Rs 250) with three layers of minced mutton patty with American cheese is truly a carnivorous delight.
My vegetarian friend has a good vegetarian stroganoff (Rs 250) with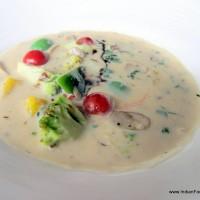 Veg Stroganoff
vegetables in a rich béchamel sauce and herb rice. The fiery pomodoro penne pasta with garlic bread (Rs 245) is professionally made in the chatpata way. However the white wine chicken risotto (Rs 255) is gluggy and dry, missing the mark by a mile.
Liquid tiramisu (Rs 155) is an interesting variant of the classic tiramisu where cake replaces saviordi. The dish is a bit of disappointment and tastes more like a coffee ice-cream I would prefer the good old variation free tiramisu anyday.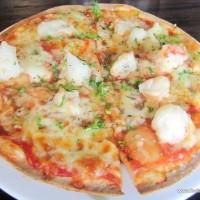 Sea Food Pizza
Café Blue Tomato is an interesting place to be. The food looks good and honestly captures the "Rajouri" taste. The place may surprise you with basmati rice in an Italian recipe or with spicy red chillies in a pasta but these are unique recipe of the Chef. Guests adore it, says he, and actually so do I. It is the place for those who love fusion food and not really for those looking for "authentic" continental cuisine. If you want a good road side European cafe for your Punjabi taste buds – Blue Tomato is the place for you.
With inputs from Ravi Gupta
Ratings out of 5
Food: 3.5 | Ambiance: 4.0 | Service: 3.5 |Overall: 3.5
Meal for Two: Rs 1000 | Alcohol: No | Credit Card: Yes| Timing: 11AM to 11:PM| Address: J 13/12, Patel Market, Rajouri Garden, New Delhi | Phone: 91-11-43778808
Veg Stroganoff
Chicken Potato Salad

Herb crusted Fish
Liquid Tiramisu
Penne Pomodero
Sea Food Pizza
Triple Whopper Burger