Well the cold weather is upon us, despite the rather spring-like wave early in the week. The biggest tell-tale sign of winter's impending gloom for me? Dry, flaky skin around my eyes. It looks horrendous when you try to cover flaking dark circles with concealer! Never having delved much into fancy eye creams to help remedy the problem, I finally decided to try something new. Hoping for something that might brighten my tired eyes as well as hydrate them, I picked up the Tarte Maracuja C-Brightener Eye Treatment and have been trying it for about a week or two now. So how is it going? Keep reading to find out….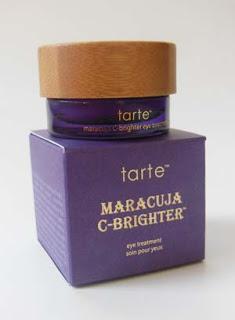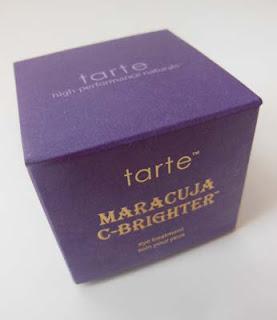 The box says, "Refresh, renew and recharge tired eyes with our eye treatment enriched with C-Brighter™ technology. By harnessing the power of maracuja, Vitamin C and advanced botanicals, this skintuitive™ eye treatment visibly hydrates, firms and brightens the delicate eye area. This intense, multi-tasking eye treatment contains rice bran, mango and coconut nautrally-rich in antioxidants to fight signs of aging and free radical damage, while oat sugars instantly smooth and visibly tighten skin. The nutrient rich formula also delivers the ultimate in hydration for smooth, youthful-looking eyes." Basically, everything I was looking for and since I usually love Tarte products, I figured this was promising.
I love this cream! It is a wonderful consistency – it is not overly thick, which actually worried me at first because I thought it might not be hydrating enough. I'll cut to the chase for once – it is! It has a beautiful, almost whipped texture that melts effortlessly into the eye area. A tiny, not-quite pea-sized amount seems to hydrate both of my eyes nicely without feeling heavy or greasy. The scent is virtually non-existent – so much so that I would call it odorless. Overall a beautiful cream, but how are my shedding under eyes?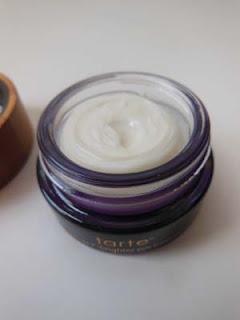 My eye area went from having scaly patches and just overall flaky dryness to supple and smooth! The dry skin is completely gone and it has been about a week since I started using the Maracuja C-Brightener! I'm not sure if the cream brightens at all. I'm terrible at noticing these things as it is, plus I haven't slept well in weeks so my eyes have seen better days. At least I can use concealer again without accenting the no-longer shedding skin under my eyes! Lol

J

I cannot comment on the firming properties either since my eyes aren't showing too many signs of aging…yet. My main concern of dryness seems to have been a quick fix using Tarte's Maracuja C-Brightener Eye Treatment!!! I am so happy that I actually look forward to putting on my eye cream and will get out of bed to do so if I've forgotten! Definitely recommend this for anyone looking for a more hydration around their eyes while also protecting from signs of aging and environmental damage. Tarte's Maracuja C-Brightener Eye Treatment is a dream to use!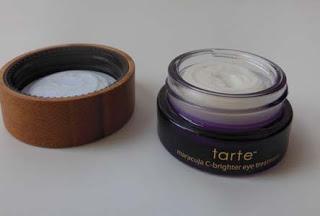 I have only seen the Tarte Maracuja C-Brightener Eye Treatment at Ulta where it retails for $38.00.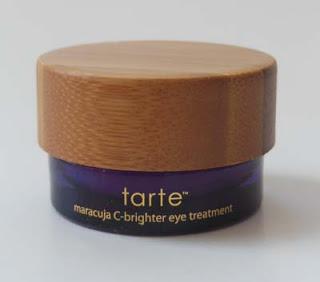 Disclaimer: I am not affiliated with Tarte in any way, nor have I been compensated for this review.