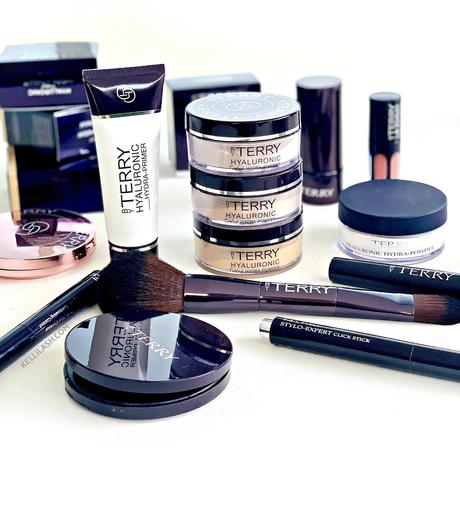 ByTerry
is a staple brand for me when it comes to high performance because they create products that just don't let you down. Whatever the product, their creativity always makes you feel like this is the product you have been searching for. Is it a luxury brand so I suggest it is wise to invest in daily basics/essentials that will deliver all that you want and give your make-up bag a boost! 
I have featured and spoken about many products from ByTerry here on the blog and also my work history with them from my days of working in London and one of the products I have worn consistently and kept in my stocks is the
Hyaluronic Hydra-Powder
because it is one of the
best
. This powder is for everyone; those who like powder, those who don't like powder etc because it is very unique in how it works. So when I heard the news that this icon was getting a few siblings, I immediately needed to get my hands on all. This being said the lovely By Team sent over the new releases for me to delve into and just when I thought ByTerry could not improve on perfection .... they did.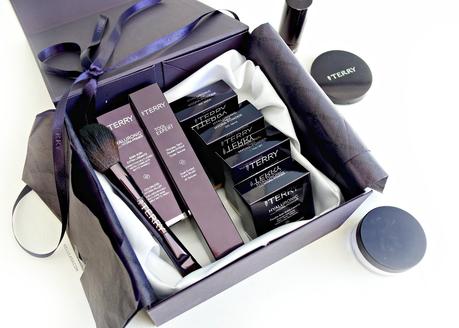 Byterry Hyaluronic Hydra Powders, Primer & Tool Expert
The Hyaluronic Hydra line has some new products joining consisting of the
Hyaluronic Hydra-Primer, Tool Expert Dual-Ended Brush
and the things I was most excited for, the
Hyaluronic Tinted Hydra-Powders
. As this is a product I have loved for years, let's start with the powders ....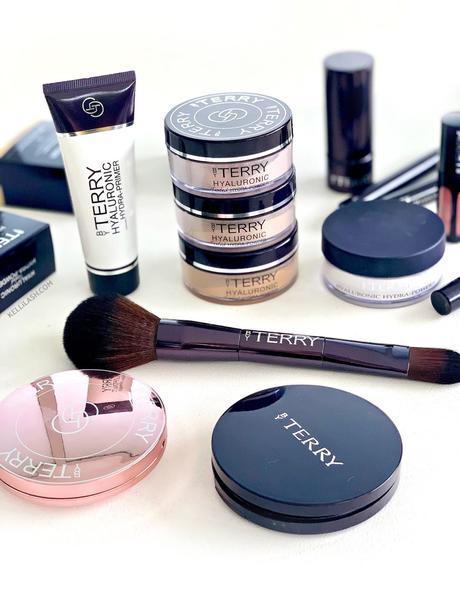 Byterry Hyaluronic Hydra Powders, Primer & Tool Expert
BY TERRY HYALURONIC TINTED HYDRA-POWDERS
8 shades, £41/€46 (buy here)
The famous ByTerry powder formula has been
given colour 
so that it suits a wider range of skin tones! I have said it many times but this powder really does act like a real-life filter as it blurs over imperfections and gives your skin a softer focus. The magical hyaluronic acid microspheres within the powder, attract and retain moisture which is why it won't settle into creases or lines and look un-natural and instead fills in pesky lines and wrinkles.
HOW TO USE
There are a few ways you can use these powders so you get the best out of them. - You can apply all over with a powder brush or just on the main areas you want to set/camouflage. - You can apply with a damp beauty blender or fingers to more targeted areas.- You can touch up with it at any time without it becoming cakey or built up on your skin. - ByTerry even suggests you can even them as a veil over your skincare at night to allow products to work without interference. 
AMAZING!
The texture is barely there and is practically invisible on the skin as it weighs nothing so it can control shine without leaving your skin feeling dry, chalky or cakey looking.  Total magic, that is indeed real. This powder will work to do so many tasks; it will set your makeup so that it lasts for as long as you wear it, mattify the skin, match your skin tone, blur imperfections, fill in lines, give your skin a smoother, more flawless finish. Because it is so light in texture, those skins who hate powder will feel included here as this isn't even in the same category as powder ... it's more like a
cashmere veil
that will finish your makeup in the way you want.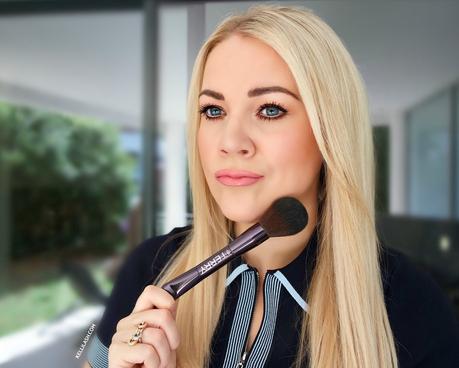 Byterry Hyaluronic Hydra Powders, Primer & Tool Expert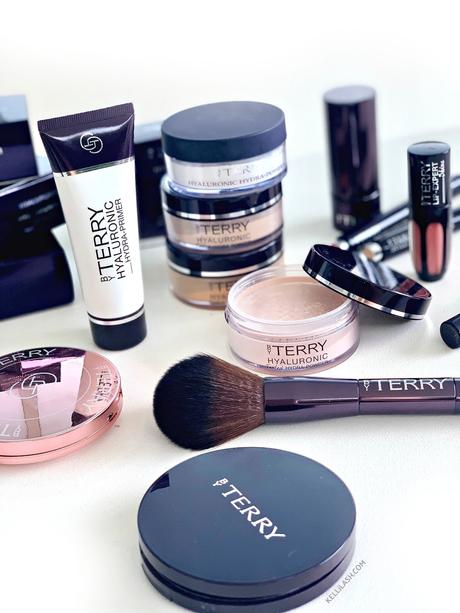 Byterry Hyaluronic Hydra Powders, Primer & Tool Expert
The thing I love the most about the
new tinted powder versions
is that you can use them to highlight, bronze, contour and color correct
as well
!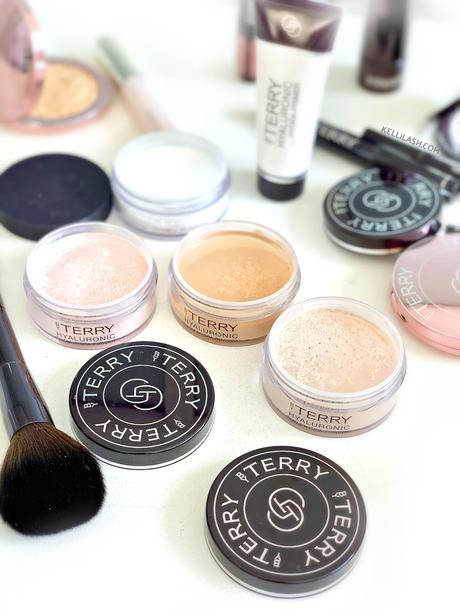 Byterry Hyaluronic Hydra Powders, Primer & Tool Expert
I was sent three of the shades best matched to my skin tone at which we all do that thing where we go to the one that is more likely to suit our skin tone perfectly which is right, but I didn't want to neglect the rest. So having played around with the shades ...  
• #100 
Rosy Light
 - I used this one under my eyes and on the high points of my face to brighten!• #200 
Natural
- I used this all over my skin to set and give my skin that filter look plus it added a little natural warmth to my skin. • #400 
Medium
- I used this as a bronzer/contour to give me a bronzed summer glow and to sculpt my face in a natural way. •
#Colourless
- I have used this one every day prior to getting the tinted versions and you really cannot go wrong with it! 

MY SKIN LOOK
Even though I technically used all of the powders but on different areas of my face, it does in no way look cakey or heavy. In these shots, I used the Hydra-Primer that made a huge difference to this flawless look with the powder over a light coverage foundation and for me, it looks much better than me wearing a full coverage foundation as I just don't like anything heavy anymore. This powder does all the perfecting that I need. (I have listed all products used below!).
There are no filters, just good natural lighting (we have a lot of sunshine here!) and good makeup applied in the right way. I edit the lighting when I go over my images and I was really impressed by how great my skin looked. Don't get me wrong, it does not look like this in all lights of course not, you'll see more fine lines perhaps and pores but this all speaks for itself.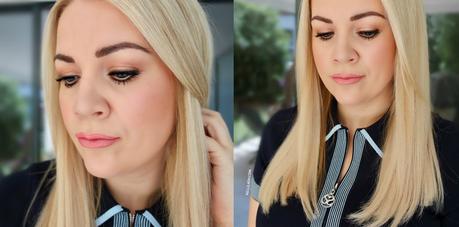 Byterry Hyaluronic Hydra Powders, Primer & Tool Expert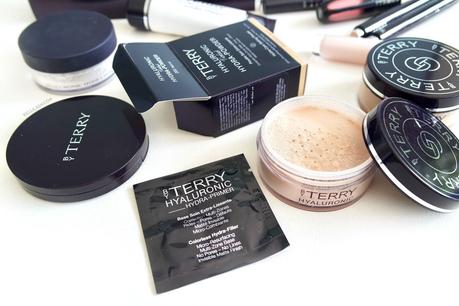 Byterry Hyaluronic Hydra Powders, Primer & Tool Expert
I do love that ByTerry have in fact put a sample of the Hydara-Primer in with the powder (within the box) so you can try before you buy as I feel the powder is a great place to start if you are getting to know ByTerry as a brand then add in what you have sampled and liked!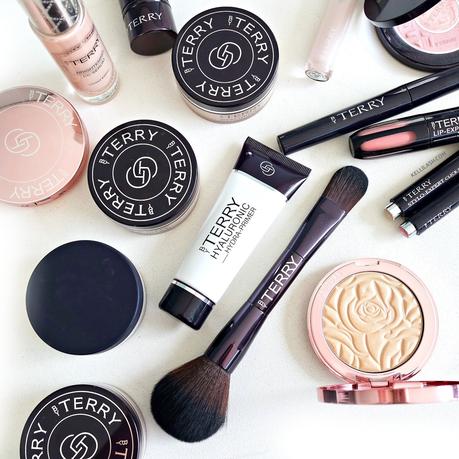 Byterry Hyaluronic Hydra Powders, Primer & Tool Expert
BY TERRY HYALURONIC HYDRA-PRIMER
40ml, all skin types, £42/€47 
(buy here)
This is a powerful face primer with built-in skincare, containing hyaluronic acid to instantly mattify and blur imperfections, minimize pore, even out skin tone, fill in fine lines and control shine. Hyaluronic acid helps to boost and maintain optimum moisture level, so skin looks firmer and plumper and will create the perfect base for make-up. 
APPLY
You only a thin layer of this primer which applies perfectly with the Tool Expert Dual-ended brush, taking it all 
around the eyes and lips with Tool-Expert Dual-Ended Brush. You can m
ix a small amount of this primer with a foundation to lighten it's coverage!
THE RESULT
....
my new favorite primer
!!! This light mousse texture is so unique and again weightless like the powder and is completely clear when applied. It really does instantly blur over everything to make your skin look smoother and definitely controls shine which helps to make your makeup last. I was so happy that this had no silicone feel as I am not a fan of those primers as I find them
too
matte.
I cannot work out how this manages to mattify your skin, yet keep it feeling hydrated with a gorgeous natural glow? Some wizardry is going on at ByTerry labs!
I have to say this seriously impressed me because I do feel that this primer helped everything else that followed grip onto my skin better. This really is a product you
have to try!!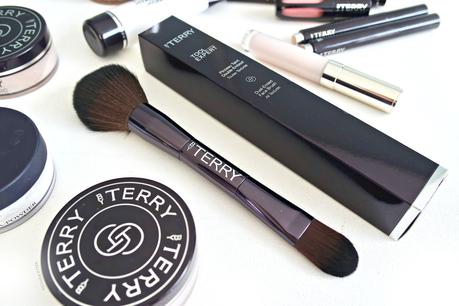 Byterry Hyaluronic Hydra Powders, Primer & Tool Expert
BY TERRY DUAL-ENDED FOUNDATION & POWDER BRUSH
£39/€45 (buy here)
This 2-in-1 face brush has ultra-soft synthetic bristles that are suitable for all complexion products. One end has a flat-shaped brush designed to apply liquid, cream and gel textures easily and evenly whilst the other end is a fluffy domed-shape brush ideal for using with loose or compact powders.
Up until a few years ago, I will admit I never used to go in for 'the brush that matches' because often this is an 'upselling sales ploy' but having purchased some high-end brushes from collections, I now realize they are often made for good reason and this is one of those good reasons. The foundation end is perfect for the Primer application as well as a foundation as it helps the product to melt into the skin almost. The powder brush end is a dream as I do feel this contributed to the final result because good brushes
make the end result
. You really will notice a big difference in your makeup with a good brush!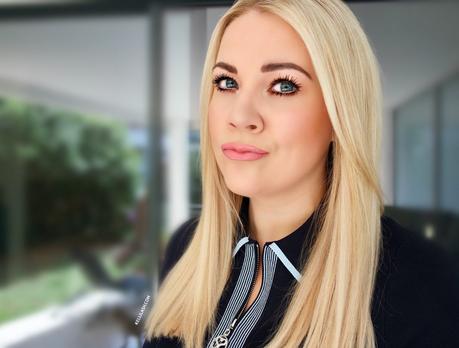 Byterry Hyaluronic Hydra Powders, Primer & Tool Expert
PRODUCTS USED
Primer
: BT Hyaluronic Hydra-Primer
Base
: Dior Backstage #1.5N
Concealer
: BT Click Expert #1, Nars Creamy Concealer #Vanilla
Powder
: BT Hyaluronic Hydra-Powder #200 & #100
Blush
: BT Compact Expert #7 Sun Desire
Bronze
: BT Hyaluronic Hydra-Powder #400 
Highlighter
: BT CC Powder in #1 Immaculate Light
Lipstick
: BT Rouge Expert Click Stick #4, 
Lipgloss
: Lip Expert Shine #10
Mascara
: BT Lash Expert
(I do use my beloved
CC Serum
 under the primer when I feel I need to even out my skin tone and it works amazingly well in both cases!)
THE SUMMER SWEAT TEST! 
So I had to mention that I really did put these products and this face to the test because after having applied all of the products above, I was out in 28C walking Louis, running errands, doing chores and I was sweaty .... yet
my face wasn't.
I mean, at 5pm there was
no shine
at all. My makeup was intact, no wear signs and everything looked as smooth as from the time I first applied it. This was all the proof I needed to know that these products
really do perform
, even more than I really ever anticipated and fir this reason I really cannot recommend and endorse them highly enough as I do with ByTerry as a brand.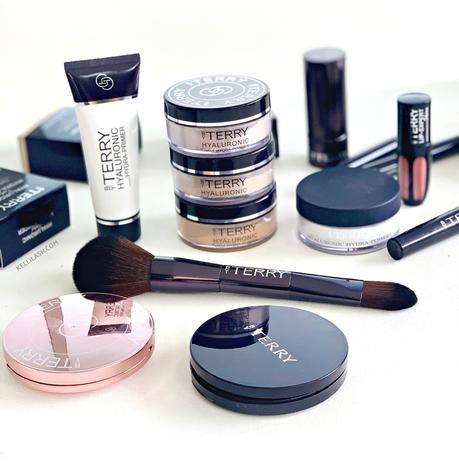 Byterry Hyaluronic Hydra Powders, Primer & Tool Expert
HYDRA-MAZING!
If you were looking to try any of what I have mentioned then do so in confidence. I know they aren't the cheapest products so if you want to build up gradually, invest in the main item that you feel would benefit you the most. ByTerry do in fact carry mini sizes so this is the best way to try it before going for the big size plus they are perfect for travel and your handbag ... I featured them
here
.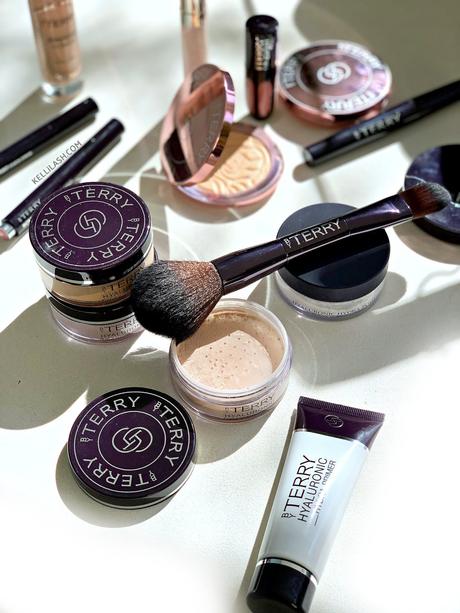 Byterry Hyaluronic Hydra Powders, Primer & Tool Expert
If you want to read up on some of my other By Terry favourites then see them here! I do now however now have my eyes on the latest ByTerry Fall Palette, have you seen it? It is stunning and so Autumn ready.  Do let me know if you try them!