Oscar-winning screenwriter William Goldman (Butch Cassidy and the Sundance Kid, The Princess Bride, Misery) once deadpanned that in Hollywood when it comes to predicting whether or not a film will be a success or a failure, "Nobody knows anything."
Everyone at the Toronto Film Festival (TIFF) right now is pretending that's not true.  When Hollywood studio suits swarm places like Sundance, Telluride and Toronto the trick is to not get caught up in the moment because while a standing ovation at a film festival feels amazing it won't magically turn a movie with limited commercial prospects into a sure-fire hit. That's one reason why the head of the new mini-major studio STX Entertainment told THR, "I don't think [buying films at festivals] will ever be a primary core aspect of what we're doing. Only because I don't think I've been particularly adept at identifying festival films that have a chance to [perform]. I also don't think there's a long list of festival movies that have gone on to be great box-office performers."
That's not exactly the sentiment you want to hear right now at TIFF, which is currently celebrating its 40th anniversary. In recent years, TIFF has been the unofficial starting point for awards season, kickstarting eventual Oscar winners like Argo, Silver Linings Playbook, 12 Years a Slave and The Theory of Everything.  This year's TIFF has new movies from att Damon (The Martian) and Sandra Bullock (Our Brand is Crisis) which already look like awards contenders. Each one of those movies came into Toronto with distribution deals already in place, though, and usually with release dates long since announced. There is still a huge element of TIFF which is about producers trying to sell their finished movies to distributors, and if measured by box office that's looking more and more like a bad deal, as I discovered when I looked at 20 movies from the 2013 Toronto Film Festival.
However, looking back at the box office histories of recent Toronto Film Festival movies is a flawed premise because it's only looking at half of the equation. Indie films now routinely fare better with going straight to VOD prior to limited theatrical runs, as seen when the raunchy Kirsten Dunst comedy Bachelorette made $7.8m from digital sells before racking up a mere $500K theatrically. But VOD numbers are rarely released, and you work with the data you have.  So, here's how 10 movies which scored distribution deals at the 2014 Toronto Film Festival performed at the box office:
1) Adult Beginners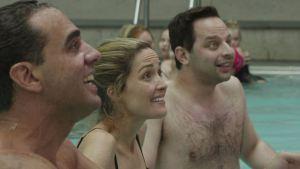 Star Power:
Rose Byrne, Nick Kroll, Bobby Cannavale, Joel McHale, Bobby Moynihan, Jane Krakowski and Josh Charles.  It's the directorial debut of Ross Katz, an Oscar-winning producer.
Basic Plot: A young, narcissistic entrepreneur (Kroll) who crashes and burns on the eve of his company's big launch. With his entire life in total disarray, he leaves Manhattan to move in with his estranged pregnant sister (Byrne), brother-in-law (Cannavale) and 3-year-old nephew in his suburban childhood home — only to become their nanny.  And hilarity ensues?
The Buzz: "It's not perfect, but as far as feature debuts go, there's very little you can fault Adult Beginners for. Slightly pedantic and maudlin at times, with telegraphed metaphors and rushed pacing, it's still hard to call any of these hiccups major flaws." – IndieWire
Who Bought It?: The Weinstein Company/RADiUS.
The Box Office: Released in April, never played in more than 54 theaters, grossed just over $100K
2) Before We Go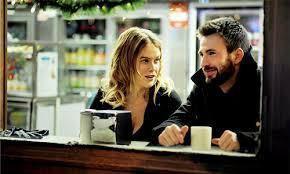 Star Power:
 Chris Evans and Alice Eve in what is actually Evans' directorial debut
Basic Plot: Over the course of one New York night, two strangers form an unlikely bond based on the conflicts in their own lives.
The Buzz: "Too evocative of other, much better movies like the BEFORE series or LOST IN TRANSLATION." – JoBlo
Who Bought It?: The Weinstein Company/RADiUS
The Box Office: Just came out last weekend, only playing in 21 theaters, only grossed $24K but has already made $1.5 million from VOD
3) The Cobbler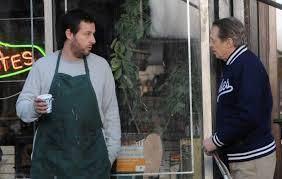 Star Power: Adam Sandler, Dustin Hoffman, Steve Buscemi
Basic Plot: A generational cobbler in New York who has taken over his father's business discovers that when he uses his father's old sewing machines he becomes the people whose shoes he is repairing.  Magical-realism ensues!
The Buzz: "A movie like this, in which not a single scene comes together, in which almost nothing makes you laugh or cry or think, reminds you that it's truly a miracle when movies work at all." – GrantLand – Not a single positive review on RottenTomatoes yet
Who Bought It?: Image Entertainment
The Box Office: Released in March, played in 20 theaters, grossing just $24K; now on Netflix
4) The Last Five Years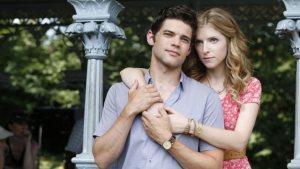 Star Power: Anna Kendrick, Jeremy Jordan, directed by Richard LaGravanese (Beautiful Creatures)
Basic Plot: Adapted from Jason Robert Brown's off-Broadway musical about a Jewish man and his shiksa goddess girlfriend who recount the history of their relationship in reverse, her at the ending of it, him at the beginning of it
The Buzz: Mixed –
Positive Review | It's easy to fall in love with Anna Kendrick and Jeremy Jordan in this heart-breaking musical two-hander, as they retrace a love affair from opposite ends.- Variety
Who Bought It?: The Weinstein Company, who actually bought it right before Toronto and immediately announced a February 14, 2015 release date
The Box Office: Came out Valentine's Day 2015, played in 36 theaters, grossed just $145K
5) Love & Mercy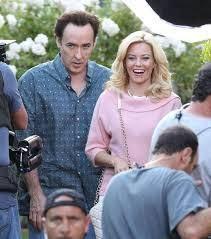 Star Power:
Paul Dano, Elizabeth Banks, Paul Giamatti and John Cusack, with a script by Oren Moverman who also wrote the bizarre Bob Dylan film
I'm Not There
Basic Plot: The life of reclusive Beach Boys songwriter and musician Brian Wilson (Paul Dano in younger years, Cusack in older years), from his successes with highly-influential orchestral pop albums to his nervous breakdown and subsequent encounter with controversial therapist Dr. Eugene Landy (Giamatti).
The Buzz: A mostly good music biopic that doesn't always feel like a music biopic –
Positive Review | "Emerges as a weighty, fitting salute to Wilson's restless creativity and a touching celebration of the love that would prove to be his salvation." – ScreenInternational
Who Bought It?: Lionsgate and Roadside Attractions
The Box Office: Came out in June, maxed out at 791 theaters, grossed $12.5 million
6) Pawn Sacrifice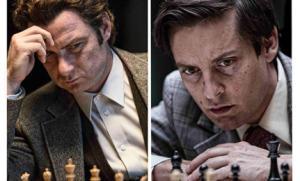 Star Power: Tobey Maguire, Live Schreiber, and Peter Sarsgaard, with a script from Steven Knight (Hundred Food-Journey, Eastern Promises) and directed by Ed Zwick (Glory, Legends of the Fall, That Last Samurai, Love & Other Drugs).
Basic Plot: Tobey Maguire stars as enigmatic U.S. champion Bobby Fischer, and Liev Schreiber as the Russian champion Boris Spassky whom Fischer challenged in an historic match that captured the world's attention.  The drama covers Fischer's rise leading up to the historic match.
The Buzz: Fairly well-liked but not loved
Positive Review | "The gripping period film, rigorous in its reconstruction of the recent past, proves that the game of chess can be cinematic in well-edited doses, and that Tobey Maguire as Fischer can sustain a serious, albeit quirky drama." – ScreenInternational
Who Bought It?: Bleecker Street
The Box Office: Finally comes out next week
7) The Salvation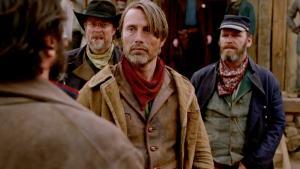 Star Power:
Mads Mikkelsen (
Hannibal
!), Jeffrey Dean Morgan, Eva Green, Jonathan Pryce
Basic Plot: Mikkelsen stars as a Danish settler in 19th century America who sets out to avenge his family only to then be betrayed by his fellow townspeople.
The Buzz: Somewhat lukewarm
Positive Review | "The Salvation is assembled of nothing but the most elemental components of the Western, which gives genre specialists a lot to recognize and analyze and newcomers something to enjoy for its own sake." – HollywoodReporter
Who Bought It?: IFC Films acquired North American rights after Cannes, and Universal acquired the international rights at Toronto.
The Box Office: Came out in March, maxed out at 28 theaters, grossed just $42K
8) Still Alice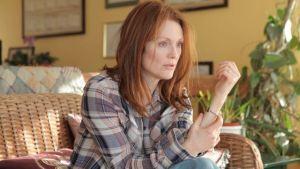 Star Power: Julianne Moore, Alec Baldwin, Kristen Stewart and Kate Bosworth.
Basic Plot: Alice Howland, happily married with three grown children, is a renowned linguistics professor who starts to forget words. When she receives a devastating diagnosis, Alice and her family find their bonds tested.
The Buzz: You hear more about Julianne Moore's performance than the actual film
Typical Review | "The toll the disease takes on the life of a brilliant linguistics professor is superbly detailed by Julianne Moore in a career-high performance, driving straight to the terror of the disease and its power to wipe out personal certainties and identity." – HollywoodReporter
Who Bought It?: Sony Pictures Classics
The Box Office: Came out just in time to qualify for Oscar consideration, fell just short of 1200 theaters, grossed $18.7 million
9) Top Five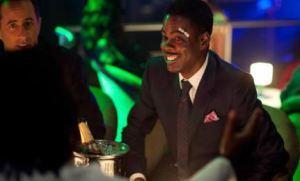 Star Power:
Written, directed by, and starring Chris Rock with an all-star cast of Rosario Dawson, Kevin Hart, Tracy Morgan, Cedric The Entertainer, J.B. Smoove, Sherri Shepherd, Michael Che, and Jay Pharoah.
Basic Plot: A comedian tries to make it as a serious actor when his reality-TV star fiancé talks him into broadcasting their wedding on her TV show.
The Buzz: Chris Rock's Annie Hall
Typical Review | "Top Five is a film broad and filthy enough for multiplex appeal, but also sufficiently arch to satisfy those who fancy themselves a little more sophisticated." – Guardian
Who Bought It?: Paramount paid a whopping $12.5 million for the worldwide distribution rights
The Box Office: Came out in early December 2014, eventually reached 1400 theaters, grossed $25.3 million
10) While We're Young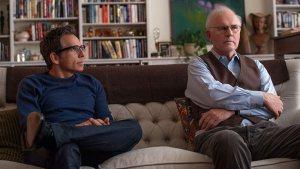 Star Power:
Ben Stiller, Naomi Watts, Amanda Seyfried and Adam Driver. Written and directed by Noah Baumbach (
Frances Ha, Greenberg
).
Basic Plot: An uptight documentary filmmaker and his wife find their lives loosened up a bit after befriending a free-spirited younger couple.
The Buzz: Possibly one of Baumbach's best
Typical Review | "The most hilarious Woody Allen film in years is directed by Noah Baumbach, with Ben Stiller as basically an updated version of the idealistic documentary filmmaker the Woodman played in Crimes and Misdemeanors." – HollywoodReporter
The Box Office: Platform release in March, peaked at 762 theaters, grossed $7.5 million
Of the ten films, four received what would be considered a wide theatrical release (i.e., played in more than 600 theaters), and one, Still Alice, turned into a legit awards contender.  However, none of them broke out as box office sensations, although several likely still turned a profit.  Moreover, there are a couple which still have not come out yet.  Translation: it could be a full year before any of us see some of this buzzy 2015 TIFF movies being sold to distributors at this very moment.