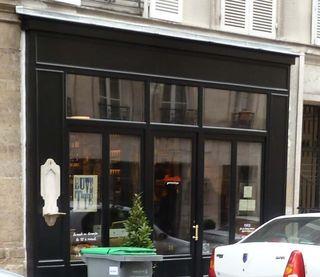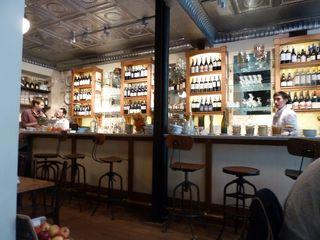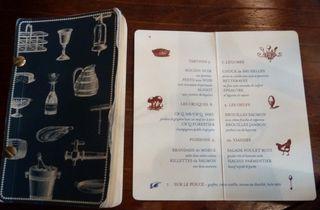 5.4 La Buvette Gastrotheque, 28, rue Henry Monnier in the 9th (not the Buvette in Spring's basement nor the Buvette on the Rue St Maur in the 11th nor that on Grove Street in Manhattan, although you're getting close because it's an offshoot of that very joint), 01.41.44.63.41.71 (although since they don't take reservations why would you?), open every day but Mondays from 10 AM to midnight (Metros: Pigalle to walk downhill, St Georges to walk uphill).
I read the reviews when it opened last year and immediately erased it from my long and short term memory banks as one more American in Paris, tricking the gullible Froggies into thinking they're eating genuine exotic Yankee chow.  But then it kept popping up here and there and my charming ex-co-host at the culinary website that cannot be mentioned said - "let's go, why not?"  "Well I've got a lot of reasons." "Come on, don't be stuffy" she said.  Now there are three words that get me moving - grouchy, grumpy and stuffy.  So we rounded up another expat (who had eaten at the West Village Mother house) and off we went.
It's one more of those minimalist exterior, bouncy interior places with a minimalist carte and maximalist wine list (the little booklet to the left) and they are really nice (naturally, but it helps that 60% of their custom comes from Yankees).  I saw a Croque Something go by and warned my eating partners that we should go easy ordering - the portions were Supersize Me not French.  Did they listen?  Does anyone listen to me?  No.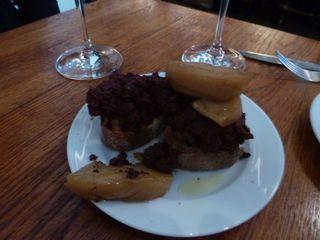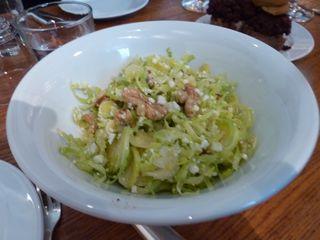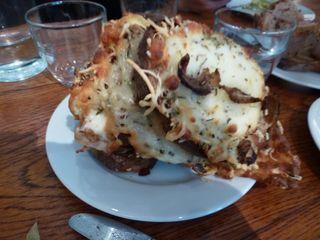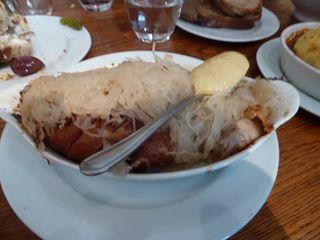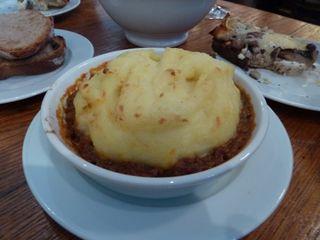 So here we go:
- A tartine of boudin noir with potatoes - OK
- A "salad" - really shaved raw or semi-raw (like cabbage) - brussel sprouts with walnuts and fresh pecorino - outstanding
- A Croque Forestier of mushrooms and gruyere - nice
- A choucroute with the great piece of sliced up sausage and pork - mighty fine
- A hachis parmentier - OK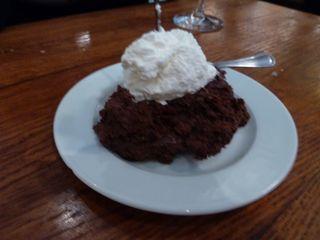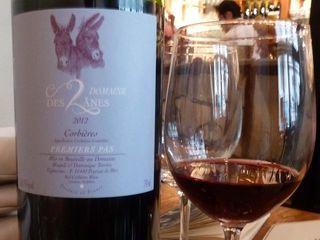 So at this point I'm ready to surrender (se rendre - did you remember that from high school?) and slink home but the ladies weren't ready to give up, so we ordered a chocolate mousse (OK - no more no less) to divide in three with coffee and the rest of our 2nd bottle of wine - hey, this was a 3 hour lunch.  And by the time we left the place had standing room only.
Our bill with all that was 92.20 for 3, thus 61.46 E a couple.
Go?  If you want to support the home team (Jody williams and her jolly muti-national [our great waiter was Italian from Turino] crew), please do.
--------------------------------------------------------------------------------------------------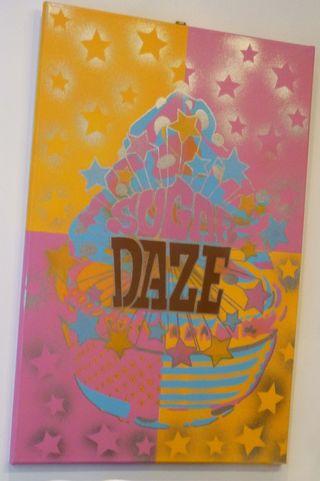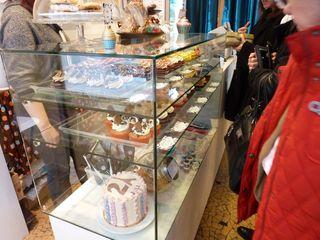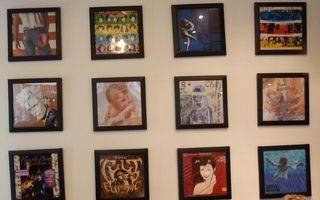 Sugar Daze Cupcake Americain (formerly Little Miss Cupcake) is about 4 doors down Rue Monnier and one of my pals suddenly entered it - "wha's going on here? thought I."  I too entered and found myself standing in front of a counter with a million (well, maybe a dozen) different kinds of cupcakes - Jeez, what to do?  So I chose two and supper is taken care of, thanks to Cat Beurnier whose story is inspiring and typical of all my friends who have taken the plunge to live here.
Go?  Let's hear it for the home team.