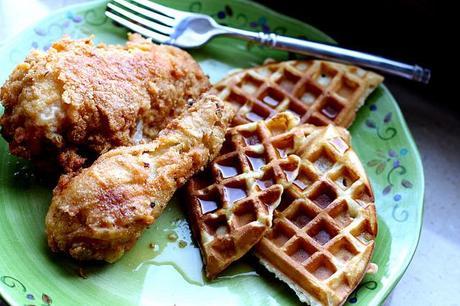 I remember being a snooty little rugrat when I first heard of chicken and waffles...it was actually when I was watching an episode of "The Fresh Prince of Bel Air". I remember thinking, "Why the hell would you eat fried chicken and waffles together?" I thought that because my mom was old school, I wouldn't be here making this blog post if I had said the "H" word out loud. Back to the story, I was just weirded out by this strange combination. Waffles- ONLY eggo waffles for me- were breakfast with pork sausage, bacon and or scrapple. And fried chicken was only for lunch or dinner. NO way can you combine the 2!
Fast forward to my adult years as the microwave queen, I still couldn't stomach it. Then when I got into cooking and being the from scratch gal that I am, I could dig the combo. In fact, I wanted to try this last month before my husband left, but was distracted. Then last week, I asked my eldest child after his 2 week stay with his father, what he wanted for dinner and he asked for chicken, waffles, rice and something else in a soup. I liked the idea of chicken and waffles together so I went to work.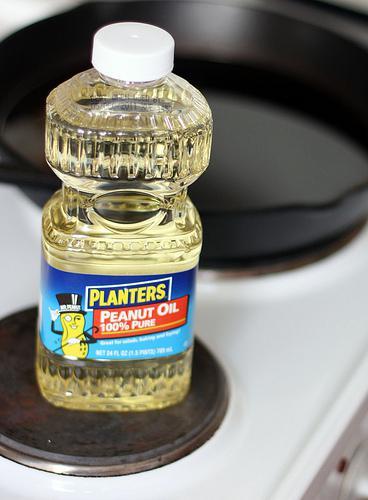 I marinate my chicken up to 12 hours prior. First I season, then pour buttermilk over for the juicest most flavorful fried chicken you will evah eat. Adding cornmeal makes a nice crunch, but a little goes a LONG way. No need for more than a scant 1/4 cup or you'll break yo' teeth. The waffle recipe I found on www.cooksillustrated.com. I wanted a great recipe and you can not go wrong at all with America's Test Kitchen! These were some AMAZING waffles, too. It uses powdered buttermilk which is different, but it made the lightest dry mix! I also like it because you don't get the  sour buttermilk taste.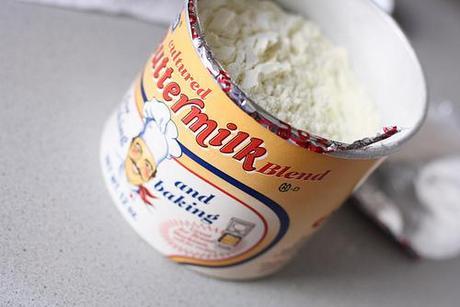 Also oil instead of butter was used for a crispy on the outside and fluffy in the middle waffle. It's damn good! Definitely a hit with my children and my German friends! All you chicken and waffle virgins must try this and pour some good grade b maple syrup on both waffles and chicken! Don't look at me like that, I know you like BBQ chicken and one of the main ingredients is some kind of sweetener! Give this a shot!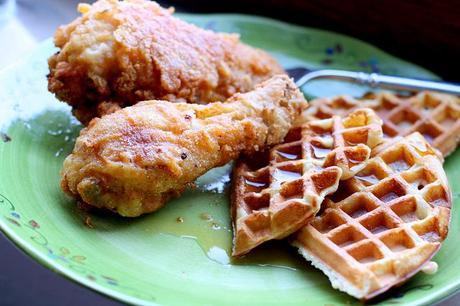 Buttermilk Fried Chicken and Buttermilk Waffles
Printable Recipe here!
Buttermilk Fried Chicken
Ingredients
1 Whole Chicken about 4 pounds, cut-up (alternatively you can purchase your favorite chicken pieces totaling 4 pounds)

2 cups buttermilk, shaken

Pre-floured seasoning:

1- 2 tsp salt

1 tsp Seasoned Salt (I love McCormick's Season All)

1/2 tsp garlic powder

1/2 tsp Italian Seasoning or dried thyme

1/2 tsp paprika

1/2 onion powder

1/2 tsp freshly ground pepper or white pepper

1/8 tsp cumin

1 cup all-purpose flour

2 tablespoons cornmeal
Flour seasoning:
1- 2 tsp salt

1 tsp Seasoned Salt 

1/2 tsp garlic powder

1/2 tsp Italian Seasoning or dried thyme

1/2 onion powder

1/2 tsp freshly ground pepper or white pepper

1/8 cayenne pepper
Directions
If you're using a whole chicken, cut up into 8 pieces- remove backbone two breasts, two wings, two legs, and two thighs.
Place chicken in a large resealable bag or large bowl. Season chicken all over. Pour buttermilk over chicken and allow to sit in the fridge 12 hours to overnight or as little as 30 minutes.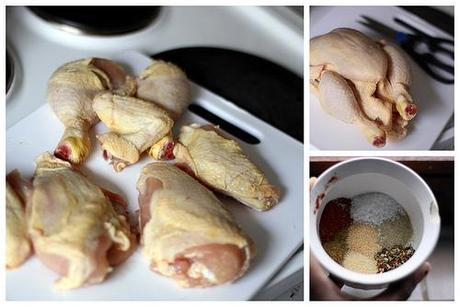 While marinating or next day, add flour, additional seasonings and cornmeal to a large bowl.Once marinated, remove chicken from bag or bowl allowing excess buttermilk to drip from piece. Dip chicken into flour and place on paper towels or a cooling rack with paper towel under.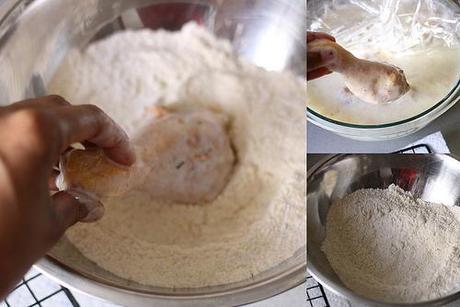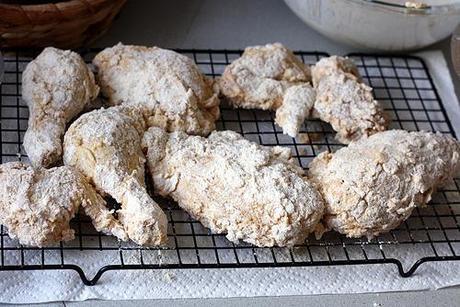 Heat oil in a heavy skillet (I prefer a cast iron skillet!) 350 degrees using a good thermometer or candy thermometer.Once heated, place as many pieces in the skillet as possible. The reason is so each piece cooks evenly and crisp. Cook about 20-25 minutes. Wash or use another cooling rack lined with paper towels to place cooked chicken- to avoid any sogginess. Remove each piece except breast. I usually let the breast cook another 5 minutes since they're the biggest pieces.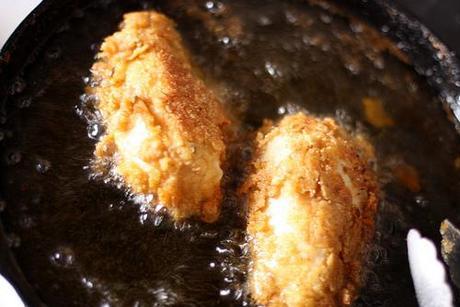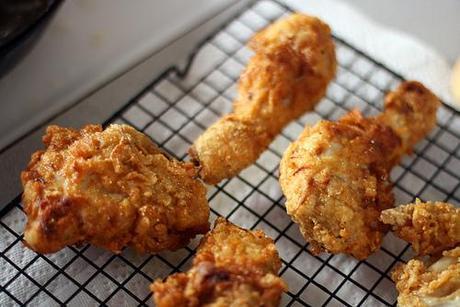 Allow to rest about 5 minutes.Buttermilk WafflesAdapted from Cook's Illustrated


Ingredients
2 cups (10 ounces) unbleached all-purpose flour

1 tablespoon sugar

1 tsp cinnamon

3/4 teaspoon table salt

1/2 cup dried buttermilk powder (can be found in the baking aisle)

1/2 teaspoon baking soda

1/2 cup greek yogurt* (see note)

2 large eggs

1/4 teaspoon vanilla extract

1/4 cup peanut oil or vegetable oil

1 1/4 cups unflavored seltzer water

*I used Greek yogurt instead of sour cream in the original recipe. I allowed it to thicken by placing a paper towel on a slotted spoon on a bowl to catch the whey.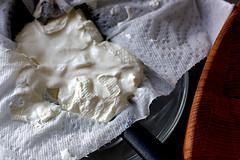 Directions

Adjust oven rack to middle position and heat oven to 250 degrees. Set wire rack in rimmed baking sheet and place baking sheet in oven. Whisk flour, sugar, salt, buttermilk powder, and baking soda in large bowl to combine.
Whisk Greek yogurt, eggs, vanilla, and oil in medium bowl to combine.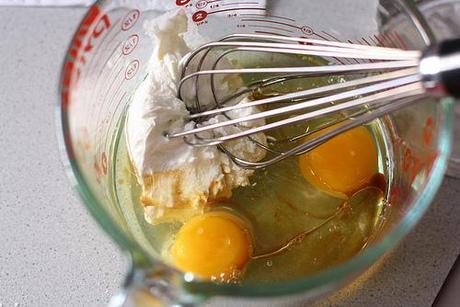 Gently stir seltzer into wet ingredients.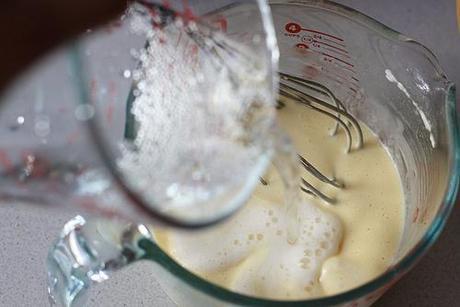 Make well in center of dry ingredients and pour in wet ingredients.
Using a rubber spatula, gently stir until just combined.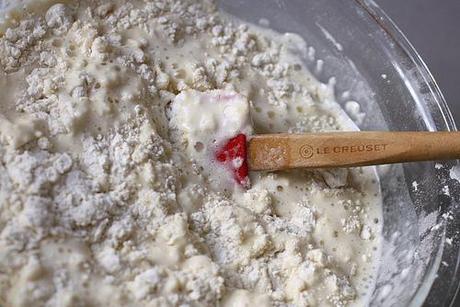 Batter should remain slightly lumpy with streaks of flour.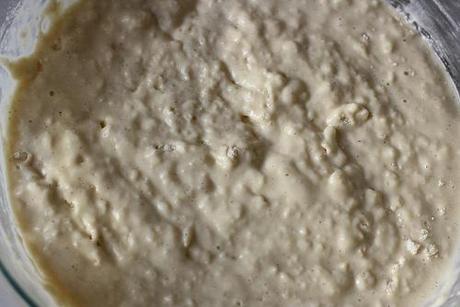 Heat waffle iron and bake waffles according to manufacturer's instructions (use about 1/3 cup for 7-inch round iron).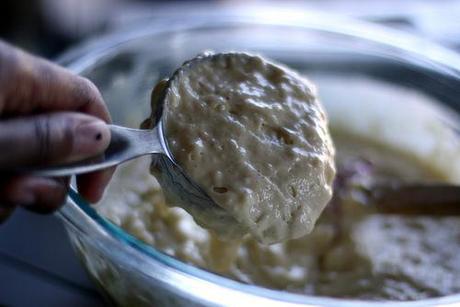 Transfer waffles to rack in warm oven and hold for up to 10 minutes before serving with butter and maple syrup.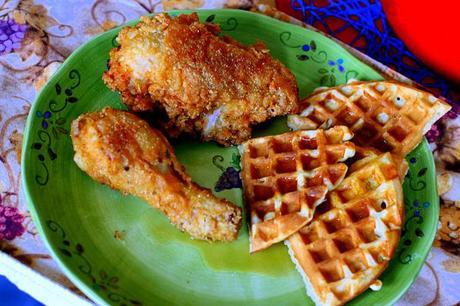 Place waffles and chicken on plate and add some good grade B maple syrup to both! You'll be sent to comfort heaven for sure! Eat Sparingly or every Saturday morning I don't care it's really good!
Enjoy!!!!!
Also check out Salty Seattle's GENIUS take on this classic American dish: http://www.saltyseattle.com/2011/01/chicken-and-waffles-meet-modern-gastronomy/