This Butter Pecan Nut Butter is smooth and creamy, with crunchy pecan bits stirred in and all the butter pecan flavor you love! This simple-to-make spread is perfect on oatmeal, fruit, toast, or just eaten with a spoon. It's gluten free, sugar free, paleo, and Whole30-approved.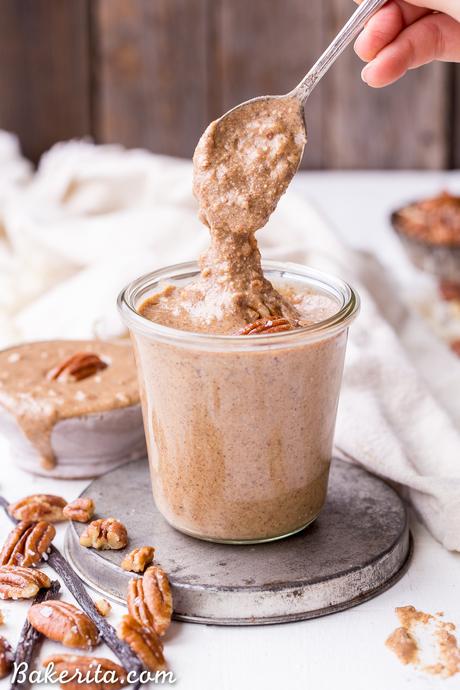 Is your jar of Banana Nut Butter with Cacao Nibs empty yet??? I know mine is…😳 and I think we all know by now, I can't go more than a day without a jar of homemade nut butter in my possession.
So obviously, a new one was necessary. I actually need to make more ASAP, because I've got about ONE tablespoon of this Butter Pecan Nut Butter left in my pantry. And, um, that was my second batch. And each batch made two jars. You can tell I like this stuff.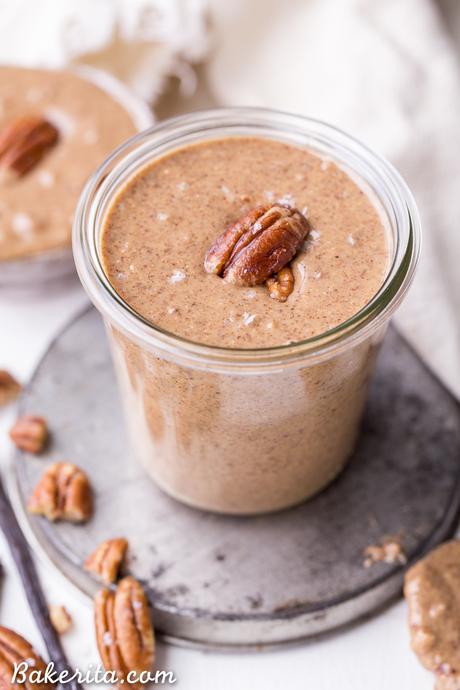 I'm a nut butter FANATIC, and as much as I love all of them, I've got to say – pecans and cashews have got to be my favorite nut butter combo yet.
The cashews are incredibly smooth and have a nice toasty flavor – they provide such a nice base to the nut butter, while the pecans are super fatty and buttery, so they add that buttery flavor and blend up so easily. They make the nut butter incredibly smooth and drippy, without any extra fat needed.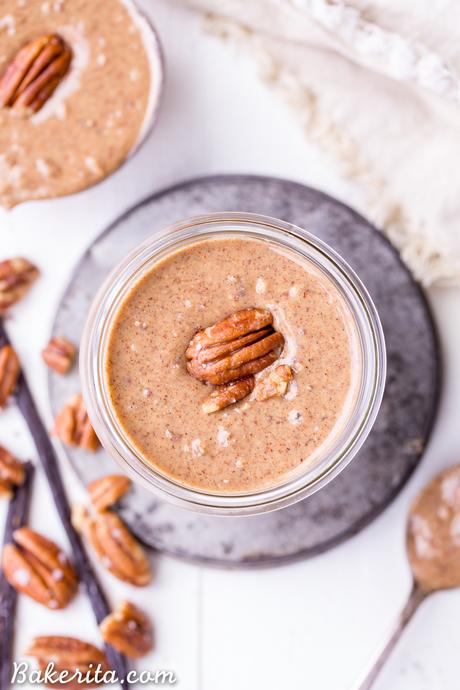 Let's talk about this flavor though, because OMG. I'm not the only one who LOVES butter pecan everything right?! It used to be one of my go-to favorite ice cream flavors – I could never get enough of those crunchy pecans and buttery flavor.
This butter pecan nut butter takes the best things about that ice cream and applies them here. The buttery flavor comes from one of my favorite ingredients – GHEE. Ever since I put ghee in my Chocolate Chip Cookie Dough Nut Butter, it's been a game-changer.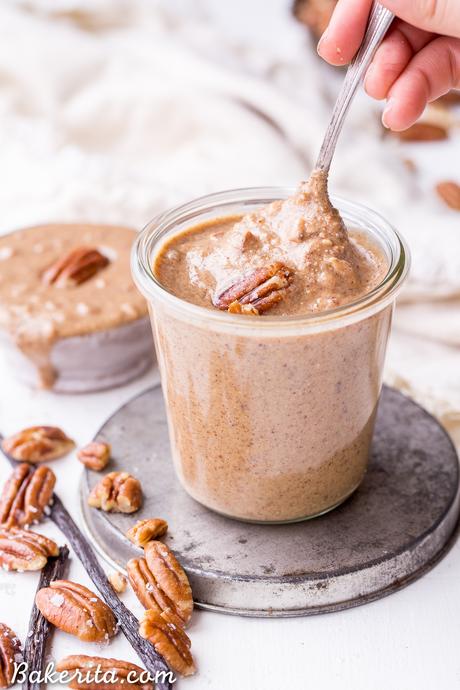 In this one, I used Vanilla Bean Ghee from 4th & Heart – it's so good, but not fully necessary. Regular ghee is fine, because we'll add vanilla bean powder too. The two of these flavors, along with a touch of salt, take your nut butter from delicious to WOW.
Of course, it can't be butter pecan flavored without crunchy pecan bits! The recipe calls for roasting the cashews and pecans in ghee, and some of those ghee-roasted pecans are set aside while the rest of blended up. Then, once the nut butter is made, those ghee-covered pecans are stirred into the butter pecan nut butter, adding bits of irresistible crunch.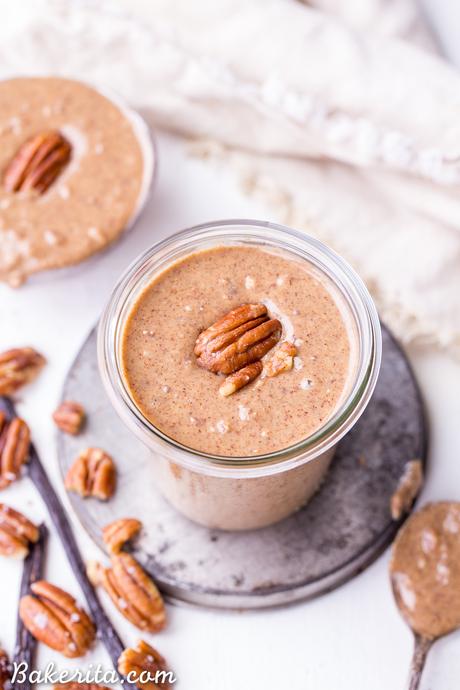 I gobbled this nut butter up with a spoon most of the time, and occasionally spooned it over some apple slices or with a banana. Once you give it a taste, I know you won't be hard pressed to find ways to use it. Enjoy!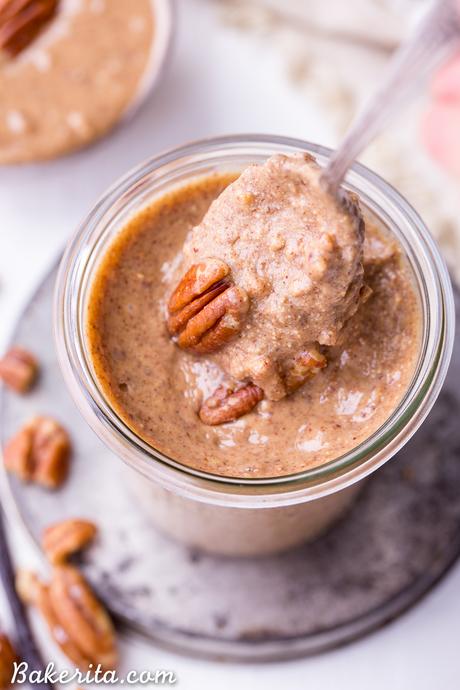 Are you as nuts about nut butter as I am?! Then you've got to try these favorites…
Super Seed Nut Butter
Banana Nut Butter with Cacao Nibs
Banana Bread Pecan Almond Butter
Cinnamon Raisin Almond Butter
Remember to #bakerita if you try the recipe!
Butter Pecan Nut Butter (Gluten Free, Sugar Free, Paleo + Whole30)  
Save
Print
Prep time 10 mins Cook time 8 mins Total time 18 mins   Author:
Rachel Conners
Ingredients
1½ cups raw pecans
1½ cups raw cashews
3 tablespoons vanilla bean ghee (or regular ghee), divided
1 teaspoon vanilla bean powder (or 2 teaspoons vanilla extract)
¼ teaspoon salt, or to taste
Directions
Preheat the oven to 350°F.
Melt 2 tablespoons of ghee in a bowl and add the nuts. Toss or stir to coat the nuts in the ghee. Spread the cashews and pecans on a lined baking sheet and bake in the heated for about 8-10 minutes, or until fragrant and lightly toasted. Let cool for a few minutes on the counter top.
When the nuts are cool, set aside ¼ cup toasted pecans to pulse in at the end. Add the rest of the nuts to your food processor or high-powered blender (I used my Vitamix). Process for about 3-6 minutes, scraping down as necessary. Your time might be shorter if you're using a high-powered blender - it will take a little bit longer in the food processor and require more scraping down.
When the cashews and pecans have broken down into a smooth, creamy butter, add the ghee, vanilla bean powder and salt. Process to incorporate, and taste. Adjust add-ins as desired. Finally, add the toasted pecans and pulse a few times to incorporate and break up the pecans a bit.
Transfer to a glass jar or two (like a mason or Weck jar) and store in the refrigerator for 2-3 months.
3.5.3226

There's more where that came from!
Banana Nut Butter with Cacao Nibs (Paleo, Vegan + Whole30)

Vanilla Bean Pecan Butter

Chocolate Chip Cookie Dough Nut Butter (Paleo + Vegan)

Banana Bread Pecan Almond Butter (Vegan, Paleo + Whole30)

Paleo Pecan Pie

Strawberry Cashew Butter (Paleo, Vegan, Sugar Free +…