butter LONDON recently sent me 2 of the Summer 2013 shades to share with all of you! To be honest, I'm still unsure of how I feel regarding this collection as a
summer
collection--yes, I get the tanned and bronze idea, though I typically think bright for summer--but nevertheless I'm a huge butter LONDON fan and these shades are great.
butter LONDON Poole Swatch and Review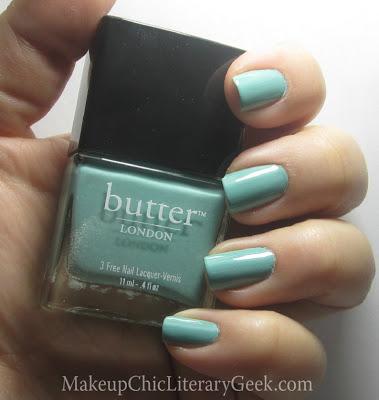 2 Coats butter LONDON Poole - Poole is a light blue-green creme. It's very self-leveling, but starts drying fairly quickly on the nail, so I recommend not applying too slowly.
butter LONDON Marbs Swatch and Review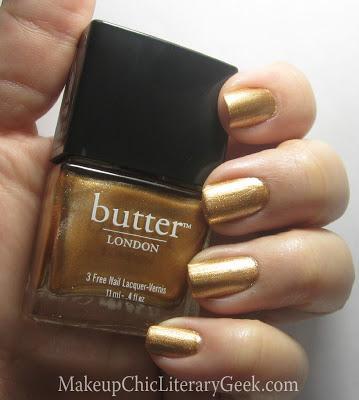 2 Coats butter LONDON Marbs - a bronzey metallic. Marbs reminds me of Urban Decay Half Baked shadow in polish form. This was a breeze to apply.
Price
$15 retail
Where to Buy
These can be purchased, alone with the rest of the Summer shades on butter LONDON's site HERE.
Final Thoughts
As I mentioned, while I'm not totally sold on these being summer-specific shades, the shades themselves are very pretty. I personally think Poole is my favorite between the two. Marbs is very pretty and I know lots of people will probably like it, but I'm not a huge fan of bronze polish. That being said, the formula is fabulous on it. Poole is very pretty and certainly a color I think many will want from this collection. I'm always impressed when cremes are so lovely to apply--Poole being one of them--as they can be finicky. Definitely not the case for me! I'm glad to have been given the chance to review them.
What do you think? Will you be purchasing any of the butter LONDON's baked summer shades?
These products were sent for review by PR. All opinions stated above are my own and are based on my personal experience. They have not been influenced by the brand/PR organization that sent them.