While cooking might not be one of my strongest talents, eating and watching all things food is. My Pinterest board is full of all the things I'll make in my next life and when the TV's on…it's Food Network that makes my heart (and my stomach) skip a beat. 
So when I heard that THE Paula Deen was going to be in Dallas for MetroCooking Dallas…I quickly jumped to see her Southern Highness whip up something and utter her magic twang that could make scrambled eggs sound like the best thing EVER. Speaking of the best thing ever (another Food Network reference), Paula's not coming empty handed! She's bringing Iron Chef, Boy Meets Grill, Food Network Star host - we'll I could go on forever on his list of shows…Bobby Flay. And that's just for starters.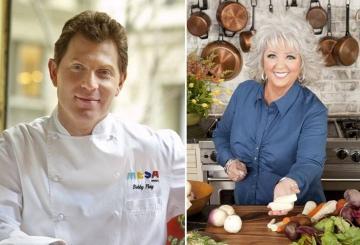 Photo courtesy of MetrocookingDallas.com.
I do love me some Paula and Bobby, but some of the biggest stars scheduled for this food-lovers bonanza, are specialty food purveyors whose roots are already planted here in the Lone Star State. While food products from all over the U.S. will be on parade, being a proud Texas girl, I can't help but spotlight these tasty treats that "reign supreme" in Texas.
If you have not heard of these companies, you should put them on your must-haves and must-tastes at this weekend's MetroCooking Dallas.
Keller - Smokin' Texas Gourmet
http://www.smokintexasgourmet.com
Inspired by Chef Peter Mollet, this Go Texan-approved product line of salsas, seasonings, sauces and more are all gluten-free, vegan and vegetarian friendly

. Best sellers include Peach Salsa and Jalapeno Honey Mustard.
Dallas - The Kessler Cookie Company
http://www.kesslercookies.com
Haven't had the chance to bite into a Chocolate Chip Coconut Pecan cookie?  Then get in line. Or better yet, get scheduled for Clyde Greenhouse and Michal Taylor's Club Kessler and they will send you a monthly supply.
Dallas - Canyon Specialty Foods
http://www.canyonfoods.com
Anne Connaly's special touch can be found in her pestos, tapenades, soups, and anything else that one can think of to make something taste good. A testament to its goodness, Dallas' favorite chefs, Dean Fearing, has teamed up for a custom collection featuring his recipe's for Texas Mop Sauce, Silky Orange Blossom Sauce and his famed Tortilla Soup.
Richardson - Custom Cafe Foods
http://www.customcafefoods.net
Quick and easy are two words that are key in the kitchen nowadays. But with these dry mixes of gourmet soups, quick breads, and specialty dips can make anyone seem like they've been slavin' away for hours with only a few minutes, especially when the aroma of the Cheddar & Chive Quick Bread hits the air.
Anna - Luscombe Farm Specialty Foods
http://www.luscombefarm.com
Leslie Luscombe's jellies make biscuits swoon when they enter the room. Toasted Pecan butter, Confetti Jelly and Jalapeno Peach have won awards at the State Fair and can dress up a cream cheese and cracker like nobody's business.
Austin - Lammes Candies
https://lammes.com
WilliamWirt Lamme made his family name a legend more than 100 years ago with the Texas Chewie Pecan Pralines in 1892. Now the appropriately named Austin-based candy "Longhorns," along with other homemade candy treats, make them a must-have for any real Texan.
Brenham - Del Sol Food Company
http://www.briannassaladdressing.com
Family-owned and operated for more than 30 years, this small-batch dressing maker already has long had a home on many dinner tables. Rich Poppy Seed, Chipotle Cheddar and Champagne Caper Vinaigrette flavors makes one almost forget the bed of greens underneath it.
Fredericksburg - Quintessential Chocolates Co.
http://www.chocolat-tx.us
Hand-rolled by Lecia Duke, these chocolates are as delicious to drink as they are to eat by filling them with liquors, cognacs and wines like Garrison Brothers Straight Shooter Texas Bourbon and Australian Tawny Port. Other treats come sans spirits, but the Tequila D' Almendrado, their signature piece, is worth a shot.
Heath - Texas Toffee Queen
http://www.texastoffeequeen.com
Nancy Lalumia recreates her Sicilian family recipe of toffee into new flavors like White Chocolate Mango Chili, Dark Chocolate Salted Blood Orange and Dark Chocolate Salted Jalapeno. While you can find this one in your local grocery store, she's happy to personalize these just for gift-giving with coordinated boxes and ribbon.
Houston - Fat Sister Southern Specialty Foods
http://www.fatsisterfoods.com
Anything called Fat Sister has got to be good and with pancake flavors like Pumpkin Spice, Butter Pecan and best-selling Peanut Butter, then Fat Sister can come over anytime. Making Nana and Paw-Paw proud, this still family-owned business has created an alter-ego, Skinny Sister, for those hankering for organic and gluten-free choices.
Spicewood - The Spicewood Food Company
http://spicewoodfood.com
David Lewis knows how to make any salad or sandwich mind-blowing with a great line of gourmet balsamic vinegars, infused olive oils and white truffle oil. Favorites include White Truffle Mustard, Blue Cheese Pecan Dipping Oil and Strawberry Balsamic Vinegar.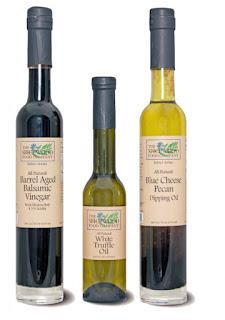 Photo courtesy of the Salado Wine Festival.  http://saladowinefestival.com 
I know I couldn't think of something more flavor fully of fun than or more southern than a day smothered and covered with rich butter, spicy pepper and Texas food charm. Can't you just smell the fun?
MetroCooking Dallas
September 22 & 23
Dallas Convention Center
http://www.metrocookingdallas.com
Tickets vary, but right now there's a special offer for only $36!