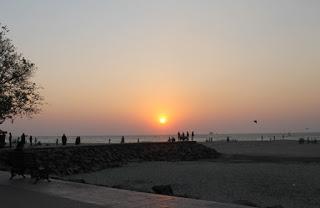 Cochin in Kerala towards the south of India is one of the most important commercial centers(bea)
of the state. There are many things that one can do here. It is one of the most favorite places for tourists around the world. It has attained world class tourism status over the years. 
Kerala in general is one of those states in the country that is not just economically successful but also culturally rich. In Cochin, there is much to explore in terms of tourist interest. For instance you could go to the many restaurants and get a bite of some of the sumptuous south Indian food that the state has to offer.
 In addition to that, you could visit the churches, the museums, the art galleries, Marine Drive, the market place, Bolgatty Palace, among others. But one thing that stands out in Cochin is the Fort Cochin Beach. 
One of the primary features of Fort Cochin is the fishing nets. They are said to have been laid by the Chinese fishermen a long time ago when they had found themselves on the shores of Kerala in Cochin. It takes enormous manual effort in order to work with the fishing nets and they are a beautiful sight in the evenings when the fishermen come out to fish. Sometimes, on request, they would let you help them with the pulling back of the fishing nets. The other thing that stands out in Fort Cochin is the Jewish Synagogue.
 It is, in essence a place of sanctity and worship for the Jews that have remained the city. There are very few Jews in the country as it is and their population, as a matter of fact is one that is diminishing. It would be interesting to take a walk around the streets of the Jewish community that lives there.
 There are many people out in the streets who sell artifacts and also postcards so you could purchase them if you like. In addition you could take to some of the elders who live there to get a glimpse of the Jewish settlement there. 
How can you get to Fort Cochin beach? If you do not have a vehicle of your own then you could hire a taxi or an auto and go there by road. However, that is a long journey but if you want a tour of the ride from Cochin to Fort Cochin, then this would be a good idea. But on the other hand if time is limited then you can ferry your way to the place. 
You would get ferries for pretty cheap at Marine drive where you could board the boats. On your way to this place you will also get to see the Bolgatty Palace and the Taj hotel. In addition to that, you will get a glimpse of the seashore that is dotted with several sailboats. Also, this is the place where people board some of the most happening cruise ships in the country.