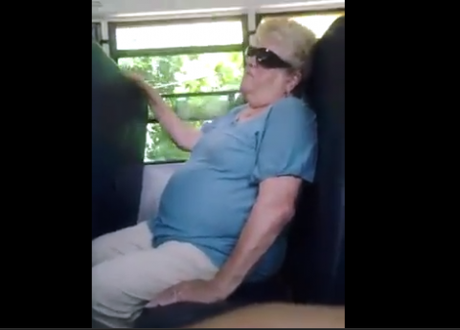 Bus monitor Karen Klein endures harassment from a group of middle schoolers in Greece, New York.
Middle school students on a school bus in Greece, New York drove an elderly bus monitor to tears in a 10-minute video that has since gone viral on YouTube.
In the video, posted to YouTube on June 19, students from Athens Middle School can be heard calling Karen Klein, a 68-year-old, hearing-impaired grandmother of eight, "fat", "poor", and a "bitch", as well as making threats against her person. The video was evidently taken by another student and posted to Facebook, before landing on YouTube; it appears to one of several in which Klein is cruelly harassed by the relentless preteens.
The description on the YouTube video includes the names of the students involved in the incident, as well as a link offering a way to donate to a fund to send Klein on a vacation. Thus far, as of this writing, the fund contained more than $170,000, far surpassing its $5,000 goal. "Max S", the fund's creator, wrote on the fundraising site, "I'm not sure why these kids would want to bully a senior citizen to tears, but I feel we should do something, or at least try. She doesn't earn nearly enough ($15,506) to deal with some of the trash she is surrounded by. Lets give her something she will never forget, a vacation of a lifetime!"
And she may get more than a vacation – school district officials launched an investigation into the incident this week, involving the police, USA Today reported. If criminal charges are pressed against the students involved, Klein may be testifying against them in family court.
Parents: If your child was involved in something like this, what would you do? Leave a comment below!
Klein spoke to the Today Show about the incident, saying that since the video went viral, she's received a number of kind letters and emails from across the country. She added that she hoped the parents of the children who tormented her see the video and take action: "I'm sorry that your sons acted the way they did," she said. "I'm sure they don't act that way at home, but you never know what they're going to do when they're out of the house."
Middle school students taunt elderly bus monitor:

Another video of students abusing Klein, this time on a different day:

Karen Klein speaks out about the "just plain mean" harassment she faced from middle school students: