I was prowling around Beauty Bar like a cat on a hunt…not expecting to find anything out of the ordinary, then I realized how important it is to always ask how much something currently is even if it just catches your eye.  I was shown this Burt's Bees Acne Solutions kit by the sales lady.  They didn't have any SALE signs present or even "blahblah% off" tags on the items.  I wouldn't have found out that this kit was 65% off, a price drop of Php2550.00 to Php892.00 unless the sales lady told me when I asked.  I got this set for my teenage brother who's an athlete.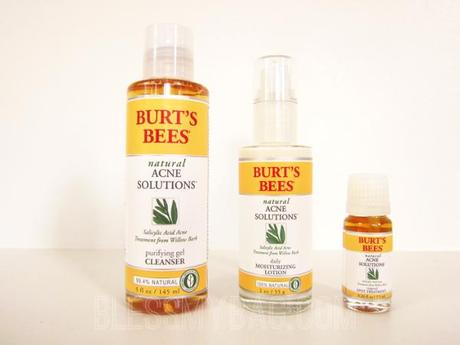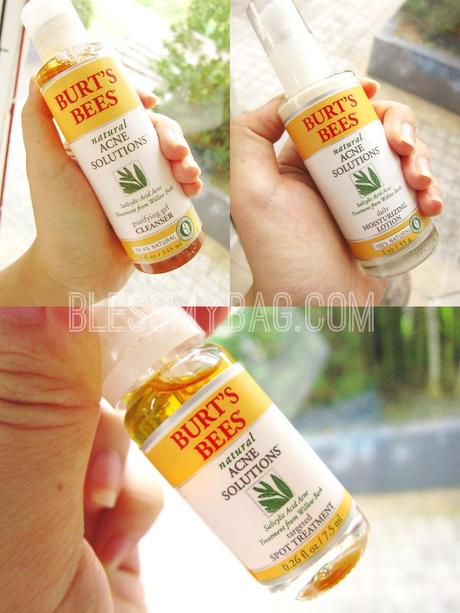 STEP 1: Purifying Gel Cleanser – "This cleanser is clinically proven to wash away acne-causing bacteria, excess oil and impurities without over-drying or irritating skin.  Salicylic Acid, derived naturally from Willow Bark Extract, penetrates pores to help reduce acne and prevent future breakouts.  Evening Primrose and Beet Root Extracts help soothe skin."

STEP 2: daily Moisturizing Lotion - "This natural lightweight lotion is clinically proven to help control oil and protect against blemishes without irritating skin.  Formulated with Lemongrass, Witch Hazel, Goldenseal and Hops to help soothe and calm irritation.

STEP 3: targeted Spot Treatment – "This natural spot treatment is clinically proven to help reduce and improve the appearance of blemishes without irritating skin.  Formulated with Tea Tree, Calendula, Yarrow and Parsley extracts to help soothe skin and reduce redness, and Borage Extract to promote healthy skin."
It's said to be "The first and only truly natural* (certified by natural products association) acne solution clinically proven to reduce and prevent acne." The kit contains 3 items, two would expire this December 2012 (but they'll be finished way before then) and the potent spot treatment serum has no expiry.  My brother struggles with flare ups of adolescent acne and oily skin and on top of that he was recently diagnosed with skin asthma which usually couples a dormant asthma condition, which is why I'm glad a moisturizer is part of the kit since sudden dryness is also a symptom of the skin asthma.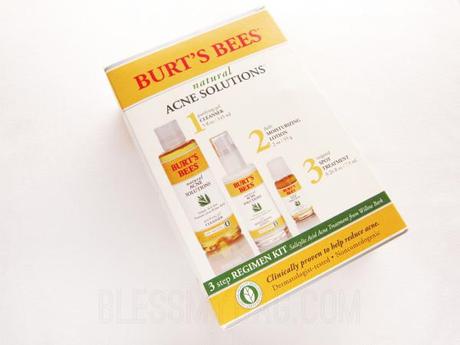 I'll try my best to follow up with the results of how this works on my brother's condition.  I forgot to last time with the Alba Anti acne products I gave him before.  That worked really well but it needed to be coupled with some dermatologist prescribed ointments.  We'll try this and do our best to let you know.  I trust Burt's Bees though and I'm sure this is an extremely good deal right now over at Beauty Bar, grab it at the current sale price, from Php2550.00 to Php892.50, that's a big drop, guys!