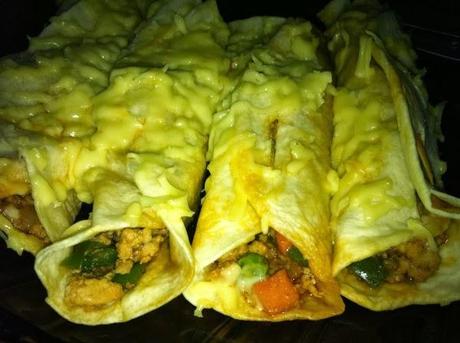 Ingredients:
1 pound lean boneless pork butt or shoulder, trim/cut in 1-inch chunks
1 1/2 cups water
4 large dried red New Mex or California chiles OR 3 tablespoons ground mild red chile
1 clove garlic, minced or pressed
3/4 teaspoon salt
1/2 teaspoon dry oregano
2 teaspoons red wine vinegar
4 to 6 flour tortillas, 8 to 10-inch
sour cream, shredded Monterey Jack cheese, chopped tomato, shredded lettuce, guacamole
Preparation:
Place pork in a 2 to 3-quart saucepan over medium high heat and add water. Bring to a boil; reduce heat, cover, and simmer for about 1 hour. Meat should be very tender. Skim off excess fat.
Remove stems and seeds from the dried chiles; break up and whirl in a blender until finely ground. Add to pork along with garlic, salt, oregano, and vinegar. Simmer, uncovered, stirring occasionally, until sauce thickens (about 35 to 45 minutes).
Meanwhile, wrap tortillas in foil and heat in a 350 degree oven until hot (about 15 minutes). Or wrap in plastic wrap and microwave on High (100%) for about 30 seconds. To serve, spoon pork filling down center of each tortilla and add garnishes as desired. Lap ends of tortilla over filling and fold sides to center, or roll up without tucking ends in.
Makes 4 to 6 servings.