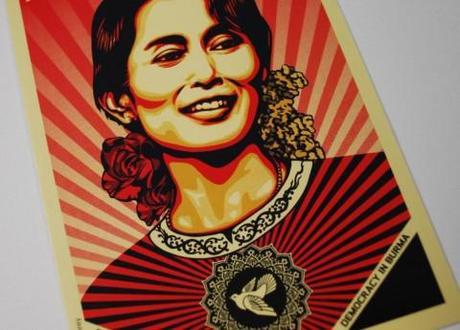 Aung San Suu Kyi. Photocredit: Fotopedia
Burma is due to have a by-election this week, in which for the first time alternatives to the ruling party will be able to stand – credible alternatives, such as 67-year-old Aung San Suu Kyi, leader of the once-banned National League for Democracy party. Burma has been ruled by a military junta for nearly five decades. This vote will fill 45 seats left empty by parliamentarians promoted to the Cabinet. The ruling party, under Thein Sein, is the Union Solidarity and Development party, formed less than two years ago to contest the 2010 election, which was widely viewed as a sham. The country has made some strides towards more openness – it has released political prisoners, and made a ceasefire with Karen rebels. International observers have been asked in to monitor the vote.
Suu Kyi is "all but guaranteed to win her seat in Kawhmu, south of Yangon," reported CNN.  Some commentators say that it's great that Burma is now opening up. Others say it won't matter who wins what seats.
"I don't think it matters how many seats the NLD wins. I think the only thing that really matters whether it's free or fair. I don't think the people of Burma care about how many seats the NLD wins either. What they want to know is whether the next set of elections, the national elections (expected in 2015), are also going to be free and fair," said Monique Skidmore, of the University of Canberra, quoted on CNN.
The New York Times reported that the National Leage for Democracy could only hope to win "less than a tenth" of the seats in parliament. This means it won't be able to push through any of the reforms that it promised.
"I don't think we can consider it genuinely free and fair if we consider what has been going on for the last couple of months. We have had to face many irregularities," said Aung San Suu Kyi, quoted on The Guardian.
Neither free nor fair. Aung San Suu Kyi herself has said that the elections will be "neither free nor fair", reported The Guardian, but she will press on nonetheless. Suu Kyi said that opposition politicians had been the victims of stone-throwing and other sorts of intimidation.
No change. Support for the ruling party is mostly simulated, that for Suu Kyi is "unforced and natural." And the ruling party, whilst trying to "act the part of proper political party," has very little to lose, said Hannah Beech on Time. The junta's organ will still be in control.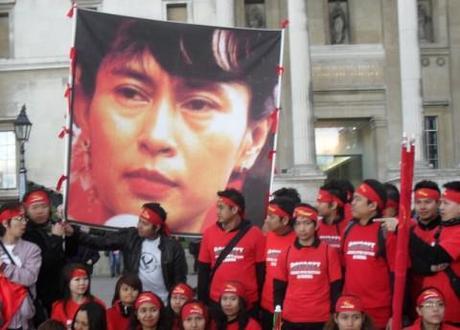 A protest in support of Aung San Suu Kyi in London. Photo credit: Burma Democratic Concern
But there is hope. Timothy Garton Ash on The Pakistan Observer said that "There are still major obstacles ahead. Wisdom and strength, both inside and outside Burma, will be needed to surmount them." It's a "big risk" for both opposition and the ruling party. Burma's "chief astrologer" has predicted that Thein Sein will "fall ill this summer" – which may be politically so. And Suu Kyi is facing the exertions of campaign for what will only bring her a small voice. She is "exchanging one kind of powerlessness for another." And that's not to mention China's presence – it's "hardly going to welcome the emergence of a shining, Western-oriented democracy on its doorstep." But Suu Kyi, "The Lady", is "a treasure without price." And at least her end will be a beginning.