My visit to Wellington Lake and Buffalo Creek Falls felt like the most authentic Colorado Rockies experience of my entire trip in July 2016. 13 miles of dirt roads after 40 or so long and winding ones through Pike National Forest surrounded by the breathtaking majesty of the these mountains brought me to this little camping area under the shadow of Castle Mountain.  The hike was an easy, pleasurable one, but always cautious of the bear that many signposts made clear were nearby. It was highlighted by several species of butterfly I'd never seen in the wild, as well as wildflowers, especially the Colorado Columbines.
The falls most interesting feature, which you'll see late in the meditation, is the rippling formations at the top of the slide carved out of the rock over the eons. A testament to the blind playfulness of nature.
Buffalo Creek Falls, Bailey, Colorado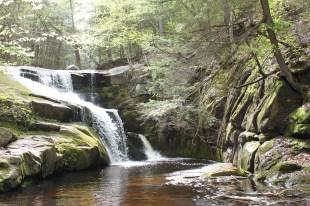 The Waterfall Series –
A significant part of the minute meditation series are these waterfall videos I've been taking for many years now. Most of the falls are in my native New England.
If you're a waterfall chaser here, I highly recommend the New England Waterfalls Guidebook. It's the best way to locate, select, and get to the falls.
Click here to see a map of the waterfalls I've visited as part of the minute meditation series.
If you enjoyed this post,  please like and share.







Minute Meditations
 is an ongoing series of short videos, poems, and commentary intended as a meditation.  Offered as an opportunity to step back from your cyber routine and settle into a more natural rhythm, if only for a minute.

Dialectic Two Step, Modern Koans, Verse Us, Say What?, and Minute Meditations all copyright Andrew Furst Subscribe to My Newsletter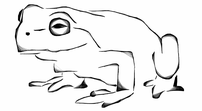 Join me for a little peace through reflection, art, video, sound, and poetry Leave this field empty if you're human:
---
These videos are produced for those of us who spend an inordinately large amount of time in the cyber-world.  They are not a substitute for unplugging from your devices and taking a stroll near trees, water, or a patch of unkempt grass.  Getting out into the world – touching, smelling, hearing, and seeing nature is the best way to reconnect with our prime purpose.  
What is our prime purpose? We are feeling and sensing machines.  We are the universe looking back on itself. We are witness to the wonders and dangers of living in this corner of the cosmos.  We are the seekers looking for connection a little further beyond yesterday's borders and boundaries.
But sitting and staring at the screen robs us of the sustenance that we rely upon for wonder and sanity.  These videos are an opportunity to bring the sensations of nature to you, while you're in the cyber-world. Its an opportunity to relax your gaze, resettle your posture,  and regain some depth in your breath.  Listen and watch the video and allow your self to open up and recharge.
The post Buffalo Creek Falls – A Two Minute Meditation written by Andrew Furst appeared on Andrew Furst.