Dear Dan Wehr: 
    Hello, I hope this message finds you well and surviving the 162 days, 03 hours, 25 minutes, and 36 seconds until UND's next home game. I recently read a memoir,
By the Iowa Sea
, and I thought of you as the story speaks about your old stomping ground, Iowa City, Iowa. I am writing to share my thoughts and opinions about the book with you. The story starts out rather dull, but picks up during "Part Two" when Joe Blair focuses on the main event - surviving the Iowa flood and repairing his marriage.
   "Part One" of Blair's story lacks clarity, wandering without purpose, reflecting the timbre of his freewheeling life during his early twenties. Blair begins his memoir with meeting his wife Deb at UMass Lowell in a diner, eloping at the local courthouse, and hopping on a '91 Honda ST1100 motorcycle to explore the country on their honeymoon. They cruse through the flat and clean landscapes of North Dakota, the green pines and lakes of Minnesota, and the hilly bean and cornfields of Iowa. The newlyweds decide to make Iowa their home after they run out of money on a gravel road near Iowa City, Iowa. Over the following two decades, the adventurous couple slowly morphed into a typical Iowa family. Their lives change again with the birth of their third and fourth children, twins. Their son, Michael, is diagnosed with autism and tuberous sclerosis, meaning he has almost no language skills and commonly experiences seizures. "Part One" ends with Blair reliving a nasty fight between himself and his wife about how lame their lives are in Iowa and how they should sleep with other people.
   Blair's story gathers momentum in "Part Two" when he explores the couple's relationship and (SPOILER ALERT) the art of cheating. Deb has some interesting backseat time with Professor Peter, while Joe shares coffee shop time with redheaded temptress Pamela. Massive flooding in Iowa provided a lens Blair uses to examine the tumultuous facets of his own martial ecosystem. You will have to read the book to discover who cheats on whom. Trust me no dirty laundry is left unaired. You are going to want to read the entire book! Blair's style and cadence improve in the latter half of the book. He poses deep philosophical questions about life, while openly exploring his own thoughts. "Part Two" transforms the book into a raw, honest, and compelling read.
   I award Joe Blair four out of five buffalos (a stampeding good read) for melding the story of a flooding river with finding his purpose in life. I needed breaks from his writing to digest his profoundly stated dilemmas sorting through the meaning of life. I learned from his struggles; no wonder Oprah placed
By the Iowa Sea
in her book club and named Blair's memoir Book of the Week. Anyone seeking a midwestern perspective on surviving a natural disaster while grappling with the loss of passion in his or her marriage will find this book the ticket to the great midwest. 
All the best,
Brianna Mae
Buffalo Book Review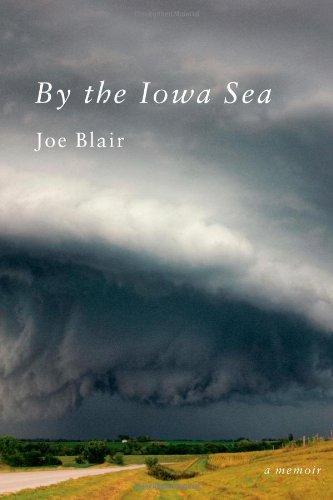 I award, 
By the Iowa Sea
by Joe Blair:  
Four out of five buffalos - 
A Stampeding Good Read.