Via ESPN: Mike Pettine was named the 15th coach of the Cleveland Browns on Thursday.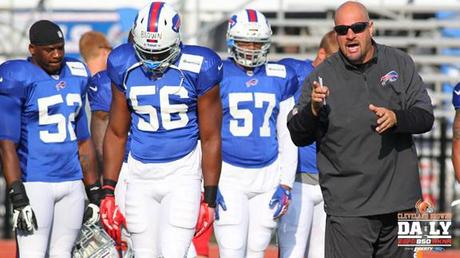 Thanks for the year, brah.
That's it, that's all you need to know about what the Cleveland Browns did yesterday.  A year after being named Defensive Coordinator and making solid progress with a defense that had been putrid the last couple of years, Mike Pettine is out of Buffalo and on his way to Cleveland to be the Head Coach of the Browns.  Honestly, I wish him luck.  Buffalo never stood a chance once every other coaching possibility basically told Cleveland management to screw off.  Pettine was the guy that was going to say yes, because you don't say no to a head coaching job when you are the defensive coordinator of the Buffalo Bills.
I was secretly hoping that no one would pay attention to upstate New York because I felt the Bills had something with this guy.  He got a lot out of a team who's secondary might not have been able to cover high school receivers at certain points in the season.  And to be honest, if they are able to sign Jairus Byrd and keep guys healthy, while adding another linebacker to the mix, they could have something on the defensive side of the ball next year.  It's just too bad that Pettine won't be there to see it through.
Good luck to Pettine mainly because he'll need it.  The Browns management seems like a complete cluster-F. Rob Chudzinski  was probably the right man for the job but they fired him after a year where at times the Browns looked capable but their quarterbacks couldn't stay healthy and they traded their #3 overall pick from a few years ago, Trent Richardson, to the Colts mid-season.  Pettine has to figure out who's going to play quarterback for his team and if it's a rookie then he's got to hope they are a quick learner or he may find himself out of a job.  Lord knows what those guys in charge in Cleveland are thinking.
What this means for the Bills is that they need a new defensive coordinator and that shouldn't be too hard to find.  I really think this defense is a player or two away from something legit.  If the scheme is right, they can continue to get pressure on the quarterback and, most importantly, stop the run, well they just might have something.  For now, we sit back and wait for the draft.  This off-season may be the most important one in a long time for the Bills.  With the improvements they made, in my opinion, last year, a good draft and key free agent signings could make 2014 a lot of fun.