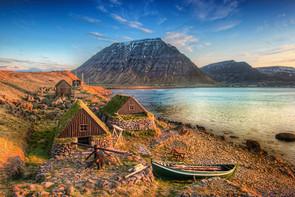 I've always believed Iceland has one of the most beautiful landscapes in the world, but once I saw Klara Harden's "
Made in Iceland
" film, I knew exactly how I wanted to see it. In her film, she expresses how wonderful, as well as how tough the experience of hiking across the island truly is. Deep within me, I was hooked after sharing in her experience through her film. I feel as though I must prove to my self that I can survive hiking and camping across the entire country. I wish to take this adventure and move slowly through the land, enjoying, experiencing, growing and living through the unique landscape that is only of Iceland.
CONTINUE READING & VIEW GALLERY
---
     Iceland is situated between Ireland and Greenland, where the North Atlantic and the Arctic Oceans meet. Its population is relatively sparse with 320,000 people calling its 39,770 square miles home. The climate of Iceland is typically tundra with some cold oceanic areas near the southern coast. The terrain ranges drastically from jagged coasts and inland mountains to fjords and lava fields.
(Photos by
Trey Ratcliff
)