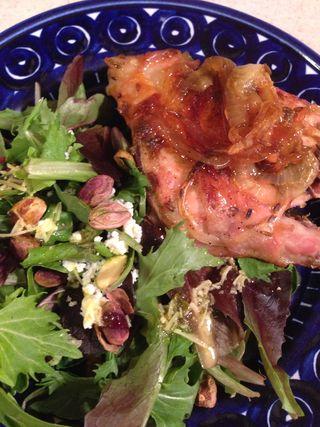 Honey, Lavender and Lemon Chicken
This is the easiest recipe ever...and one of the loveliest. I kid you not, you can whip this up in five minutes...bake it for an hour and everyone will think that you're amazing. I love it, because in the dead of winter this dish will make you feel as if you're lucky enough to be living in Provence. If a recipe could have a vibe this one would be love....we can definitely attribute that to the lavender and the honey which promotes such sweetness. The lemon, onion and curry makes this recipe as sunny tasting as can be. The whole recipe doesn't contain a even a dollop of added fat...a real plus!
Lavender is one of my favorite herbs and I love using it in recipes whenever I can. I've noticed that when I put it into a recipe like this that my dreams are sweeter and I relax into sleep so much easier. On a purely feminine note, I've also noticed that it cools down my hot flashes which is a real plus. I'm sure that this is because lavender can adapt to almost any physical situation and has the ability to promote relaxation during the most stressful situations and imbalances. One of my favorite teas when I've got the blues is a tisane made from Lavender (make sure that you buy culinary lavender), linden leaves and flowers (a blissful nervine that is so relaxing), about 1/2 a cup of fresh pear juice, raw honey and lemon  . Just take 1/2 cup of each of the herbs and put them into a warmed teapot (put in some really hot water ,let sit for a few minutes and dump it out) along with the pear juice, the juice of one lemon and at least 4 tablespoons of raw honey. Add water that has been brought to a boil and then cooled to about 180 degrees. Stir once and let it steep for at least 4 minutes. Find your prettiest teacup and pour yourself a cup through a tea strainer. Add one Madeleine (a la Proust!) and find a comfortable chair, your favorite magazine and a soft blanket. The magic will happen with the first few sips and very quickly you will find yourself so relaxed that you'll probably be napping as soon as you've finished the first cup! Don't worry about wasting it...It's wonderful iced too!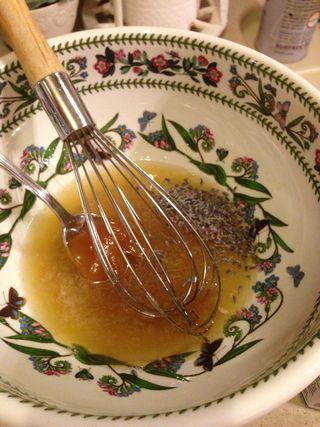 Honey, Lavender, Lemon and Orange Blossom Vinegar
To make this chicken is sinfully simple. Buy one cut up organic roasting chicken. Thinly sliced a large spanish onion and place 3/4's of it on the bottom of a roasting pan. Lay the chicken on top of the onion and then sprinkle the rest of the onion among the chicken pieces. Salt and pepper to taste and sprinkle with a sweet curry  (this is my favorite, but any will do as long as it's not too strong). In a bowl mix the juice of two lemons, 1 heaping tablespoon of culinary lavender ( no more or it will taste soapy!), 2 tablespoons of orange blossom infused (another potent love philter:) balsamic vinegar and 1 cup of raw honey. Whisk it all together and pour it all over the chicken pieces. Marinate for about thirty minutes and then bake in a preheated 350 degree oven for 45 minutes to an hour. You'll know when it's done because the chicken will be golden and the onions will be caramelized and decadent.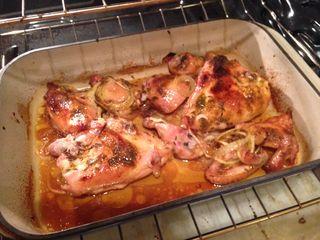 Fork Tender with the most Delectable Pan Juices
Serve this on your prettiest china with a salad or simple grain like an herbed quinoa and some haricot vert (thin green beans) and a lovely chilled riesling, rose' or a glass of chilled champagne. Unfortunately any of the more tannic whites will not play well against the lavender but the sweetness of any of these that I've recommended will be perfect.  
Then light the candles, sit back and take a bite. Let the honey and lemon explode on your tongue and let the dreams of Lavender fields on a French summer's eve whisk you away to the most relaxing state of mind.