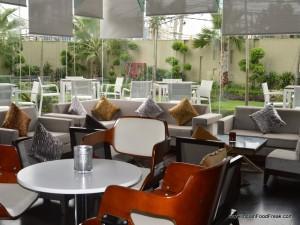 A lovely Sunday afternoon have my wife and me heading towards recent addition to Gurgaon luxury hotel scene for brunch; Hilton Garden Inn. The entry into the hotel is simple without a porch or high wall fenced boundary, but what impresses is the 24 hour world cuisine restaurant, Glasshouse. Double level glass ceiling, full of natural light, live music in the background and ample private space for diners marks the first impression of the place and I like it.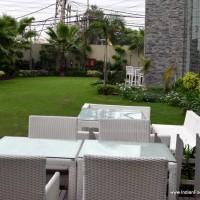 We are conveniently seated inside the restaurant given the last bit of summers still making its heat felt while our eyes are glued to the lush greens outside visible from the Glasshouse. The brunch buffet spread is laid out and we start with a glass of Lemon Martini as a starter drink before venturing into sparkling; Rocca dei Forti Asti, all of which is included in the competitively priced menu at Rs1395++ per person.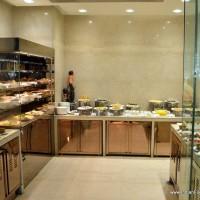 Even before salads I try my hands on the salmon maki and another option in veg sushi. The sushi is nice and the fish fresh but the wasabi fails to hit the spot. Moving on to the salads and cheese, this station is built as a cold room with temperature maintained for longer shelf life. Prawns and seafood are conspicuous by their absence and quite understandable given the price point. The salads are fresh, crunchy and nice and I avoid all those bhallas and papris given the fear that they will fill me up. I still want to play a long inning.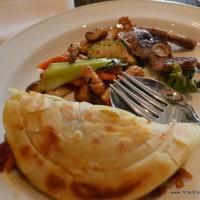 From here I move on to Teppanyaki and Tawa counter set out in the open lawn. From the lamb, fish, chicken & pork sausages, I chose everything except chicken. Lamb done in black bean sauce was exceptional, pork good while fish was tad overcooked. This is the place that sees me going back for more.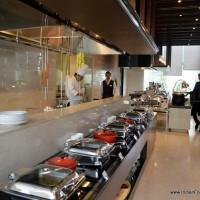 The service is nice for a buffet. Kebabs, chicken shawarma and Thai green curry are served on the table. There are ample options in Indian selection and I choose few interesting ones. For a buffet I must say I like the food. By now my appetite was full but intentions aren't. I could either venture into the Continental & Chinese spread or hit the dessert straightaway, and I decide to come back for Chinese-Continental spread some other time.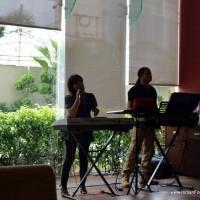 It is over 2-hours for us enjoying the brunch and music, and the lead female singer is either enjoying her music or just smiling to see my appetite, but it does not deter me to smile back at her.
The desserts don't disappoint with notables being black forest gateau, chocolate éclairs and Baskin Robin's mango ice cream.
As I said earlier, the price point is competitive and this may just be the teaser launch price. Am sure Hilton Garden Inn will soon offer more sea food and cold cut options and will increase the pricing. Till then, do visit them to have a good time as I did.
Ratings (Out of 5)
Food: 3.5 | Ambience: 4.0 | Service: 4.0 | Overall: 4.0
Meal for two: Rs2790 (Inclusive of Alcohol; taxes extra) | Credit Card: Yes | Alcohol: Yes | Timings: 12.30PM – 3.30 PM
Address: Glasshouse, Hilton Garden Inn, Bani Square, Sector 50, Gurgaon | Phone: 0124-4420000