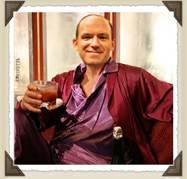 The news this month is full of Brodkorb, and his law suit.
The state Senate says they won't settle, and there is a fund of $500k to cover costs through 2014.
Brodkorb claims he was treated differently than other employees — female employees – having affairs with members of the legislature.  Senate leader Tom Bakk points out that when people who were in the position he was in  were terminated when their bosses left, notably Brodkorb's predecessor when Bakk took over after the 2012 election.
It's not like Brodkorb was uniquely successful as communications director, or that every new person in office doesn't select their own chief of staff.  It's also not like Brodkorb was part of a successful MN GOP, having served as deputy chair during the period of time when, under the leadership of the oversized ego  of Tony Sutton, the party went into spectacular debt and demonstrated spectacular fiscal IR-responsibility.
The latest developments are that while Sutton appears to be blackmailing , or more precisely TRYING TO BLACKMAIL the MN GOP, and potentially the other side of the aisle by releasing scandalous stories of similar affairs to his own, a recent court ruling earlier this month squelched his chances at leveraging that nasty maneuver when the court gave broad powers to both sides of the suit to designate material as confidential.
That makes it less effective as leverage to shame or embarrass or otherwise harm current and past members of the legislature.
As the PiPress noted on June 7 of this year:
A federal judge has ruled that either party in fired aide Michael Brodkorb's lawsuit against the Minnesota Senate can designate materials or witness depositions as confidential, an order the former staffer said Friday was too broad but that an opposing attorney classified as routine.
U.S. Chief Magistrate Judge Arthur Boylan issued the order Thursday, covering information sought and exchanged in the pre-trial phase of a case headed for trial next summer.
Brodkorb is suing over his dismissal, which followed disclosures of an affair he was having with then-Republican Senate Majority Leader Amy Koch.
The order covers depositions of former lawmakers and others. Brodkorb claims that his termination after the affair became public was handled differently than similarly situated employees in Capitol romances. His side planned to seek depositions of current and former lawmakers as he tries to prove the case.
When direct efforts by the sleazy hypocritical adulterer to try to embarrass his former colleagues failed, Brodkorb then moved on to somehow leaking, or allowing to be leaked, a recording of a sympathetic phone conversation with former president of the Senate, Michele Fischbach, appears to support Brodkorb.  Clearly, this is one more too-trusting woman who didn't recognize Brodkorb for the sleaze he was and is; but regardless of her opinion, which she now notes was intended to be sympathetic to someone experiencing loss, Fischbach does not appear to have been in a position then to be either fully informed of the all tine details of the termination, or knowledgable about such hires and fires,  and perhaps most significant, she was not aware and did not consent to such a recording.
While the recording was technically legal, the ethics of making such a recording, and the way it was used, go to demonstrate the lack of ethics and morality of his character, and his general untrustworthiness.  In my opinion, the man is a two-legged swine, who doesn't care about anyone, certainly not his family, or his colleagues, or the people of Minnesota, or most specifically, loyalty towards any woman who is involved with him as wife, lover, or friend.  He does not appear to be respectful of the judicial process either, given this apparent defiance of the spirit of the June 7th ruling.
We can only hope his actions in providing the tape to the media will result in both court consequences, and the fleeing of any remaining partisan supporters who recognize the immense deficiencies of character of Michael Brodkorb.
The STrib leak appears to be an attempt to circumvent Judge Boyle's ruling; to me it smacks of an act of desperation.  While the apparently highly partisan STrib author who called for settlement appears to be attempting not so much to protect Brodkorb, but the scandal and conflict riddled MN GOP as well.  A perusal of the response to the article in the comment section indicates the support appears to be overwhelmingly for fighting  Brodkorb, even if there is substantial cost to the tax payers.  No doubt Brodkorb is positioning himself to try to be king maker, and maybe rain maker for the 2014 campaigns for office, including the make-or-break smear activities on which he made his name.
After all, this has to be costing Brodkorb as well, which leads me to wonder who is funding this little suit of his?  It's not like the fiscally dishonest and inept MN GOP has the money, or has any great love – or trust – for NO-family-values Brodkorb, now that he is attacking them rather than serving as their attack dog.
Brodkorb must be toadying to some big money source to fund his go at this law suit; someone else has hooked their leash to his collar, in hopes of continuing his sleaze style of politics. It will be interesting to find out who that is – and sooner or later, it WILL come out.
I would further argue that NOT fighting Brodkorb creates a moral hazard. 
Wikipedia has an excellent entry explaining what moral hazards
are in the context of economic theory, which I would encourage those interested in the Brodkorb controversy to read.  But I think the best explanation / definition is the one from
Paul Krugman
, "any situation in which one person makes the decision about how much risk to take, while someone else bears the cost if things go badly."
The state lege might be particularly interested in looking at the section of that Wikipedia entry on moral hazard in the context of employment, which notes, in an observation that seems uniquely applicable to political appointments:
Moral hazard can occur when upper management is shielded from the consequences of poor decision making. This situation can occur in a variety of situations, such as the following:
When a manager has a secure position and cannot be readily removed.
There are some other employment moral hazards that apply, but I think that one alone is sufficient to justify the cost of fighting this suit.  And when it is done, if he fails, as I believe he will, rather than prevails, then I suspect that event he big spenders who might be behind Brodkorb will dump him into the pit of obscurity where such sleaze belongs.
It should be entertaining to watch the smoke and fire, as Michael Brodkorb burns the rest of his bridges in a desperate attempt to appear relevant again during the 2014 election cycle.