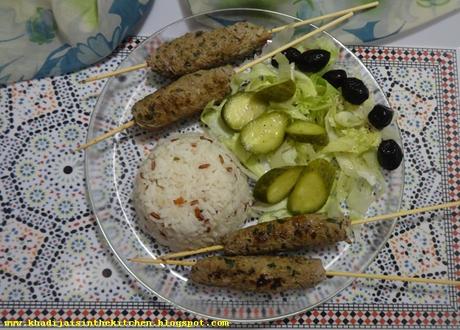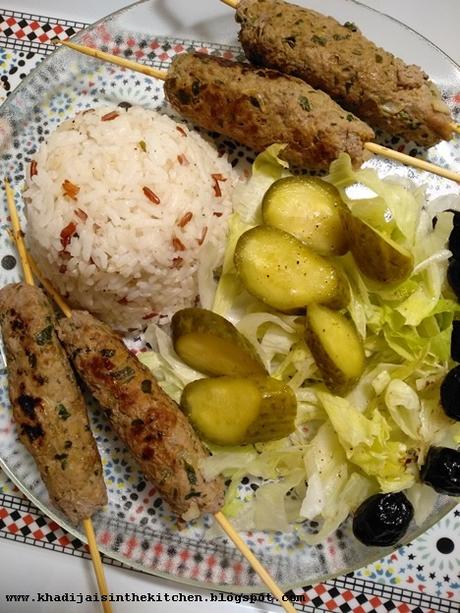 RECETTE / RECIPE / RECETA / الوصفة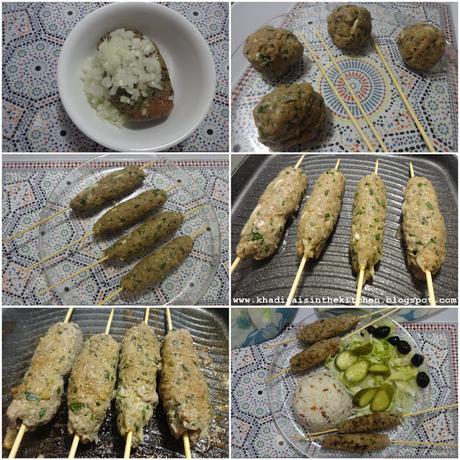 BROCHETTES DE KEFTA À LA MAROCAINE
INGRÉDIENTS :
250 g de viande de bœuf ou d'agneau hachée
1 cuillère à café de paprika
1 cuillère à café de cumin
½ cuillère à café de sel
¼ cuillère à café de poivre
Un petite poignée de coriandre hachée
1 gousse d'ail râpée
½ cuillère à soupe d'huile d'olive
½ cuillère à soupe de jus de citron vert
Le quart d'oignon moyen
MÉTHODE DE PRÉPARATION :
1- Dans un bol, mélanger tous les ingrédients sauf l'oignon. Couvrir le bol et le mettre dans le réfrigérateur pendant une heure ou plus.
2- Sortir le bol du réfrigérateur. Émincer l'oignon, l'ajouter à la viande hachée et bien mélanger.
3- Diviser le mélange en 4 boulettes et leur donner la forme de 4 brochettes.
4- Faire chauffer une poêle et y déposer les brochettes de kefta. Cuire les brochettes jusqu'à ce qu'elles soient dorées de chaque côté et bien cuites.
5- Servir immédiatement.
*****************************
MOROCCAN KOFTA SKEWERS
INGREDIENTS
250 g ground beef or lamb
1 teaspoon paprika
1 teaspoon cumin
½ teaspoon salt
1/4 teaspoon pepper
A small bunch cilantro, chopped
1 clove of garlic, grated
½ Tbsp. olive oil
½ Tbsp. lime juice
A quarter of a medium onion
HOW TO:
1- In a bowl mix all the ingredients except the onion. Cover the bowl and keep in the fridge for one hour or more.
2- Remove the bowl from the fridge. Chop the onion finely, add it to the ground meat and mix well.
3- Divide the meat into 4 balls and form them onto 4 skewers.
4- Heat a grill pan and place the kofta skewers.Cook until browned on each side and cooked through.
5- Serve immediately.

*********************************
BROCHETAS DE KEFTA MARROQUÍ
INGREDIENTES:
250 g de carne de ternera o de cordero picada
1 cucharadita de pimentón
1 cucharadita de comino
½ cucharadita de sal
¼ cucharadita de pimienta
Un manojito de cilantro picado
1 diente de ajo rallado
½ cucharada aceite de oliva
½ cucharada jugo de lima
El cuarto de una cebolla mediana
ELABORACIÓN:
1- En un bol mezclar todos los ingredientes excepto la cebolla. Cubrir el bol et colocarlo en la nevera durante una hora o más.
2- Sacar el bol de la nevera, añadir el cuarto de cebolla finamente picado a la carne y mezclar bien.
3- Dividir la carne en 4 bolas y formarlas en 4 brochetas.
4- Calentar una sartén plancha y colocar las brochetas de kefta. Asarlas hasta que se doren por cada lado y estén bien cocidas.
5- Servir de inmediato.
****************************
الكفتة المشوية المغربية
المكونات:
250 غرام من لحم الغنم او البقر مفروم
ملعقة صغيرة من الفلفل الحلو
ملعقة صغيرة من الكمون
نصف ملعقة صغيرة ملح
ربع ملعقة صغيرة من الفلفل الاسود
حفنة صغيرة من الكزبرة الطرية ، مفرومة
فص ثوم مفروم
نصف ملعقة كبيرة زيت الزيتون
نصف ملعقة كبيرة عصير الليمون الاخضر
ربع حبة بصل متوسطة 
طريقة التحضير:
1- في وعاء ، تخلط جميع المكونات باستثناء البصل. يغطى الوعاء و يوضع 
في الثلاجة لمدة ساعة أو أكثر.
2- يخرج الوعاء من الثلاجة ، و يضاف البصل المفروم الى اللحم و يمزج الكل 
جيدا.
3- يقسّم الخليط إلى 4 كرات تحشى في أسياخ للكباب.
4- تسخن مقلاة الشواء و توضع فيها أسياخ الكفتة. تشوى الكفتة حتى تتحمر 
من كل جانب.
5 – تقدم الكفتة المشوية على الفور.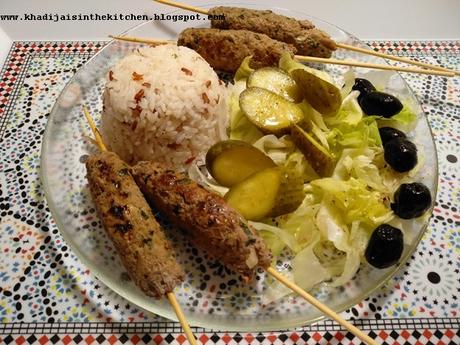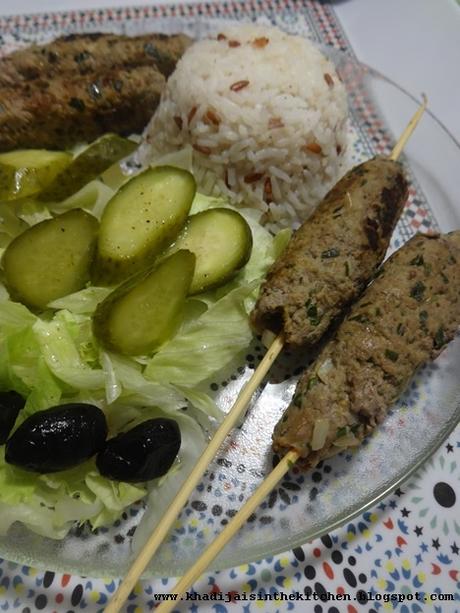 ****************
Hope you'll enjoy!!
*********************
Merci de votre visite / Thank you for your visit / Gracias por
su visita/

شكرا على زيارتكم
Pour d'autres idées de cuisine / For other cooking ideas / Para otras ideas de cocina / من اجل افكار اخرى للطبخ :

Facebook

,

Instagram

,

Pinterest