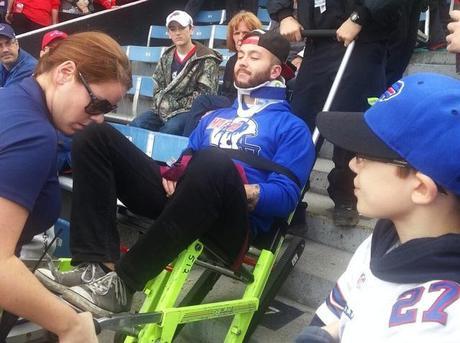 Probably regrets this whole decision.
Remember this guy?
Yeah, he's had a pretty rough go of it since tumbling from the 3rd deck at Ralph Wilson Stadium in Orchard Park, NY on Sunday.  Let's go over all the details:
1st, he was barred from Ralph Wilson Stadium for life….
Source: Buffalo Bills president and CEO Russ Brandon released a statement Monday regarding the fan that fell from the 300 level during Sunday's game against the Jets.
"The irresponsible behavior that occurred at yesterday's game by the fan who fell from the upper deck is a violation of our Fan Code of Conduct and cannot, and will not, be tolerated. This individual will not be permitted back into Ralph Wilson Stadium. The vast majority of our fans who attend Bills home games at Ralph Wilson Stadium do so in a responsible manner and we continue to work diligently to eliminate those individuals who violate our Fan Code of Conduct from game days at our stadium. We are cooperating with the Erie County Sheriff's Office during their investigation of this incident and we want to extend our best wishes for a speedy recovery to the fan who was injured in the 200 level."
Then his job got wind, and they fired him…
Source: Hopkins was an employee for Eric Mower and Associates in Buffalo. On Tuesday, EMA released a statement saying:
"EMA is very concerned about Sunday's incident at the Buffalo Bills' game and we are relieved that the injured were released from the hospital. Rob Hopkins is no longer employed by EMA."
And now, as part of the investigation he could also be facing criminal charges.
Via Buffalo News: Erie County sheriff's investigators are considering two possible misdemeanor charges – third-degree assault and reckless endangerment – against the man who fell from the upper deck in Ralph Wilson Stadium on Sunday, sources said late Monday.
What a week for Robert Hopkins.  Guy went to the game on Sunday just looking to see the Bills beat the Jets and ended up having his life flipped upside down.  Just a simple reminder not to do stupid shit when you go to a sporting event.  Tailgate, get drunk, cheer for your team, but DON'T slide down the railing of the 3rd deck because that shit just won't hurt on the way down, it'll hurt everything you do.