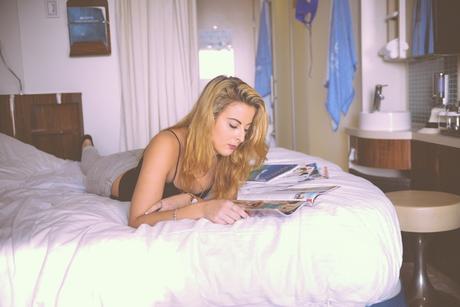 British women are taking more than six million days off work a year - due to PMS, a study has found.
Four in ten women admit their painful cramps, bloating and moods affect their day-to-day lives so much that they call in sick at least once a year.
And one in twenty women have taken six days or more - the equivalent of more than a working week - off during the past 12 months.
But half of those who have called in sick due to their PMS worry their colleagues or boss will simply think they are skiving, with 78 per cent admitting to suffering in silence at their desk instead of asking to go home.
One in five of those polled by Efamol, even stated that they had received sarcastic comments about their mood from colleagues during their 'time of the month.'
Besides work, women also admit their PMS symptoms have affected their friendships, social life and relationships, with one in ten even claiming it has led to at least one relationship break-up.
A spokesman for Efamol said: "While some women sail through their menstrual cycle with no problems whatsoever, for some, it can really affect all areas of their life.
"Symptoms can cause real pain and discomfort, meaning work is the last place you want to be.
"But it's worrying to see so many are facing criticism or being made to feel they are doing something wrong by taking time off due to their severe PMS symptoms.
"Some of the symptoms of PMS are no different to those that cause many of us to call in sick without thinking about it.
"Incorporating food supplements such as Efamol Evening Primrose Oil as part of a healthy diet and lifestyle can help to alleviate the symptoms of PMS, which affect your life at certain times of the month."
The study of 2,000 women, found 85 per cent of women suffer from some kind of PMS or its related symptoms - 47 per cent of which say this happens every month.
Cramping pains are the most common symptom experienced by 75 per cent, followed by bloating, fatigue or tiredness and irritability.
Other common complaints include spots, headaches and backaches.
But while most say their symptoms are minor, 23 per cent class them as severe.
As a result, 84 per cent say their symptoms have affected their day-to-day life at some point, with 41 per cent saying it impacts their work and productivity.
Thirty nine per cent of women have called in sick at least once in the past year, while another 21 per cent have gone into work, but ended up going home early.
One in twenty have even cancelled a meeting.
But the study found it's not just work, which suffers as a result of PMS; 34 per cent reckon their social life is affected and 16 per cent believe the same can be said about their friendships.
Almost half (48 per cent) also admit their relationships have suffered, while 12 per cent have cancelled a date as a result of their PMS symptoms.
Three quarters of those who believe their relationships are affected, say their PMS often results in lots of petty arguments.
One in ten even said at least one of their relationships has ended due to their PMS, while another 19 per cent say it's come close to it.
Others say PMS has led to them not talking to their partner, their other half sleeping on the sofa or going to bed separately.
But a lack of communication could be to blame; 23 per cent of women admit they have shied away from talking to a partner about PMS or periods.
More than half say they are too embarrassed; with 45 per cent saying they don't think their partner wants to know about it as it's 'women's stuff.'
Dr Dawn Harper added: "It's obvious from the survey that there are many women out there suffering in silence every month from PMS symptoms.
"These symptoms are not only affecting their work life, but also their relationships.
"In fact, 88 per cent of those polled admitted that their symptoms were alleviated with the help of medication or a natural remedy.
"I think of treating PMS a bit like finding the 'little black dress.' It isn't a 'one size fits all,' and there is clearly a role for alternative treatments with regards to PMS.
"Taking a supplement such as Efamol Evening Primrose Oil, has helped many of my patients to alleviate some of the debilitating symptoms they experience."
Top ten most common PMS symptoms
1. Cramps
2. Bloating
3. Fatigue or tiredness
4. Irritability or emotional outbursts
5. Mood swings
6. Swollen or tender breasts
7. Spots
8. Headache
9. Food cravings
10. Backache
ENDS