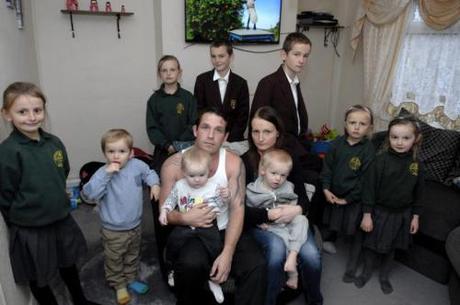 Cheryl Prudham, 32 and husband, Rob, 29, have three kids together. She also has six other children with different fathers.
DailyMail: A British mother of nine wants an even bigger house — paid for by the British government. And she complains it's hard to live on government hand-outs — especially as she is now expecting twins.
The large family of Cheryl Prudham, 32 and husband, Rob, 29, already makes them $63,855-a-year from the government. When the twins are born in September this will jump by another $2,800 — to $68,855.
Despite the large family, though, Cheryl Prudham said, "I actually go out to work. It's hard to make ends meet."
Last year local authorities rejected the Kent couple's demands for a much bigger home but they swapped their three-bed via Facebook with a downsizing family for their spacious five-bed government house with large back garden.
Three months later she told The Sun she wanted to return to her home town of Sittingbourne, "we've been here for about three months. I don't really like it here to be honest. It's just we had to move out of Sittingbourne and we liked it there."
They pair have Leon, 3, Lenny, 2, and 1-year-old Lainey together. Cheryl is the mother of George, 14, Jack, 13, Caitlin, 9, Maisie, 8, Millie, 6, and Madison, 5, from previous fathers.
They each work 20 hours a week caring for the elderly — which earns $25,209 annually — meaning they avoid paying income tax and their $206 rent is covered by the government.
They couple are given government weekly working tax credits of $117, boosted by $672 of child tax credits plus all nine bring in child benefits of $12,312 a year. In addition the twins will receive $22.77 each week.
DCG