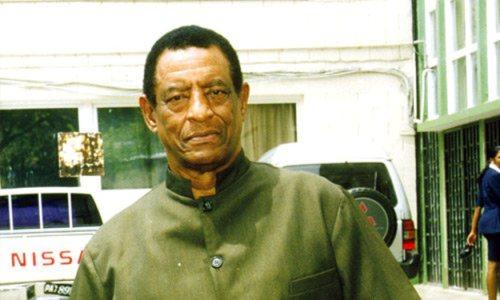 In observance of Black History Month, held annually in October in the UK, the University of Bristol Students' Union, over the past couple of years, have been celebrating the life and achievements of one of St Lucia's most illustrious sons, George Odlum. Brother George, as he was affectionately known at home and in much of the Caribbean, made history as Bristol University's first Black Students' Union President.
Back in 1956 he left St Lucia to study English and philosophy at Bristol University. This marked the commencement of a journey in what would turn out to be a life of remarkable accomplishments during which he gained near legendary fame for his political and mobilisational struggles at home and in the region. He was also admired for his intellectual prowess, his oratorical skills and erudition. What mde him especially popular was his  warm personality and he was very accessible – a veritable 'man of the people.'  George who was also an Oxford graduate among other things, served as Deputy Prime Minister of St Lucia and as the island's Foreign Minister and its Ambassador to the United Nations. Sadly, he passed away in 2003.
What is less well known is the extent to which George had distinguished himself at Bristol University, his alma mater. In a captivating and highly informative article, Chief Executive of the University of Bristol Union, Samantha Budd, tells the moving tale of Bro George's early years, showing how he became a voice for all of Bristol's students and a man with a sense of purpose who "developed a vision of hope for change." With Ms Budd's kind permission, I'm pleased to publish her article as today's blog.
As the daughter of a black man who, like George Odlum, left a small Caribbean island in the 1950s in search of the opportunities that the Mother Country could offer, I am only too aware of the strength of character and sheer determination that was required by this generation of colonial pioneers, as they overcame the barriers of racism and prejudice that existed in post war Britain at that time. It is within this context that the story of George Odlum, the student at Bristol University, must be understood. The times in which he lived make the man and his numerous achievements stand out as genuinely extraordinary, in the truest sense of the term. Clearly, even from his student days, George Odlum was destined for greatness.
The young George arrived to study English at Bristol University in the mid 1950's at a time when the city of Bristol was just starting to recover from a war that had devastated the city through an enemy campaign of intensive bombing. Food rationing had just come to an end and attitudes to foreigners, in particular, black visitors, would have been generally less than welcoming.
Britain was on the cusp of significant social change.   Oswald Mosley's Fascist Union Movement was still active; the infamous Notting Hill riots were still a year away; and the small port city of Bristol was a place where only two years previously the Passenger Group of the Transport and General Workers Union had said that 'if one black man steps on the platform as a conductor, every wheel will stop.' (It wasn't until the boycott of the Bristol Omnibus Company in 1963 that the odious employment colour bar was stopped. In fact, the 1963 protest in Bristol helped to establish the UK's 1968 Race Relations Act, an historic piece of legislation that started to tackle both overt and systemic racism in Britain.)
Against this national and local background of challenge and racism, we must hope that within the University community, George would have found a more enlightened and tolerant reception, which even at that time was reasonably international: in 1958 students from 28 countries around the world were studying at Bristol (this compares to students from just 3 countries when the university was founded in 1909, and students from over 100 nations today). Bristol University was nearing its 50th anniversary when George Odlum began his studies, and was even then considered one of the better established UK universities, often considered as a strong choice for candidates who might also consider Oxford or Cambridge.
Far from home and alone in a provincial city in the South West of England, George, like many of his fellow students, gravitated towards the Students' Union. The Union was a social hub where students could relax, meet each other for a drink, or partake in a favourite hobby or pastime. George may not have easily been able to socialise in the wider Bristol community but it is clear that he was not a man who was going to hide in the shadows; it is also clear that he was gregarious within the University community. Indeed, he must have struck quite a chord with his fellow students because in 1958 he was elected by his peers to be the President of the Students' Union. This position is very prestigious and has provided the stepping stone for many a great career in politics, business and beyond.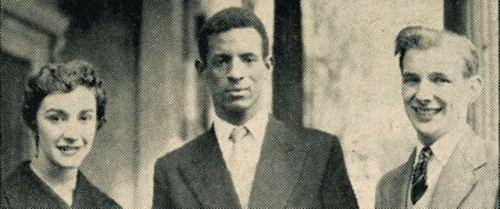 TRIUMVIRATE – Majorie Loud (ladies' president), George Odlum (president) and Roddy Hughes (vice president) – Courtesy 'The Western Daily Press'
As President, George was the figurehead of the Student's Union and thus represented the students at university functions and events as well as on the national stage of student politics. The photograph below shows George, as President of the Union, welcoming her Majesty the Queen and the Duke of Edinburgh during their visit to the University in 1958, to open the Engineering building. He would also have needed to command an audience through fine debating and oratory skills. To have been a Union President, then as now, required above ordinary levels of confidence and charisma. To have achieved this, as the son of a barber, a black man from a small Caribbean island, really was exceptional. Indeed even today, over 50 years later, George's feat remains remarkable as there has only been one other UBU President of Caribbean heritage, Rob Mitchell ( 1991-1992). Notably, George appears to have been the first black President ever of any Students' Union in Britain.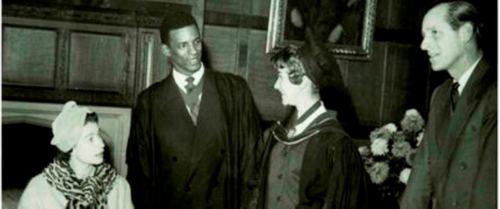 George Odlum and Marjorie Loud ( Lady President) in 1958 on the occasion of Her Majesty Queen Elizabeth II and The Duke of Edinburgh's visit to the University) Courtesy of the Bristol University Special Collection
Beyond his studies and his role as President of the Union, George had a full and interesting student life. He had a reputation as a successful debater and played both football and cricket. He was a 'marvellous ballroom dancer', as Margaret Loud told the Warden of Manor Hall in the early 1990s, while attending a University reunion. Many of the personal recollections refer to George as being 'attractive', 'handsome' and 'charming' and it is therefore perhaps not surprising that, in 1958, his portrait should have been chosen as the centrepiece of an art exhibition.
There has always been a strong theatrical tradition at Bristol University and between December 1957 and January 1958 the university hosted the National Union of Students (NUS) and the Sunday Times Drama Festival. The event was addressed by the acclaimed actors Peter O'Toole, Sam Wannamaker and Christopher Fry. George was also an accomplished thespian, having taken part in a BBC play during his time at North West Polytechnic, in London, prior to arriving at Bristol University. At Bristol he took part in DramSoc and Revunions productions and had the remarkable accolade of acting in the premiere of Harold Pinter's critically acclaimed first play, The Room, which was presented at the Drama Studio of the University of Bristol in May 1957.
Auriol Walters (nee Smith)who also appeared in The Room, recalls George as being ' an exceptional actor' as well as being ' tall, good looking….an easy person to get along with… he was great fun'. She also remembers that George was 'an eloquent speaker with the ability to engage an audience, which came through in his acting.'  
Today it might jar that George found himself as the 'blind negro' in this play. However, Pinter's play was in keeping with George's emerging radicalism. Pinter's play was not a traditional, classic play; it was somewhat avant-garde, described in the Sunday Times in 1958, as being a play 'that makes one stir uneasily in one's shoes, and doubt, for a moment of the solidity of the earth.'
We reflected earlier on the challenging social context in which Bristol – and Britain – operated in the late 1950s. Indeed, given George's later political successes, he must surely have been attuned to the groundswell of uprising that was emerging amongst his fellow Caribbeans living in communities throughout the major cities of England – including Bristol, where a Caribbean community was starting to congregate, in the area of St Paul's.
Bristol University's Student Union was a founding member of the NUS. After the war the NUS was instrumental in establishing the International Union of Students (1946) and in 1952 it joined other student organisations and established the International Students Conference. George had been on the  Committee of the Union's International Society and it was in this increasingly internationalised backdrop that George began to operate on the national stage of student politics.
The NUS Council were debating issues that would have fired George's passion and provided him with the platform to demonstrate his emerging political and oratory acumen. Issues debated included: support for the 'Problems faced by colonial students' (1957); 'Condemnation of apartheid and violations of academic freedom in South Africa' (1957); 'Condemnation of the policy of the French Government in arresting the officers of the Algerian Students' Union' (1958) and the motion that George himself presented at the Easter Conference in 1958 calling for more cooperation between East and West. The motion was passed unanimously and the Union newspaper, Nonesuch News, reported, 'It should be noted that only on rare occasion does a Council act in such unison.'
There is so much more that could be written about George Odlum's time at Bristol University and the following pen portrait that appeared in Nonesuch News, May 1958 (the term before George took up office as President), provides a poignant summary of a man who had already developed a vision and sense of purpose in his formative, student days.
' In light summer clothes and open-necked shirt sits a West Indian with a fluent grasp of English and an obsession for the betterment of human relationships.
He is GEORGE ODLUM, and is the next President of the Union, and he is sipping Lager in an English Public House. His virtues have been catalogued, and his past ransacked by many newspapers, and there is little left that is not known about him, little except his human qualities.
And of these, the greatest is his desire for brotherhood. He considers the function of the President as one of a glorified liaison officer, attempting co-ordination and preserving contact between University and Union, Union and Community. And he believes the constitution of the Union is good as it is, consultative, representative, democratic.

Akin to many others with some faith in the man, he is against the H bomb, would have us set an example of mutual trust by abolishing it, taking a chance on the moral issue. Western civilisation has made him feel slightly insincere in being civilised, it is pretentious, diplomatic to the point of dishonesty. It is hard to hit the happy medium and be honest with yourself within limits. And he has found adaption hard and is making social decisions every minute. 

Education for him is no education until it is Liberal and not specialised, for he believes that an individual owes a duty to himself not to make himself a one track man, and therefore lacking in balance.
His own interests lie, and will lie, in the cultural fields; he would like to write a play for the benefit of the richness of the West Indian idiom, and he is unashamedly nationalistic about his fatherland, longing for a cultural revolution to go with the national.
Not on his own accord, but through various influences, he thinks he is heading towards politics, and he feels his country's position deeply. 'Living here in England, you get the feeling that you are in touch with the nerve centre of the world'. And he feels something lasting beneath the surface, the rock like foundations of tradition, and he regrets the lack of such roots in his country.

My country is an emerging country', he says, he feels his people are in relation more alive. And also they have a great deal to achieve. 
George Odlum embodied the values of Bristol University. He was pioneering, brave and prepared to step into the unknown in order to make a difference. Bristol University students have always been proud of their own and in 2004 one of the rooms in the Students' Union was renamed the Odlum Room. Bristol's Students' Union building is now (in 2011) undergoing a huge refurbishment programme and the Odlum Room is being redeveloped and will become part of a multi million pound International Foundation Centre. The University have agreed that George's legacy should remain alive and the New Odlum Room will be at the heart of this new centre. This is entirely fitting, given George's experience during his time at Bristol and the issues that were important to him throughout his career in both Caribbean and international politics.