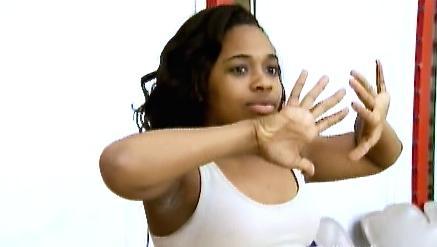 How 'bout you get back to your own babies before you get five of these upside yo' head?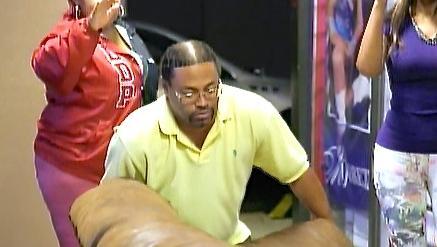 What a Daddy's gotta do is drop this thing on top of the next hen who tells me to Back It Up.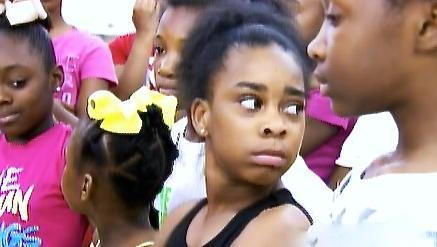 AwNah. I don't need my Thinking Cap to know that's one big a*** couch sitting on that sidewalk.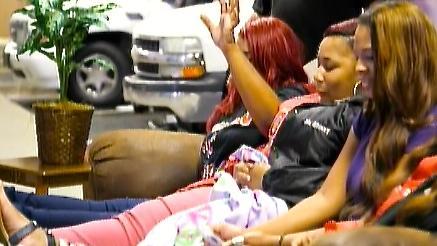 Put your damn arm down, Gurl. There's no waitress tonight.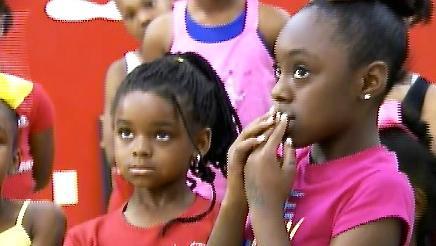 AwShoot. Knew I shouldn'ta put on Hello Kitty gloss. Miss D gon' think I'm Nicki Minaj.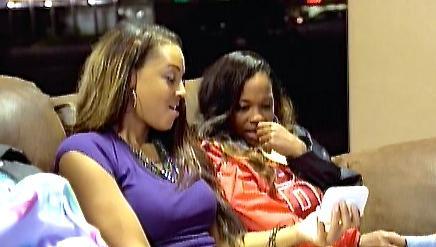 It's not a Nintendo, you crazy bitch. Stop trying to shoot laser beams and watch your kid.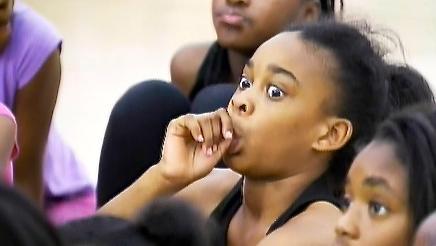 Those Mamas tho. I mean…dang.
Make this show be two hours.
Just freakin' do it, already.  Bring It!…and do it.
And now that we got that weekly rant out of the way earlier than normal…
Moving on.
With only two competitions left in the season, it was time for Coach Dianna Williams to ramp up the intensity another notch or ten as she prepared the girls for their last few remaining battles.  Something that she doesn't have any problem doing, by the way.
Not at all.
You thought last week was crucial, Girlfriend?  Well tell me how you feel after you've run a few hundred laps in the hot sun around an abandoned strip mall parking lot.
Because that's how the Dancing Dolls got the party started this week; by running in circles in front of what was either an old Circuit City or that mall from The Walking Dead.
I'm not sure where they were.  Never having been to Mississippi I don't really know that much about Jackson, which is why I usually make up over 90% of these recaps.
I know it's hot.  I know they like their Ten Piece Take-Out with the bone still in.  And I know they have abnormally, terrifyingly large mosquitoes.  Do I really need to remind you about that time Snoop Dawg Mimi blew out two of my four surround sound speakers when a bug landed on her face?
(Seriously.  How much do we love this lady?  Especially when she starts talking in MimiTongue and gets all Dat'sMyBabyDat'sMyBaby!  MwahMwahMwah!)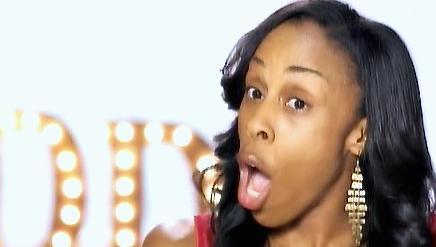 So, yeah.  My Jackson 411 is pretty limited.  Let's just assume that Jackson has more electronic stores than zombies and go with Circuit City.  We're wasting time.
As the girls busted out a few loops, the Mamas were back at the Dollhouse getting sneaky with their recentlly acquired DDP/NSA surveillance system.
The baby monitor had arrived and was ready for installation!
Remember a few weeks ago when the Mamas were charging $2 bucks a pop for all that junk in their trunk (…that certainly didn't come out the way it was intended….) in order to raise money for a new state-of-the-art nursery camera that would finally allow them visual access inside the building?
Well, contrary to a number of you online, the Moms weren't wearing all the bake sale profits on their head for the last two episodes.  The monitor was apparently just on back order at JCPenney and took longer to ship than expected.
But it was here now and ready to be snuck into the Dollhouse.
Which was Seloncé's job, of course, because whether it's covert military maneuvers or Meerkat Manor, you always throw the crazy one down the hole first.
As the unbeweavable Tina stood guard in the doorway, Seloncé raced inside to sneak the camera behind that big a** pile of trophies on the floor.  Can you hear me?  Can you hear me?  I'm looking at you from the front door, fool.  I can see you.
That's not what I asked.  Can you hear me?
Lawd, Seloncé just gives me Life.  XOXO
Honestly, the only person I've ever seen fumble through a tech installation more awkwardly than Sunjai's Mama is a Comcast employee.
At least Seloncé shows up on time.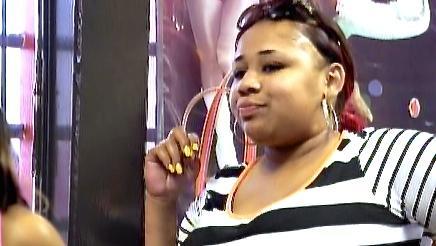 As Miss D and the Dolls rounded the last corner (…zombie-free, BTW..) Mimi bellowed out the DDP Hi De Ho Hooty Hoo Shoo Bee Doo Call and everyone evacuated the building with only seconds to spare.
This week's competition, entitled Welcome To Tigerland for some reason, was going to be a really big show.  Pretty much every hip hop team below the Rhode Island state line would be there, including LCDC, the St.  Louis Dazzling Diamonds, the Diamonds of Essence All-Stars, the Sparkling Diamondettes, the Ladies of Excellence, the Dazzling Starlets, the Divas of Distinction, the Girls Who Can Wait In Line Overnight For An iPhone 6 But Flip Out When There Is One Person Ahead Of Them At Burger King Looking For Change In Her Purse and a few teams I'm sure I missed.
Yes, Kayla.  You better pack a lunch.  It's gonna be a long one.
Side note:  Dianna felt the need to point out that the St. Louis Dazzling Diamonds were from St. Louis.  Ok, then.  Thanks.  I guess.
The Dolls would be competing in the Parade category and Stand Battle.
Blah Blah Blah.  Baby Dolls!
Yaaaas, hunty!  The Baby Dolls were back!!!!
Taelar, Destini, Mini-Kayla & Company were all back to join the Big Dolls in the Parade performance.  Full disclosure:  I may or may not have squealed just a little bit again.
These tiny babies are so cute it makes my front teeth hurt.  So freakin' sweet.
Side note:  If someone isn't already working on the animated Bring It! Holiday Special (…with Animagic stop-motion puppets like Rudolph the Red-Nosed Reindeer, not a cartoon, thank you very much…) then you're not doing your damn job.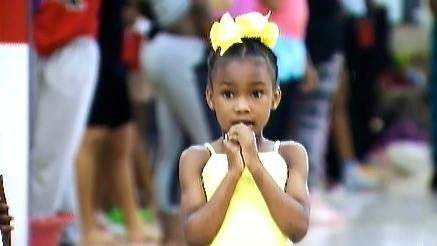 I mean, c'mon.  Can't you already picture puppet Taelar and her big puppet hair bow going to the Island of Misfit Toys to save them all from a sad puppet Christmas?
You know she'd sing a song with a polar bear cub and then put her puppet arms up in the air all like AuuuughWahh!!!
Destini could join her on her sleigh ride to the Island, but she'd need something warmer than her Thinking Cap from Fred's.  Because she totally said that.
I'm not even joking.  This just needs to happen.
The upcoming competition was a big dealio.  And Miss D don't play, so you knew she was going to work the pee-wee team just as hard as the senior squad.  As the big ones and little ones all got to rehearsing, there was also plenty of action outside on the sidewalk.
Because it was Furniture Delivery Day.
F'realz.
Baby Daddy JJ and his crew showed up with a couch.
You heard me.  A couch.
But not just a couch.  It was one of those infomercial couches that either has hidden storage under the arm pads or a reclining footrest or built-in cup holders and a place for your remote.  The kind of overstuffed pleather-looking couch that you just wipe clean with a ShamWow if you spill your Vitamix smoothie.
With a matching end table and artificial potted plant, of course, because Seloncé always says that accessories make the outfit.  Gurl was on point this week, so you know she knows her shiz.
It was the ultimate in Sidewalk Seating for the Mamas to chillax on while they watched the baby monitor.  Sign me up for that gig.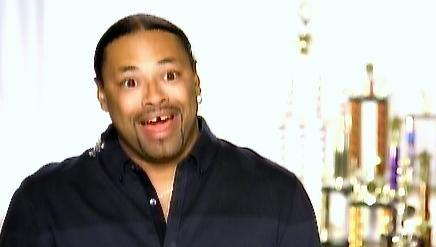 Bonus Points:  Considering that the Girls Scouts of America can't even put up a bus station card table without two permits and a city hall hearing, I should give a shout out to JJ for just backing his truck up over the curb and furnishing a section of Jackson's public property like it was his day job.
THAT'S how you do what a Daddy has to do, people.  That's how you do.
Back inside, Camryn and Tamia were starting to show some rivalry for this whole Captain position thang that would be opening up when Kayla graduated next year.  After each Big Doll was handed three Baby Dolls for some focused choreographical (…is that even a word?…) attention, Tamia kept poking her stuff all up in Cammie's bidnez.
T: "Just trying to help you."
C: "Help yo'self.  I got me."
OhNoSheDin't.  Snap.  Sombody's got some MimiDNA in her, yo.
Then Mimi said 'Dat'sMyBaby!' one mo' time and blew out my two remaining speakers.
Side note:  For the Love of God.  It's  Head.  Head.  Wrap.
And then the baby monitor somehow acquired the power of levitation and ended up in the middle of the floor.  Really.
Busted.
After explaining to Seloncé that it was actually the camera that was upside down and not the girls, everyone went into total sitcom panic mode as Dianna scooped the surveillance device up off the ground and stormed outside to confront the Mamas.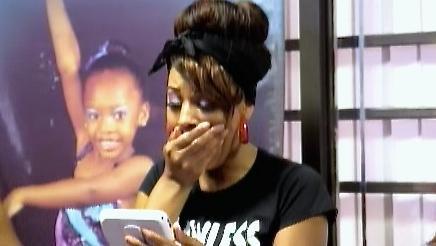 Honestly, I could watch these four ladies bump into each other like Teletubbies all night.
When they get together and one of their hair brained plans backfires, it's kinda like watching I Love Lucy and Laverne & Shirley at the same time.  On the same TV.
Or maybe exactly like.
I'm starting to wish I hadn't already ranted about making this show two hours long, because I would totally do it right here.  But I already did it.  So I won't.
Love me some DDPs, though.
Side note:  Seloncé in her #Flawless tee, red hot leggings and Beyoncé doo wop up-do was Da Bomb.  Dot.com.
Back in the Factory, the Big Dolls were working on the Statue of Liberty Stand.  Which was almost exactly what it sounds like:  Somebody standing on someone else and raising her leg way up like it's a torch.
America, people.  America.
Have you ever watched the old Bugs Bunny Warner Bros. cartoons where Sylvester's little cat nephew follows him everywhere and drives him crazy?
That was Tamia following Camryn around.  Just saying.
Finally, it was Showtime!
I like when we get to meet the other coaches in the hallways and they're hyped up and all like WeGonnaWinAndKillIt! during their interviews.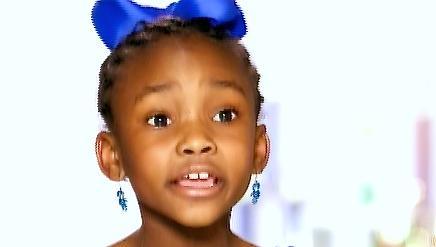 Except for that one Tool last week who said to give the little trophy to the girls (…I understand, dude.  I'm sure you don't need to be staring at one more tiny thing in your locker room….) everyone else is always positive and promoting the messages of persistence and high self-esteem that this show is centered around.
In it to win it, yes.  But they're all still doing it in a positive manner and having fun at the same time.  The coaches clearly love their kids and what they do.
So props to them.  Even the guy who said the Dolls were sloppy.
Lawdy, it's hot in Memphis.
E'rrybody was sweatin'.  Mimi was having a flash or two in the audience.  Tina was flapping around an empty paper plate like she was serving up pizza at a Little Italy street fair.  The Dolls were backing it up against any working fan they could find in the makeup room.  It was getting ripe.
Somebody even smelled like Fruit Roll-Ups.
Which I guess was still better than some of the alternatives.
During the Parade routine, Dianna wanted the audience to see tongues hanging out and the blacks of their gums, whatever that means.  I'm not touching that one.
She does get props for mentioning proper oral hygiene, though, because shiny white teeth are always the key to any good tongue wag.  You heard it here first, kids.
Can we just say that the Dolls Shut. It. Down. during the Parade routine?
Because that's what they did.  Shut. It. Down.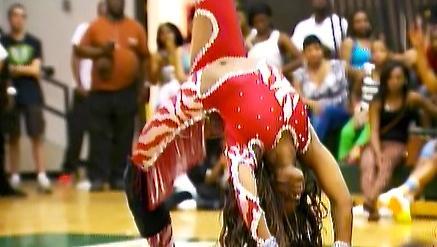 Bonus Points:  To Coach Brittany Grayson from the Ladies of Excellence for watching the routine and then saying that the Dolls were gorgeous.  Taking the high road and supporting your competitors instead of smack talking them behind their back makes you gorgeous too, ma'am.  Well done.
After the first 247 teams were eliminated, it came down to the Dancing Dolls vs. the Dynamic Diamond Dollz for the Stand Battle.
And no tie this time.  Ain't gonna happen.  Because it was ON.
Back and forth.  Back and forth.  Boom.  Bam.  Pow.
The DDDz did an Earthquake Shake.  The DDs almost gave Miss D an aneurism when they climbed on top of each other's sweaty backs for the Statue of Liberty pose.
And then it was over.
The Dolls took a chance in 400% humidity.  They saw it.  Grasped it.  Almost slipped on it.
And then won it.
First Place in both Parade and Stand Battle!
But now the bad news.  Only one more competition before the season ends.
I know, right?  Sad.
Next week is the last dance.  And the return of the Divas of Olive Branch.
Wait.  What?
I remember them.
Oooh, Gurrrrl…your puppet stanks.
DD4L!