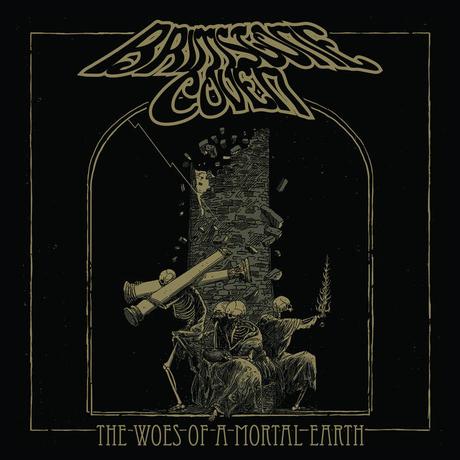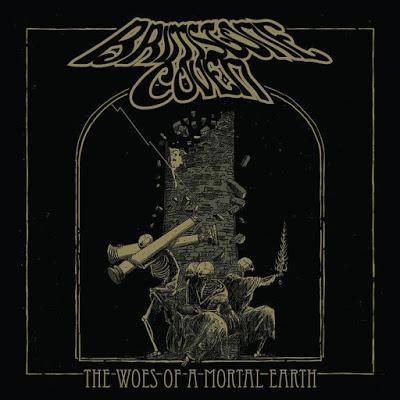 More and more, over the last few years, I've gotten into hiking in the woods. I guess it started as walking around the neighborhood I lived in, on the sidewalks etc. In moving out a little from the sprawl though, I found out that I really liked the feel of dirt (& even roots & rocks) under my feet as opposed to concrete. And trees, brush and animals around me as opposed to cars & humans. And it also dawned on me that I was coming to relish the mental aspect of this as much as (if not more than) the physical exercise.
Which brings me to my enjoyment of BRIMSTONE COVEN, a 3-piece band from Ohio who come described as dark, occult rock. Interestingly, while this description could surely be apt, I also think it paints a limited picture of their style. Between BC's 2nd and 3rd albums, the band trimmed it's lineup from quartet to trio (a 2nd guitarist departed). They also went from a 2-album stint on Metal Blade to a self-released 3rd effort and now have landed within heavy rawk heaven with Ripple Music.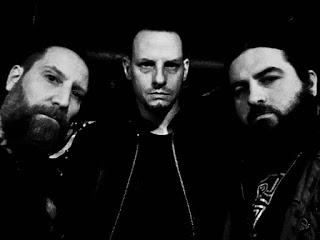 Well, the results are in from Ray's time spent in seclusion with this one and it was time beautifully spent. You see, this album ties in very nicely with my forays into the woods. While traditional doom metal oozes here at times, there is a singular organic and natural '70's hard rock feel to it. The guitars are delightfully light in the distortion dept and have a texture that's wooden and immediate. That coupled with the harmony vox of Corey Roth & Andrew D'Cagna make me imagine a procession deep into a remote forest at dusk. Hooded figures place tread down an autumn leaf covered trail, drawing near to the site of the unknown ritual. The feeling is one of an unusual tranquility and yet, with the darkness of lyrics to songs like "The Inferno" & "Secrets Of The Earth," there is a sense of foreboding. If I were walking at twilight and heard these intonations, I'd be looking over my shoulder and gauging my distance to the clearing. And yet somehow I'm drawn further in. The lengthy "Song Of The Whippoorwill" finally has me hypnotized and joining the throng as Roth layers some absolutely magical guitar chords somewhere about 3 minutes in.
Don't misunderstand something. This album only features 6 songs. But that 30-some minutes is a full dose, like a trek on the AT near Mt Guyot in the Smokey's. Dark and beautiful at the same time in a timeless way. Doom rock being played on forest instruments with satyrs chanting in harmony.
NOTE:The CD version I have also includes 2 bonus tracks, "The Folly Of Faust" (2020) and "Children Of The Sun" (2020).
BRIMSTONE COVEN:
Andrew D'Cagna - bass & vocals
Corey Roth - guitar & vocals
Dave Trik - drums & vocals
-Ray Dorsey