August 4, 2014
White Mamba coming in FIRE HOT!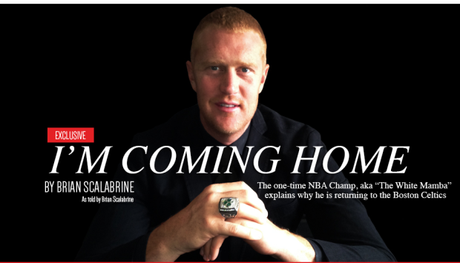 Via CSNNE: Before anyone cared where I would play basketball, I was a kid raised in Enumclaw, Washington.  It's where I walked.  It's where I ran.  It's where I did a paper route at age six.  It's always held a special place in my heart. From the moment I signed with the Celtics, I knew this was my new home. Most of the people are just like me.  They work hard, they play hard, and the passion they have for their sports team is unlike anywhere in the world. I had passion for my team just like the fans.  I guess I was kind of like the fans except I had a courtside seat for free and if we were up by 20 with less than two minutes to play I would get to go into the game.  Where was I – the great American city of Boston.  In Boston, people's passion can be overwhelming.  But it drove me.  The Celtics hadn't won a championship since the Larry Bird era of the 80s, so I wanted to give them hope when I could.  I wanted to inspire them when I could.  My relationship with Boston became bigger than basketball.  I didn't realize that when I left Boston in free agency four years ago.  I do now.
Remember when I spurned the Celtics and signed with the Chicago Bulls in 2010?  Actually I begged Ainge to keep me and he wished me the best of luck.  I was thinking, "This is really tough."  I could feel it.  I left something I had spent five years creating.  I haven't paid for a meal since 2008.  What if all of this goes away? But if I had to do it all over again, I'd probably still have left.  Chicago, for me, has always been like graduate school.  I myself had always considered getting my MBA at Northwestern.  These past four years helped bolster my resume to showcase the well-rounded individual I am.  I'm a better player, a better coach, a better broadcaster, and a better Mamba.  I've learned a great deal in my time spent with four franchises…actually five if you count my stint in Italy because of the lockout. What was the purpose of the lockout again?   I will always think of Chicago as my third home and Oakland probably as my fourth home…but not like downtown Oakland, more like the suburbs.  Without the experiences I've had in these places, I wouldn't be able to do what I'm doing today.
I went to Chicago because of Tibs and D-Rose and the crazy energy of Joakim Noah, and it was my only job offer in the states.  I loved becoming an everyday customer at Giordano's Pizza, the free meals were back.  I loved the fans and the creation of the White Mamba by Stacy King. Chicago was exactly what I needed and I believed we could do something magical if we came together.  But we fell short.  So I took my talents to Golden State searching for their championship and I really believed we could do something magical if we came together.  But then I was sent down to the D-League where we flew to Hidalgo, TX on commercial flights with no first class sitting next to a 7'2" center named Ognjen Kuzmic.  There was nothing magical happening down there, no matter how much we came together. And that's when I knew it was time to come home.
I'm doing this essay because I want an opportunity to explain myself uninterrupted…and gather some great press based on another recent NBA signing…in almost the exact same way.  I don't want anyone thinking: He and Mark Jackson didn't get along … The Bulls and Warriors couldn't put the right team together … Does anyone really care what Brian Scalabrine is doing right now?  None of these things were true.  And for the record I never played for the Warriors, I was just a coach, didn't people see me holding my clipboard.  I don't understand why people couldn't put it together, I was holding a clipboard, I was a real coach.  
I may have a press conference, and I am definitely having a party.  And all of Boston will be invited.  And when we are done, we will still have a few months before we have to get to work. 
When I left Boston, I was on a mission.  I was seeking another championship. I wanted to ride in another parade, pop enormous bottles of champagne, and maybe even crash the podium.  But Chicago already knew that feeling with MJ and Oakland had that feeling in baseball with the Bash Brothers.  How did those guys only win one ring together?  Seriously. Celtics fans haven't had that feeling since I was last there.  My goal is for the Celtics to win the most titles of any other NBA franchise, and I will not sleep until we are done.  No question.
I always believed that I'd return to Boston and finish my career there. I just didn't know when. After the season, I went to see 22 Jump Street. Then, I saw They Came Together with Paul Rudd and Amy Poehler. It was delightful. But I have two girls and one boy. We have a lovely family. I started thinking about what it would be like to raise my family in Boston, well not like downtown, more like Metro West or at least twenty minutes outside the city. I looked at other teams, but I wasn't going to leave Oakland for anywhere except Boston…or maybe Chicago…or maybe Brooklyn…or possibly Los Angeles to go back with Doc. The more time passed, the more it felt right. This is what makes me happy.
The last time I was in the Boston, the fans were all over me.  They said I didn't have it any more, and they challenged me to games of one-on-one.  They called it the Scallenge, and I gave those fans a beantown beatdown
Sure I could have just picked out a few lines and made you laugh a few times but this is gold.  Lebron went classy and Scal just couldn't help himself.  A+ work out of the White Mamba on this one.
In all honesty, as much fun as he probably had with this, it's a nice little piece that talks about the ups and downs of his career.  Happy to be coming home, happy to be working.
PS, Scal Challenges were off the chains.
Post navigation
← Hey Look, Golf Just Got Cool Again. Dustin Johnson Suspended For 6 Months For Doing Coke.