I met Leonid Brezhnev in June of 1973 at the White House, Washington DC. I didn't really "meet" him of course although several times he was standing just a few meters away. Important government officials and politicians were at his side and I was just there to watch and learn, a budding young broadcaster in attendance along with several school mates in DC as the guests of Congressman Ken Hechler (D-WV, retired).
While we never spoke or shook hands as that would have been out of the question, had there been the opportunity I'd wanted to ask him a very personal question: "Mr. Brezhnev, why are your eyebrows so dark and bushy?"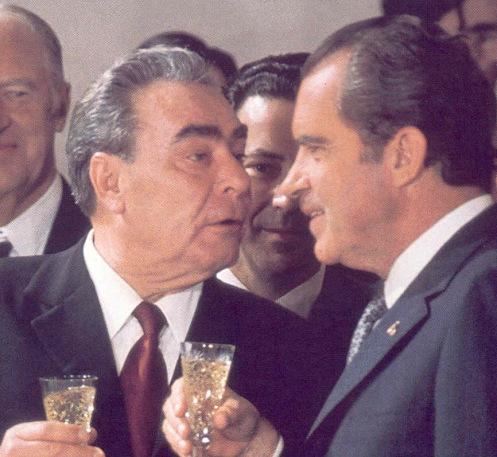 General Secretary Brezhnev to the left, President Nixon on the right.
It was then that I was bitten by the "Russia bug" and although it took more than a few years to get there, a feeling deep inside hinted that Russia would someday be my home. Two years of Russian language in college helped keep the dream alive and while I didn't know when the chance would come, I hoped that Russia would be free of Communism by the time of my arrival.
During their first summit, May of 1972 in Moscow, the two leaders made progress in weapons reduction talks. When Mr. Brezhnev arrived in Washington for their June 1973 summit at Camp David the two countries had agreed upon and signed a major SALT weapons treaty before flying off to California on Air Force One to spend some time at La Casa Pacifica, the Nixon "Western White House" in San Clemente.
It is customary for visiting heads of state to stay at Blair House, a simple walk across the street from the White House, though Nixon made arrangements for Brezhnev to stay at Camp David instead. What better gift to give a new friend than a new car – a brand new Lincoln Continental, in this case, and Brezhnev's eyes lit up when he saw it. He took the wheel, motioned Nixon into the passenger seat, and sped off at 60 mph, careening down the narrow, winding roads to the horror of the Secret Service.
He blew through a stop sign and lurched into traffic on a nearby highway. "That was something," said a trembling Nixon, who later wrote that "Diplomacy is not always an easy art." Within hours of their first meeting, Brezhnev announced that he had already invited the President back to Moscow for another summit.
The camaraderie continued as Brezhnev joined RN on the Spirit of '76 to San Clemente. Air Force One flew low over the Grand Canyon so that Brezhnev could get a glimpse of the shadowy canyon walls. "I've seen many pictures of this in newsreels and in cowboy movies," he noted as he jumped back from the window, slouched his shoulders down, placed his hands on his hips, and drew imaginary six shooters from his imaginary holsters – his John Wayne imitation got the attention of everyone on board.
(Text in italics above is from the Nixon Foundation archives.)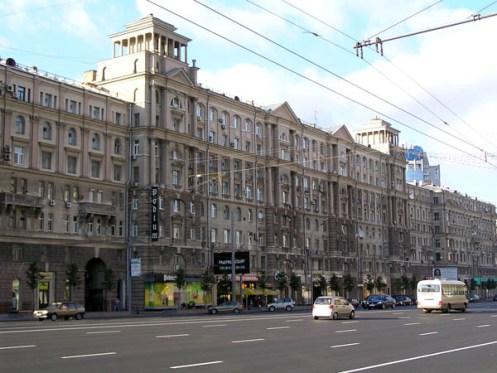 26 Kutuzovskiy Prospekt. (foto: Максим Феоктистов)
Years later my second apartment in Moscow would allow me to become a neighbor of the former Soviet leader, at least in spirit. Brezhnev was already gone but the memories of those first encounters with Brezhnev and Nixon swept through my mind often as I passed the large apartment building at 26 Kutuzovsky Prospekt where notable Soviets such as Brezhnev, Mikhail Suslov, and Yuri Andropov had once lived .
When State Duma members began to talk of "rehabilitating" the former Brezhnev address, part of a larger rehabilitation of Brezhnev's place in history by his admirer Vladimir Putin, it just seemed natural to retrace my steps and to see how much that neighborhood had changed. Behind Kutuzovsky Avenue were other apartment houses such as the one where I had lived on nearby Studencheskaya Street.
The new "City Centre" with dominating super skyscrapers had led to new developments on both side of the Moscow River. Many older buildings had been demolished in the name of progress with new office buildings developed as if they'd somehow sprouted up towards the heavens and it seemed as if only the grand old Stalinist era structures and neighborhoods along Kutuzovskiy Avenue, protected for the sake of history, had been left intact.
Kutuzovskiy Avenue video:
At :03 seconds there is a building flanked by oval looking openings at either side for cars to travel behind the building. That is how I'd walk the short distance home when on Kutuzovskiy. The Moscow Cats Theatre, home to the worlds best performing felines is housed inside that building, 25 Kutuzovskiy. To the right at the :04 to the :08 mark is the stately apartment building that once was home to Leonid Brezhnev and Yuri Andropov.
I couldn't find my old home and in a moment of inspiration the thought occurred to approach from behind the area, via Metro station Studencheskaya with its view of the Kievskiy Railroad yards. Studencheskaya is an older station and one of the few with above ground platforms because of its proximity to the river where trains cross before returning underground. Moscow is a big city, the largest in Europe, and it had been years since I'd stepped off a train at Studencheskaya and taken the escalator up to street level.
What I saw upon exiting the Metro was a changed neighborhood. Far different than the hustle and bustle of earlier years I was greeted by an uncomfortable quietness accompanied by a policeman on duty and the unsightly curse of tagged graffiti everywhere. Welcome to Chicago–in the middle of Moscow.
I fantasized that in earlier years you might have seen me jogging across the street and along the sidewalk, retracing my way as if it were only yesterday that this was home. I'd gone home so many times whether day or night, in rain or snow, but most of the times had returned home just happily tired. It didn't take long however to realize that I was lost. The old familiar alleys and sidewalks had given way to modernity and I didn't know which way to turn.
I fumbled around alleyways and sidewalks along Mozhayskiy and Dunaevskogo Streets, each familiar but not quite right. On one hand it was exciting to see so many houses (apartment buildings) under renovation because this area, the place where Soviet writers had once been assigned to live, deserves a place in the modern world. But inside was a growing fear that in the name of progress my old home and all its special memories might be gone.
Perhaps I caught a stroke of luck or maybe God in His providence has mercy on forgetful journalists, because just about the time that my sense of direction was depleted and my feet overcome with exhaustion, there in the corner of my eye appeared a familiar triangular-shaped outdoor/indoor shopping centre that served the old neighborhood.
Myasokontrakt Kommercheskiy Tsentr continues to be a busy place, doing brisk business with a combination of outdoor kiosks and a larger indoor open supermarket where vendors rent refrigerated spaces and counters to sell a fascinating array of fruits, vegetables, meats, and flowers. Inside that market a shopper can find everything from food staples to soap to candles, batteries, vodka, bottled water and chocolate cakes.
Wowski! I was so happy. Thankfully I still carry what Russians call a "perhaps" bag, a cloth or mesh bag if something was found to buy. For me it is a convenient way to carry a camera and accessories without advertising that I'm walking around with expensive photo gear.
Still thinking that my old apartment house had been demolished, I decided to check out the market where it seemed that the meat, bread and cheese was inviting me to make a sandwich for lunch so I complied. Several pieces of fresh fruit called my name, too. Next I headed to the outdoor kiosks to stock up on chocolate. The chocolate there is of excellent quality at prices far below other parts of Moscow and I wasn't about to leave the area without a good supply of chocolate. One never knows when you might need some.
Finally satiated by the shopping experience, I decided to walk home from the market just as if this had been a shopping trip like so many times before. It took less than two minutes on the slightly inclined sidewalk that angled northeast toward a cluster of tall shade trees. Suddenly I began to smile as tall trees which block much of the sunlight gave off the familiar feeling of shade and dimming sunlight while guiding my way.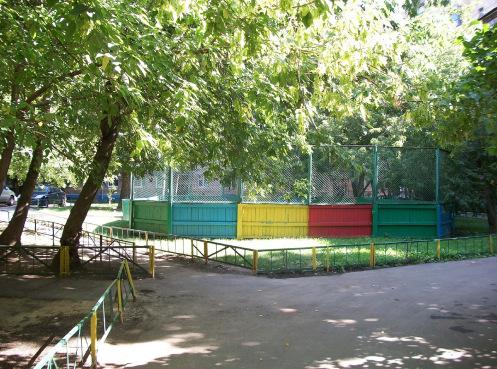 Walking up this sidewalk led me home! The playground is a soccer area with basketball hoop in summer and then several inches of water is added in winter for ice skating and hockey.
There it was! Certainly not modernized like so many structures nearby; it was as if a small island of old Moscow had been left for the sake of posterity. This is an older area of Moscow, first developed in the 1930s with most of the remaining apartment buildings constructed in the Stalinist style before the Great Patriotic War, 1941-1945.
I sat down on a nearby bench in the common yard area to take photos and reflect on the good times and blessings from that chapter in life. It had been sweet, a time of learning and most importantly a time to court the lady who is now my wife. Oh, I did have two sweethearts on the side so to speak–two elderly pensioners, sisters who lived across the hall and who had "adopted" me as their American "beau" back then. They were angels sent to keep me company and to teach about the joy of sharing with those less fortunate. I hope to see them again someday in the life to come and as we Orthodox often say, "May their memory be eternal."
My old "home sweet home" seemed almost unchanged in spite of all the redevelopments and renovations of structures surrounding it.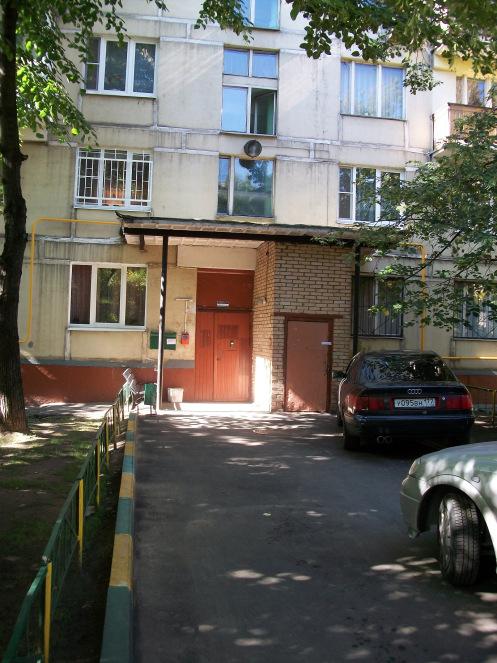 "Don't judge a book by the cover" when it comes to Moscow real estate. The flats inside are in most cases much nicer than what is lacking in "curb appeal." At $7800 a square meter, the average 50-65 sq m2 flat sells for just under a half million dollars.
This was the furnished flat where the landlord left an old rocking chair in the living room under strict orders that no one was allowed to sit on the chair. It was reserved for Stalin's ghost, and the landlord who was a well-educated attorney, was serious. Stalin had earned the reputation as somewhat of a "night owl" on occasion walking the streets at night where he'd invite himself in to take some tea and bread with his usually very surprised and even more frightened hosts.
Many Russians believe that the soul remains on earth for 30 days as God shows them their life and reveals their past sins. As Stalin had many more sins that the average sinner, some believe that he is still walking around Russia because the recital of all his sins has yet to be completed.
As the afternoon shadows deepened I stood and walked toward the sound of busy Kutuzovskiy Avenue traffic, and this time being sure of my bearings made my entrance via the large oval topped opening to the street at the famous Moscow Cats Theatre.
There it was: 26 Kutuzovsky Prospekt (Avenue), the former home to Secretary Brezhnev. I'm certain that soon his plaque will again adorn the building. The plague had been removed in 1988 after a decision by the Presidium of the Supreme Soviet parliament and the Council of Ministers directed that the names of Leonid Brezhnev and Konstantin Chernenko be removed from all public places.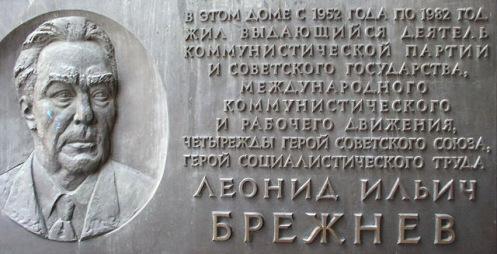 Cyrillic: L-e-o-n-i-d   I-l-i-ch   B-r-e-zh-n-e-v.
The expected decision to reinstate the Brezhnev plague is part of a drive by President Vladimir Putin to rehabilitate Brezhnev's reputation and memory, the bland Soviet leader who turned on his two closest mentors when he thought it possible to seize power. No other Soviet leader ruled for as long as Brezhnev, from 1964 to 1982.