Brentwood Theater's First Patron Stephen Moyer!
For those that don't know, Stephen Moyer — True Blood's Vampire Bill — did his first acting at the Brentwood Theater and he sill visits them when he gets home. Four years ago when they were renovating Brentwood, we and other True Blood sites helped with their 'Buy a Brick' drive as a thank you to Stephen. Today, there are many brilliant actors and stagecrew breaking in their acting chops at the Brentwood Theater. If you're in the UK, consider going to the holiday play!
Jemima Puddle-Duck and her friends -
this Christmas at Brentwood Theatre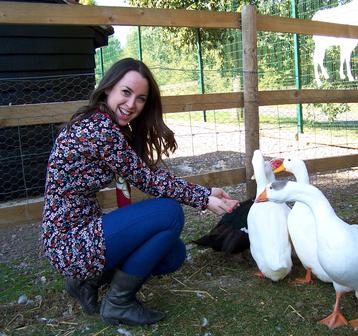 Star of the show, Hannah Douglas, gets some 'quacking' good tips on playing Jemima
Puddle-Duck
Brentwood Theatre teams up with Old MacDonald's Farm for a HUGE promotion that you are going to love
Buy a ticket for Jemima Puddle-Duck this December at Brentwood Theatre and you
save
TEN POUNDS
at Old MacDonald's Farm
We are delighted to announce that Brentwood Theatre has teamed up with our friends at Old MacDonald's Farm, to bring you an offer that you are going to love.
For EVERY ticket that you buy for Jemima Puddle-Duck and her friends, you will receive a voucher that, if you then visit Old MacDonald's Farm ANY TIME IN 2012, you save ten pounds provided that there is at least one full-paying adult.
So that means if you buy four Jemima tickets, you can go to Old MacDonald's Farm FOUR TIMES next year and save a total of forty pounds.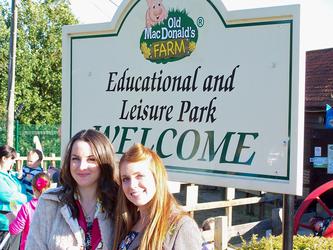 Please click on this 'Welcome sign' to visit their website.
Above you can see pictured Hannah Douglas, who plays Jemima, and one of our favorite actresses Katie-Elizabeth Allgood who returns to Brentwood Theatre once more, this time to play Beatrix Potter.
So what do you have to do?  It's easy.  Just call our Box Office on 01277 200305, Monday to Friday, 10am to 4pm. For every ticket you buy, we will also let you have the TEN POUNDS OFF voucher, whether you have your tickets posted or else collect them when you come to see the show.
Your TEN POUNDS OFF voucher is valid for OVER a year, until the end of December 2012, giving you plenty of chances to cash them in.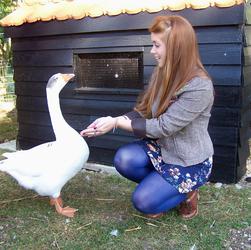 (If you have already booked, don't worry, you will still get the voucher!)
Yes, Katie knows that is a goose,
not a duck!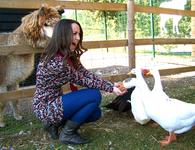 There are lots of animals to see at Old MacDonald's Farm, from Meerkats to pigs, rabbits to Alpacas – one of which tried to eat Hannah's hair (see photo!) – as well as lots of rides, games and entertainment.  There's even The Wacky Worm rollercoaster, ideal for all the family.
It's a great day out and we know that you will have great fun if you take your family along.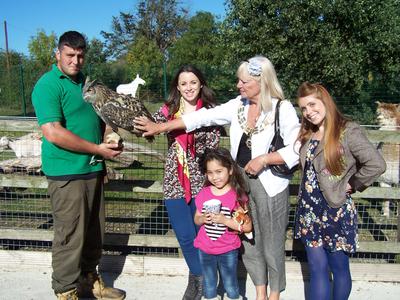 We were delighted and honoured to be joined by
The Mayor of Brentwood, Cllr Mrs Joan Holmes and her grand-daughter Sidonie to meet the animals at
Old MacDonald's Farm.
The Mayor is a frequent visitor to Brentwood Theatre and we are delighted that The Mayor will be visiting us, with her family, once more this Christmas.
So, to book your tickets, please do call our
Box Office on 01277 200305. 
They only cost £12.50 (£11 concessions) PLUS FOR EVERY TICKET BOUGHT you get TEN POUNDS off your next visit to Old MacDonald's Farm. 
Photo Credits: Brentwood Theater

Please follow us at these locations: