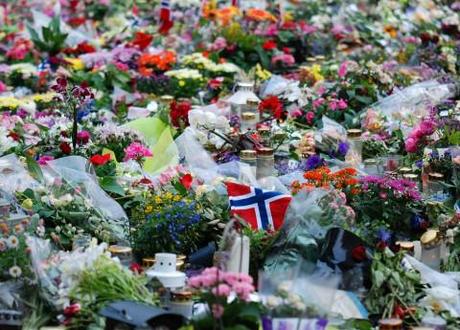 Oslo remembers the 77 people Anders Behring Breivik murdered on 22 July 2011. Photo credit:
Shutterstock
The background
A Norwegian court on Friday declared confessed mass murderer Anders Behring Breivik sane and sentenced him to the maximum punishment of 21 years in prison for killing 77 people on 22 July 2011.
Breivik, an unrepentant self-styled warrior against multiculturalism, gave a smirk and a Nazi-esque salute after the five-judge panel determined that he knew what he was doing when he planted bombs at a government building in Oslo, killing eight people, and gunned down 69 teenagers at a Labour Party youth camp on Utoeya Island. Judge Wenche Elizabeth Arntzen rejected the prosecution's calls to have Breivik deemed insane, which would have had him committed to a psychiatric hospital indefinitely and would have likely triggered a lengthy appeals process.
Though Breivik was only sentenced to 21 years, he was also remanded to "preventative detention", meaning that his release can be put off indefinitely if it is determined that he still poses a threat to society. His case and mental state will be reviewed every five years after his sentence is up.
Why the prosecution wanted him declared insane: An insanity ruling would have meant that Breivik could be held indefinitely in a psychiatric facility. Breivik, however, said that he would have appealed an insanity decision immediately: He wants to be seen as a "militant nationalist", a warrior protecting his nation from multiculturalism and Islam, and claimed that the prosecution was simply trying to cast his views as insane as a way to deflate them.
Breivik's three-room jail 'cell'
Liberal Norway prides itself on its humane prison conditions, but several commentators – especially outraged people on Twitter – have wondered if the conditions Breivik will be living in are truly a punishment. Breivik is being sent to Ila prison, where he will serve his sentence in isolation in a three-cell complex. One room houses gym equipment, one a laptop and desk, and the third a bed. He will also have access to a small outdoor courtyard for one hour a day. Prison spokeswoman Ellen Bjercke told The Washington Post that though this may seem a bit like a two-star hotel, the biggest hardship of being incarcerated is that you're incarcerated.
 Twitter reacts to Breivik verdict and sentencing.
Only 21 years?
On Twitter, a number of commenters were shocked and appalled that an admitted murderer of 77 people, many of them children, could potentially see the light of day in 21 years, though it's very unlikely he would. But even some in Norway were disappointed by the sentence. "Seeing him sentenced to 21 years was not a surprise, but it is nowhere near strong enough to account for what he did," Chris-Erik Fotland, 18, of Lyngdal, Norway, who lost a friend in the shootings on Utoeya Island, told the BBC. "The only sentence that would best serve the punishment for his terrifying crimes against Norway and humankind would be death."
'Relief' in Norway at verdict
Nina Berglund, writing at Norway International Network, characterized the nation's reaction to the verdict as a "sigh of relief": "Victims' families, survivors, politicians and law professors were among those specifically and repeatedly using the word lettelse (relief), and they hope the verdict stands."
Breivik won: Lifelong attention
Despite the fact that he will likely spend the rest of his life in jail, "Breivik's victory is now complete," wrote Dan Hodges at his Telegraph blog. "The murderer of 77 people now has everything he wants. For the next 20 years he will slowly slip from public view and consciousness. Then, dramatically, he will return. As his Preventive Detention comes up for review, there will be a fresh wave of global media attention on the man and his crimes. It will be like a retrial, but with an intoxicating extra ingredient; the possibility, however remote, of his release… It's all worked out as his he hoped."
Norway won: Triumphed over extremism, ideals intact
The court's verdict and sentence "sums up the whole approach of Norway to a terrorist attack that may well have destabilized other nations," wrote Owen Jones at The Independent. "Others capitulate to terrorism by becoming more authoritarian, intolerant, repressive societies: their politicians pass laws clamping down on civil liberties…. Norway played the whole case by the book, imposing what is the maximum sentence under the country's law. The message was clear: Breivik will not change us." All that's left now is, hopefully, "a renewed determination to the crush the far-right and drive back the tide of Islamophobic hysteria."

More on Breivik

Closing arguments in Breivik trial: Why prosecutors want him declared insane
Anders Breivik's alleged links to the EDL 
Anders Breivik in his own words