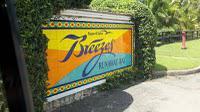 When I first received a press invitation to visit Breezes Runaway Bay in Jamaica as part of a girl's golf getaway, I must admit I jumped at the chance! Only a three-hour Air Jamaica flight to the beachfront at a super-inclusive resort on the Caribbean Sea, walking upon some of the finest sand, being pampered with manicure, pedicure, spa treatment, and playing golf? It was a dream come true...and a birthday wish!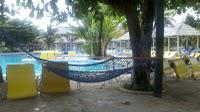 SuperClubs Breezes Runaway Bay is on a lovely quiet cove with everything a vacationer needs in order to relax, from hammocks dangling in the shade to food and drink being served around every corner of the twenty-two acre retreat. Although there are so many different activities to occupy your time outside of the complex (golf, Dunns River Falls, swimming with dolphins to name a few) it is a pleasure to just grab a book, take a swim or take a slow walk and melt the stress from the job which awaits you upon your return home.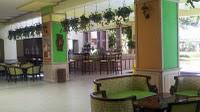 Could it be that Runaway Bay was named Breezes because of the casual, warmhearted feeling surrounding you as soon as you enter into the open-air sea-breeze infused atrium? The front desk team is quick to greet tourists as is the bellman. Bartenders are standing at their stations mixing the day's special concoction. Yes, as soon as you enter this SuperClubs Resort, you feel as if your vacation has begun.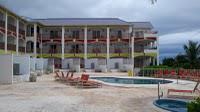 There are several room variations throughout Breezes Runaway Bay with different amenities: my room was slightly larger than the standard with terrific beach views. Some travelers might prefer the lush garden and pool view while others may enjoy a suite outfitted with a plunge pool; the choice is yours.
Here are a few images of my room: although I did not take a picture of the double-sized shower with dual heads spraying me both front and back, I should have!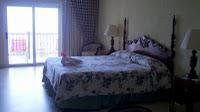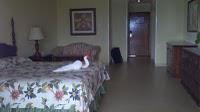 Views from my private balcony (below) including a some of the suites with plunge pools. This new section of Breezes Runaway Bay Resort was also built with a small private pool and lounge area for a quiet retreat. Two additional pools within the complex are much larger. There is an infinity pool with a swim-up bar and music which was very popular.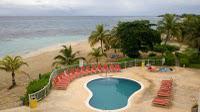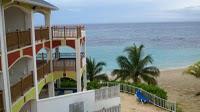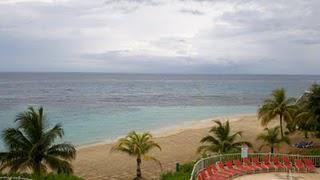 These are lush, tropical views of the Breezes Runaway Bay gardens from the entrance of my third-floor room: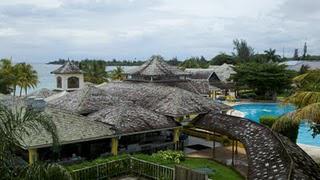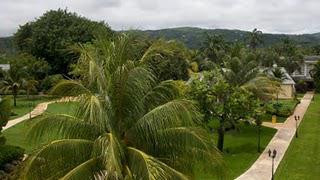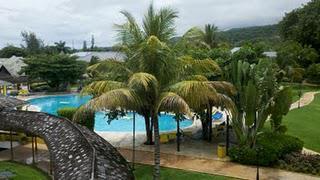 This SuperClubs Resort is a picture-perfect paradise.
Rain comes and goes throughout the day and although the heat noticeably took it's toll on the fairways and bunkers of the PGA-quality championship golf course, the views there were stupendous. The instructor in charge, Seymour Rose (a Senior Tour card holder), as well as the caddies, were very knowledgeable and "old school";  no video lessons (as I had originally thought), just basic golf lessons about how to make the best of the round, the golf course, and the golf swing. This was very refreshing!
While playing golf, my partner Lois Friedland (@AdventureGuide) and I were not only assisted by our caddie Raymond, we also were treated to stories of the plantings on the course. In this picture, we had just bitten into the (bitter) fruit of an almond. Raymond cracked open a dried almond so we could sample what we purchase in our local supermarkets!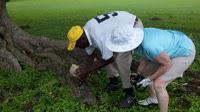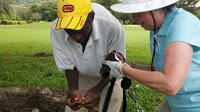 This was an exceptional and memorable vacation in Jamaica for me. Breezes Runaway Bay Resort and Golf Club should not disappoint the traveler seeking rest and a view of the Caribbean from a Jamaican perspective. Stop and chat with the locals selling beads on the beach to gain an appreciation for their way of life.
I'll leave you with a few pictures of one of the most beautiful beaches I have been to in recent years.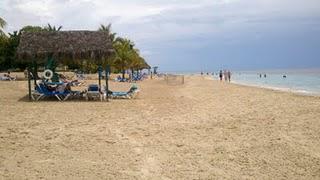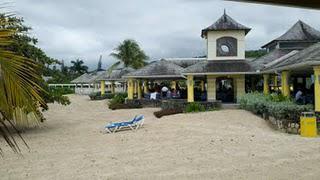 A special thanks to these folks who made me feel at home:
Suzanne McManus, SuperClubs
Franklyn Eaton, General Manager, Breezes Runaway Bay
Patricia Clarke, Public Relations and Wedding Manager, Breezes Runaway Bay
Megan Vibert, Spring O'Brien
I also wanted to thank the Jamaican people who make visitors feel IRIE!