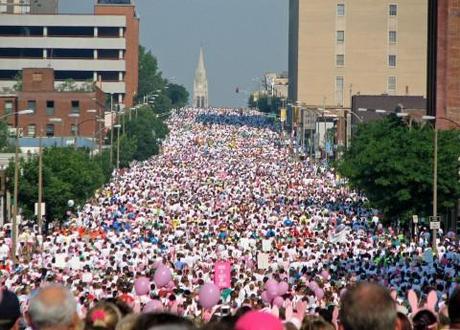 St. Louis Race for the Cure. Photo credit: WildChild1976, http://www.flickr.com/photos/[email protected]/1122685386/
When America's leading breast cancer research charity, the Susan G. Komen for the Cure Foundation, pulled its funding from America's leading women's reproductive health provider, Planned Parenthood, they might have predicted the move would embroil them in a controversy.
They just might not have known that it would be so great and so swift as to, as The New York Times put it, threaten to "undermine one of the most successful advocacy campaigns".
News broke on January 31 that the Komen Foundation cut off funding to 17 of the 19 Planned Parenthood affiliates it supported because it feared that an investigation into Planned Parenthood's alleged using federal funds to pay for abortions by a Republican representative from Florida would alienate the Foundation from its conservative donors. The Komen Foundation gave $680,000 to Planned Parenthood for breast cancer-related services, including free breast exams, in 2011; grants from the Foundation paid for about 4.3 percent of the 4 million breast exams and 9 percent of the 70,000 mammogram referrals provided at Planned Parenthood clinics in the past five years, Planned Parenthood said.
The Foundation's support of Planned Parenthood has already earned it the ire of anti-abortion groups and the Board feared that a federal investigation would be a step too far, The New York Times reported. The Board instated new rules that require that any vendor and grantee show that they are not being investigated by federal, state or local authorities. "But for Planned Parenthood, the nation's largest abortion provider, being the target of partisan investigations is part of doing business. So Komen's new rule effectively ended their long partnership and seemed to the health services provider an unacceptable betrayal of their common mission to save women's lives."
Within hours, the Foundation was engulfed in controversy: As word made the rounds on Facebook, donors pointedly gave thousands to Planned Parenthood – at the same time actively agitating against donating to the Foundation. Planned Parenthood, meanwhile, has been very public about its disappointment that the Foundation "succumbed to political pressure", according to a statement on its website.
Planned Parenthood says it took in $400,000 from 6,000 donors in the first 24 hours after news broke that the Komen Foundation pulled its grants. Some are people who are donating money that they would have given to the Komen Foundation.
Cowardly Komen. Women's advocacy and health groups have largely decried the move: "I think it was cowardly of the Komen Foundation to stop its past practice of supporting breast examination, breast health services at Planned Parenthood affiliates," Cynthia Pearson, executive director of the National Women's Health Network, a nonprofit advocacy group in Washington, told Bloomberg. "I believe they did so due to pressure from the anti-abortion movement." Members of Congress have also struck out at the Foundation, including California State Senator Alex Padilla, a Democrat, who was one of the faces of the Foundation's "Pink Tie Guy" campaigns: "Komen has placed its supporters in the untenable position of aligning themselves with acquiescence to the agenda of the religious right, or aligning themselves with health-care and breast-cancer organizations that will not bow to such pressures," Padilla said in an e-mail. "The choice is clear to me. I choose the latter."
"We are alarmed and saddened that the Susan G. Komen for the Cure Foundation appears to have succumbed to political pressure. Our greatest desire is for Komen to reconsider this policy and recommit to the partnership on which so many women count," said Cecile Richards, president of Planned Parenthood Federation of America.
A weird and dangerous new rule. Linda Hirshman, writing at The Atlantic, pointed out that the Komen Foundation's new rule is dangerous and unsettling, and sets a strange new precedent: "What if the IRS was looking into a hospital's tax status? Or almost any member of the Arizona legislature was worrying that an in-state facility with Komen money was harboring illegal immigrants? Would Komen have to pull their funding too?" Under the new regulation, "any city council member or random state legislator [can] decide to defund a Komen grantee just by starting an 'investigation,'" she noted.
"Some might argue that our standards are too exacting, but over the past three decades people have given us more than just their money," the Komen Foundation said of the new rule, in a statement reacting to the negative attention. "They have given us their trust  and we take that responsibility very seriously."
Bad PR. The Komen Foundation is one of America's most recognisable charitable brands – they're the reason why pink is associated with breast cancer research and why millions of people wake up early on Saturdays to run Races for the Cure. But they screwed up with how they managed this decision, Geri Stengel wrote at Inc.'s Women Without Ceilings blog. And the Foundation have compounded the problem by failing to respond to critics and blaming the other party. The Foundation should have thought through both its decision to partner with Planned Parenthood in the first place and its decision to sever ties with it; and it should have had a much better exit strategy than this.
"Breast cancer does not discriminate," wrote Alexandra Petri at The Washington Post's ComPost blog, lamenting the Foundation's politically motivated decision. "I wish the allies in the fight against it were the same way."
Support from anti-abortion quarters. Unsurprisingly, the Komen Foundation's decision has garnered it kudos from religious and anti-choice groups. Deacon Keith Fournier, writing at Catholic.org, applauded the Foundation's choice, saying, "Komen for the Cure has done what is right." Fournier claim that Planned Parenthood plays a "deadly shell game", disguising itself as a healthcare provider when they're really about "taking of the lives of innocent children in the womb".