from Maine Trans and/or Women's Action Team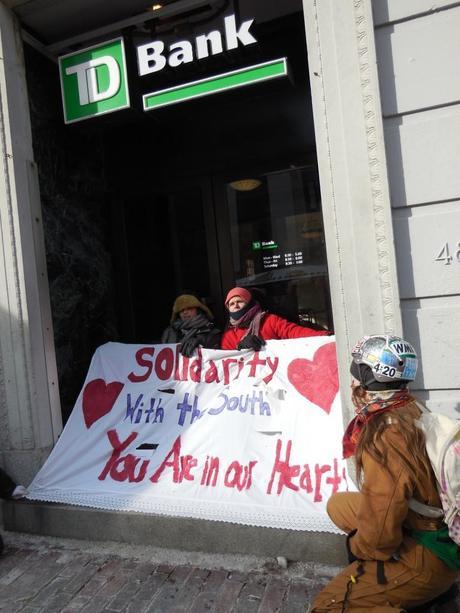 Portland, ME— Two members of the group "Maine Trans and/or Women's Action Team" locked themselves to the front doors of the TD Bank branch at 481 Congress Street, blocking the main entrance to the bank. They have since been arrested. A crowd also gathered to protest the start date of the Southern leg of the Keystone XL pipeline. TD Bank is one of the biggest investors in the pipeline, which now carries tar sands oil to refineries in Port Arthur and Houston, Texas.
The protesters are acting in solidarity with communities along the southern leg of the KXL, which TransCanada, owner of the pipeline, has announced will begin operations today. "There are serious safety concerns associated with the construction of KXL South. A toxic product will flow through our communities in a pipeline that has been identified as having major flaws… We have opposed Keystone XL because of it's potential to impact our lives and because of the unimaginable impacts already being lived by indigenous populations in Alberta where tar sands is extracted," said the community group NacSTOP (Nacogdoches County Stop Tar Sands Oil Permanently) in a recent statement.
The Keystone XL Pipeline has become a popular symbol in the movement to address climate change, with many big environmental groups such as 350.org and the Sierra Club focusing on stopping the northern leg of the pipeline from being built. But the mainstream environmental movement has largely ignored the struggles of the people along the southern leg, who have been resisting this project for years.
"National climate groups celebrated Obama's decision to delay the northern segment of KXL, intentionally overlooking that this supposed 'win' was paired with an endorsement to fast track the southern arm of KXL, connecting a preexisting tar sands pipeline that ended in Oklahoma to refining communities and shipping ports in Texas, " said Maya Lemon from Nacogdoches, Texas.
Chief climatologist James Hansen of NASA has declared that continued extraction of tar sands oil means "Game Over" for our climate. Yet, "Game Over" has already been the reality in many people of color and indigenous communities throughout the colonial Americas.
The protesters are highlighting the 590,000 additional barrels of oil that will now flow to the southern terminus of the KXL in Manchester, Texas. "The best way to visualize how such an increase in toxins might impact community health is to examine the current reality. Children living within two miles of the Houston Ship Channel are 56 percent more likely to get leukemia than those living ten or more miles away," said Ethan Nuss of Texas Environmental Justice Advocacy Services or TEJAS.
"Environmental racism isn't just a symptom," said Betsy Catlin, one of the protesters locked to TD Bank. "Climate change's origin is deeply rooted in this practice of sacrificing of communities that are deemed dispensable."
Maine TWAT is a group committed to decolonization, environmental justice and gender liberation, and is part of a national movement of Trans and/or Women's action camps.