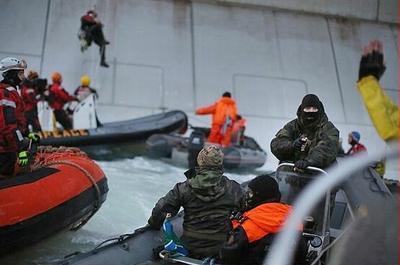 Russian Coast Guard officer, right, points a gun at a Greenpeace activist with raised hands, while another activist dangles on a rope from the Gazprom oil rig Prirazlomnaya, September 18, 2013 (Photo by Denis Sinyakov / Greenpeace)
[Just hours ago, armed Coast Guard officers boarded a Greenpeace boat, and are currently holding more than 20 hostages at gunpoint...]
By Nicky Davis / Greenpeace USA Campaign Director
Fifteen armed Russian Coast Guard officers have illegally boarded the Greenpeace ship Arctic Sunrise via helicopter, stopped almost all outside communication and are currently holding more than twenty Greenpeace activists on board at gunpoint.
These Greenpeace activists urgently need your help.
Please sign our petition to Russia's US Ambassador demanding Russia release the activists, immediately withdraw the Coast Guard from the Greenpeace ship, and put an end to offshore oil drilling in the Arctic for good.
On the morning of September 18th, Greenpeace activists attempted to peacefully occupy an off-shore oil platform owned by Russian oil giant Gazprom.
But when they arrived, the Russian Coast Guard fired warning shots and threatened the activists' lives – ultimately taking two protesters with them against their will and providing no legal representation.
Then, just hours ago, Russian special forces returned and took control of the ship. That's why we're mounting an international effort to get the activists back to us safely along with the release of the Greenpeace ship. And it starts with having people around the world putting pressure on the Russian government.
Sign our urgent petition to the Russian Ambassador and Secretary Kerry demanding the Russian Coast Guard to release the activists immediately and give Greenpeace back its ship.
The activists onboard the Arctic Sunrise need your support now more than ever. Please take action today. Our goal is to get 75,000 signatures in the next two days.
For the Arctic and for the right to peaceful protest,
Nicky Davies
Greenpeace USA Campaign Director