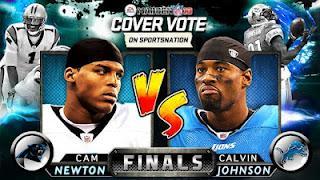 Photo: ESPN - Sportsnation
- Troy Ballard
Cam Newton and Calvin Johnson Jr. have survived the grueling rigors of a 32-man challenge, knocking off some of the top athletes and players in the NFL to reach the final round of the legendary Madden 13 cover vote.
It hasn't been easy, and both Newton and Johnson have taken to Twitter, Facebook, and even made videos pleading for support, to bring fans to submit their votes. Evidently, it worked for both of them, as it is now a two-man battle for greatness to reach the iconic Madden cover and have an awesome photo enshrined in the history of video gaming.
Almost as good as the Hall of Fame.
Not really, but it's still important to NFL players to even be considered for the Madden cover, and it gives not only awesome bragging rights, but a chance to beat the Madden-Curse (que creepy music). Both Newton and Johnson are coming off crazy good seasons, but which one gets the edge?
Let's break it down.
It's funny that a quarterback and a receiver (usually best of buds) ended up making the final round, and just the thought of having Newton and Johnson on the same team would be mesmerizing. But back to reality -- it's going to come down to each individual's performance last season on the Panthers and Lions.
Here's Cam-Cam's numbers:
QB - Carolina Panthers
- 4,051 yards passing, 60% completion percentage, 21 passing touchdowns, 17 interceptions, 84.5 QB rating, 706 yards rushing, 14 rushing touchdowns.
Team Eliminated - Missed Playoffs
Newton's Hardware - Rookie of the Year, Pro-Bowl
Here's Johnson's numbers:
WR - Detroit Lions
- 96 receptions, 1,681 yards, 17.5 yards per catch, 16 touchdowns.
Team Eliminated - Wild Card vs. Saints
Johnson's Hardware - Pro-Bowl
The two are off the grid.
Newton shattered both rookie passing and rushing records in his first season with the Panthers. He was able to revitalize and get Steve Smith back to Pro-Bowl caliber, and he carried a deflated Carolina team to several huge wins.
Johnson, on the other hand, literally carried the entire Detroit Lions offense on his back. That team had zero running game, no other really talented wide receivers, and a quarterback that sometimes loses his confidence and makes incredibly poor decisions.
Newton couldn't be stopped on the ground or through the air last season. Johnson couldn't be covered down the field. The case could be made that these are two of the most offensively talented players in the entire NFL.
Both seasons last year were almost identical in terms of personal success, making the choice even more difficult. The brass of it is this -- do you stick with Newton who is one of the most intriguing and exciting rookie quarterbacks in recent memory, or do you roll with Johnson who has entrenched himself as the best wide receiver in the game?
I'm going to stick with Newton. What he was able to do in Carolina last season with almost no surrounding talent is remarkable, and he is only going to get better. Not to mention, he was totally robbed out of last year's cover on NCAA 12.
What can I say, I'm a sucker for hybrid quarterbacks!
The winner of the Madden cover vote will be announced live on SportsNation on Apr. 25, 5 PM! Get your votes in quick,
right here
!
Be sure to follow Beard and Stache on Twitter @BeardAndStache, and also Troy @TroyBallards, Like our Facebook page HERE!