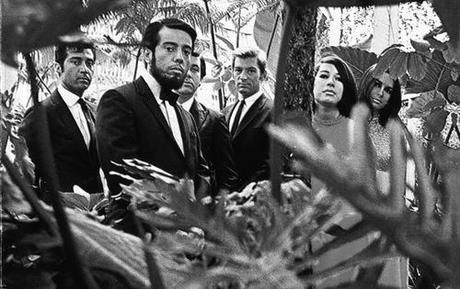 Sergio Mendes & Brasil '66
Ever have one of those days when you're forced to use your head in making a last-minute decision while the pressure of a deadline looms stealthily in the distance?
No, I don't mean on the soccer field. Certainly, Team USA's dramatic, make-or-break victory over Ghana on Monday came down to the wire, with the US coming up the winner off John Brooks' incredible "head" shot in the 86th minute of play. Nothing I inscribe could ever be as heart-stopping as that moment, but I do digress.
To this point, I received an e-mail from musician Ken Avis, whose band Veronneau recently appeared at Strathmore's Jazz Samba Project Festival in North Bethesda, Maryland — about which I will be devoting extensive coverage during the weeks to come.
"I've just had an unexpected request from the Washington Post," Ken wrote the other night, "with an urgent deadline." And here we go: "Very lightly defined, but they would like a playlist of eight to ten songs to add to an article about the Brazil World Cup… a kind of reader's primer on what to listen to in order to get into the mood."
Okay, I thought, that sounds like something I could tackle. To continue the soccer analogy, I know for a fact the Brazilian National Team has often mixed samba into their joyous style of play. And this felt like a fun project all-around, something to relieve the stress from intensive World Cup viewing (now how can THAT be stressful…?).
"Just off the top of your head," he continued, "what would you consider to be three or four Brazilian songs to hear and why? Your desert Island discs!"
As Heath Ledger's Joker would say, "Now you're talkin'!" It's just the thing to wipe the summer heat away. My initial strategy was to suggest songs that would span the length and breadth of the country's eclecticism.
Brazil is a musically diverse nation with a wide assortment of regional styles, genres, forms, and trends: from choro and maxixe, to samba, samba-canção, bossa nova, MPB, Tropicália, axé, frevo, forró, funk, and pagode, to name a few.
But if it's desert island airs you want, naturally I'd have to start with the best of the best, the top of the heap, the A-Number 1 of them all:
1. "The Girl from Ipanema" – Frank Sinatra and Antonio Carlos Jobim. Ole Blue Eyes never sounded better when paired with Carioca maestro Tom Jobim, in what I dubbed a dry run for Sinatra's later Duets album. Here, the Chairman of the Board soothes the ears in his quietest, most laid-back mode. "I haven't sung this soft since the last time I had laryngitis," he famously quipped afterwards. Sure, Frankie. Anything you say…
2. "Tarde em Itapoã" ("Afternoon on the Beach at Itapoã") – Vinicius de Moraes and Toquinho. The first song the Little Poet Vinicius wrote with his new-found partner, Toquinho. Their voices are beautifully blended in this, their most whimsical combination. It's a lovely tune, one that's been covered by a variety of artists, including Brazilian singer Jane Duboc who partnered with baritone sax specialist Gerry Mulligan on their 1994 album Paraíso on Telarc.
3. "Mas que nada" ("Oh, That's Nothing") – Sergio Mendes and Brasil '66. A bossa nova classic by any measure of the term, most people would be surprised to learn that bandleader Mendes (still going strong at 73) did not compose this rollicking number. That honor goes to Rio-born musician Jorge Duilio Lima Menezes, whose professional moniker is currently Jorge Ben Jor. The song was revived by Sergio in 2006 as a joint venture with the Black Eyed Peas for a commercial aired during the 2006 World Cup, leading to reconfirmation of its status as an international cross-cultural hit.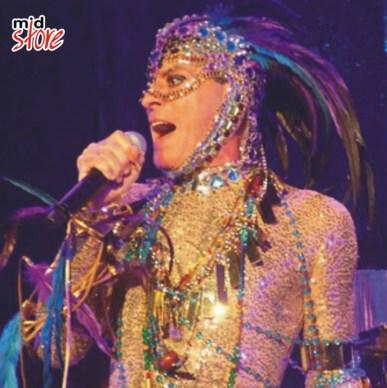 Ney Matogrosso
4. "Aquarela do Brasil" ("Brazil") – Ney Matogrosso. Known as Brazil's theme song, it was written by the prolific Ary Barroso, who lived for a time in Hollywood and was courted by none other than Walt Disney himself, although little to nothing came of the encounter. Barroso was even rumored to have had an affair with Carmen Miranda (discounted by author Ruy Castro in his biography of the famed Brazilian Bombshell). Ney Matogrosso's priceless rendition of the tune is my preferred version, which finds him in singularly spectacular voice.
5. "Adeus, batucada" ("Bye-Bye, My Samba") – Carmen Miranda. More than any other record, this melancholy samba fit Carmen's profile as her country's premier ambassador of Brazilian music. Its composer, a poor black youth named Synval Silva, also served as the entertainer's chauffeur in Rio. He even wrote the lyrics, which reflect Carmen's clear-eyed philosophy of life: "Vou-me embora chorando / com o meu coração sorrindo / E vou deixar todo mundo valorizando a batucada" – "With tears in my eyes / I'll leave behind a glad heart / So that everyone I meet can enjoy the beat of samba."
6. "Only a Dream in Rio" – James Taylor and Milton Nascimento. Written by the ethereal voiced Milton with his favorite lyricist, Fernando Brant, the English text was supplied by Taylor. Nasally twang aside, it's one of arena favorite Sweet Baby James' few forays in a foreign language. Despite the linguistic difficulties of Brazilian Portuguese, he manages to win listeners over by his complete sincerity in putting the song across. Milton joins him for one of the verses as well as the main chorus.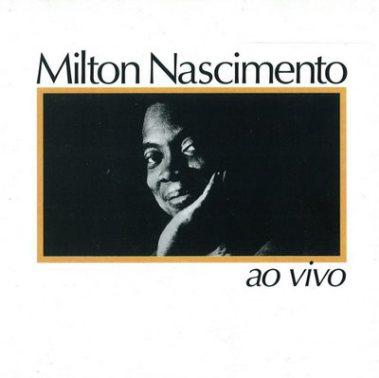 Milton Nascimento "Live"
7. "Nos Bailes da Vida" ("In the Dances of Life") – Milton Nascimento and Fernando Brant. Recorded live in November 1983 at the Teatro Municipal in São Paulo (my wife just happened to be present for the session), this extremely catchy tune is so infectious that Milton has the audience sing right along with him in one of those magical moments. His red-hot band mates include such stalwarts as keyboardist Wagner Tiso, guitarist Hélio Delmiro, and Robertinho Silva on drums and percussion. Hit it, Miltie!
8. "Meu nome é Gal" ("My Name is Gal") – Gal Costa. Maria da Graça Costa Penna Burgos, known professionally as Gal Costa, has been at the forefront of not only the tropicalismo movement, but of Brazilian popular music in general. Born in Bahia, Gal Costa's eponymously titled song was released in 1969, with words and music by Roberto and Erasmo Carlos, two artists whose work bears listening to. It's another of those personal statements that Gal, a consummate singer of impeccable taste, has reshaped throughout the years to suit her various moods. The older she gets, the more fascinating (and jazzier) she becomes.
9. "Aquele abraço" ("That embrace") – Gilberto Gil. Also written and recorded in 1969 was this musical salute to Rio de Janeiro from fellow Bahian and former minister of culture, Gilberto Gil. Filled with topical and cultural references from the era, among them the Flamengo Soccer Club and colorful TV personality Chacrinha, Gil penned this number shortly after his release from prison and just before his being exiled to Europe. Accompanying him was tropicalismo co-founder Caetano Veloso, who helped bring Brazil's music and rhythms to Britain.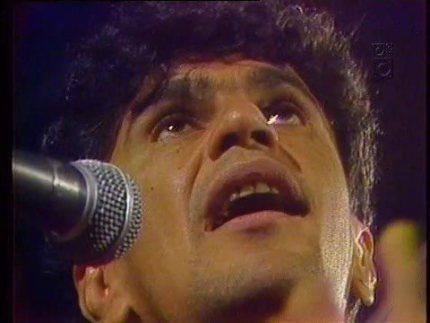 Caetano Veloso singing "Sampa"
10. "Sampa" – Caetano Veloso. And finally, we have Mr. Veloso himself. Acknowledged at one time as Brazil's answer to our own Bob Dylan, the intellectually stimulated Caetano passed through a phase where he and various other musical artists channeled concrete poetry and symbolism in their works. In this song, he pays homage to São Paulo, where upon his crossing of Ipiranga Street with São João Avenue, something always happens inside his heart. It's both a critical commentary as well as a love letter to South America's largest and most crowded urban center (and the city of my birth).
How's that for a play list? I had to ask my wife Regina to dig into her memory banks for some help with the above compilation, but it was worth the extra effort. As a side bonus, I'd like to give an honorable mention to an old sixties Carnival anthem, "Mascara Negra" ("Black Mask"), by that great sambista Zé Keti, sung by powerhouse chanteuse Dalva de Oliveira, one of dozens of female performers who made their mark during the glory days of Música Popular Brasileira.
Ken's response to the list was definitive: "Not easy is it to narrow it down, is it? I love the broadness of your tastes, including Frank Sinatra and James Taylor. I agree that sometimes the best interpretations are done simply by the most musical folks irrespective of geography." To which, he added: "I'd love to hear someone like Cameroonian bass player/vocalist Richard Bona do some of these great tracks."
Wow! So would I. "You're right about narrowing things down," I replied. "It's practically impossible. The list is notable for who was excluded (Chico Buarque, Maria Bethania, Zeca Pagodinho, Marisa Monte, etc.). Where's [Senegalese singer-songwriter] Youssou N'Dour when you need him? Why, he's singing 'In Your Eyes' with Peter Gabriel, that's where!"
One gets used to doing these sorts of on-the-spot requests after a while.  Last summer, I remember providing the English lyrics to the Andrew Sisters' version of "I Want My Mamma" ("Mamãe eu quero"), for a one-man show that my friend Claudio Botelho was doing in Rio that week. Claudio sent me an MP3 clip of the song, which I must have listened to a gazillion times before I could get the gist of what that fabulously harmonious trio was singing.  It was well worth the effort, though — and I had a blast listening to it, too.
Ken shared my enthusiasm for this assignment: "I enjoyed listening to lots of musical options to get to the songs which gave me goose bumps. Of course, with these [types of] lists there are always the questions of 'what… you didn't include (fill in the blank)' and 'how could you have added that one.' I reckon that's largely why magazines and papers do lists."
I reckon so, too, Ken, which is fine by me. The final group of ten, like any selection — and I include the selection of players for those national teams participating in this year's World Cup — was based primarily on personal choice. It incorporated some of the above suggestions, in most cases executed by other artists, along with several items that, as a rule, were fairly representative of the country's multiplicity of talents.
Still, it's nice to be needed — and to use one's head for reasons other than game-winning goals. Hmm, on second thought… uh, maybe not…
Copyright © 2014 by Josmar F. Lopes