The Dolce and Gabbana Spring-Summer 2015 collection was presented at Milan Fashion Week and impressed thousands of people from all around the world. It was one of the most impressive, manly and most powerful collection from all the collections shown at MFW this season.
For their collection, Domenico Dolce and Stefano Gabbana were inspired by the Spanish matadors, but this does not mean that they necessarily retired their Sicilian inspiration which they used in the past seasons, as Spain dominated Sicily between 1516 and 1713. The creations, which idealized a part of Italy's history, were inspired by the colors of this period, and resulted in powerful, rich and engaging clothes. We could see almost all shades of red in the show, from dark reds to very light ones and we could also see some pink.
And since the torero was their inspiration, we could see fantastic matador jackets in impressive hues right from the start of the show. The sophisticated embroideries featured high-quality Italian craftsmanship. Moreover, the designers used graphic images of bulls for their oversized shirts. In fact, Mr. Gabbana said after the show that: "Every woman wants one, every man wants one, too. Or wants to be one." Speaking of prints and patterns, the collection also introduced polka dots that covered pants, shirts and even blazers.
Polka dots could be a big trends for the 2015 summer season, as well as three-quarter pants and t-shirts, with which Dolce and Gabbana have worked in the past seasons as well. Moreover, t-shirts featuring prints of vintage bull-fighting posters could also become a big trend.
With sharply tailored suits and impressive formal shoes and sandals, the collection was an array of bold pieces, stunning colors and strong textures. Besides from the main pieces of their collection, we could also see elegant suits in different colors, impeccably tailored jackets, pants, shirts and ties and very figure-flattering vests. With this collection, the two fashion designers have really taken the bull by the horns and ventured in the matador's arena. The result was a great one which we can only salute with a "bravo"!
With their unique collection, featuring rich, baroque elements, Dolce and Gabbana is definitely in the front row of the spring-summer 2015 season.
Let's take a look at some of our favorite looks from the collection and don't forget to read our commentary.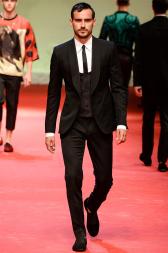 Fantastic aesthetics, proper for the modern man!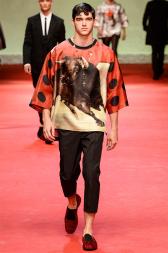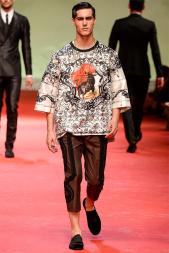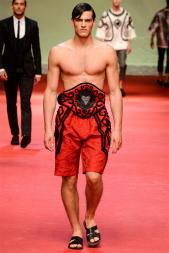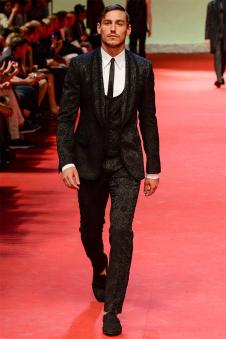 The embroidery on this suit is so subtle, you might miss it if you don't take a close look!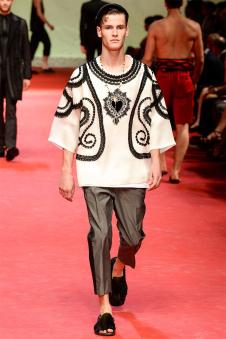 This shirt is like the canvas for a painting.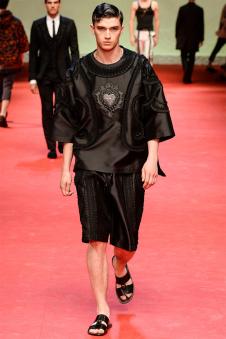 The collection featured fine materials and subtle stitching that gave the clothes depth and shine.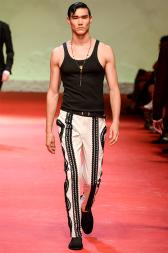 Beautiful accessories were also part of the SS 2015 collection.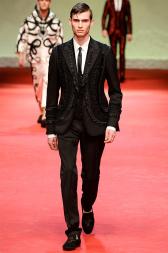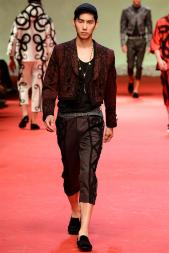 We love the blue cap which goes very well with the dark red outfit.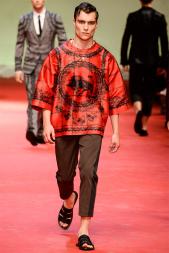 Style tip: a color such as bright red goes very well with a neutral brown pant.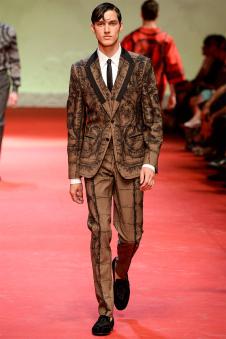 The attention to detail put into each piece of the collection was truly impressive and remarkable.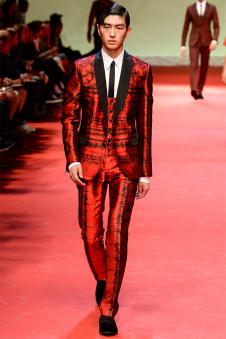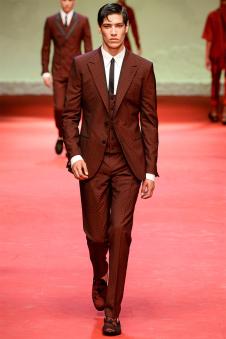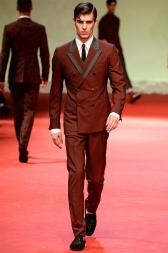 Fortunately, double-breasted suits will be in style in the 2015 summer as well.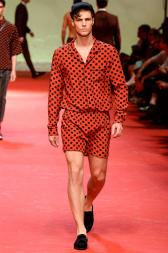 High contrasts and polka dots are definitely a good way to stand out from the crowd.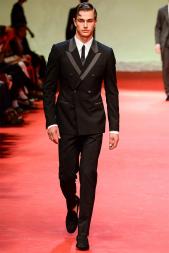 The impeccable evening suit.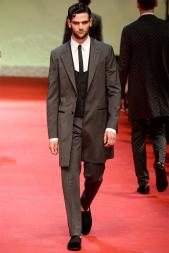 You need a coat, even if it's summer.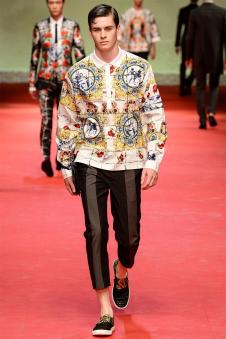 With such amazing prints, we're only sorry the t-shirt is not more oversized.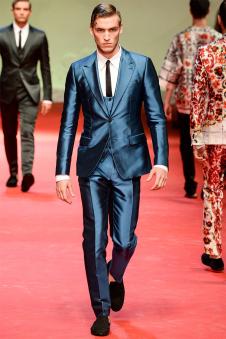 A shiny three-piece suit is something every modern man should have.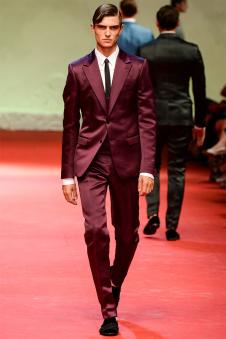 This mauve suit give the conservative look a new spin.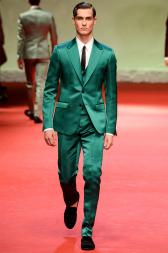 We loved the fact that even though the main color of the collection was red, we could also find pieces in its contrasting color, green.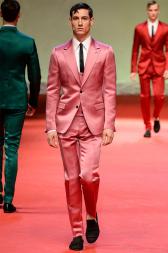 This pink suit was a pleasant surprise in an almost all-red collection.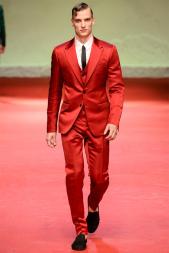 A sharply tailored, classic, (of course red) suit featuring a skinny tie is always a good look (especially on a thin man).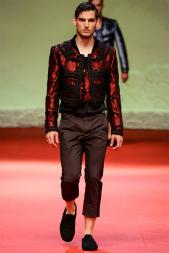 You don't need to be a matador to take the bull by the horns.
Fraquoh and Franchomme
P.S. What do you think of the collection? Which pieces would you wear? Share your comments and feedback below and remember that you can subscribe to our website via e-mail on your right or you can follow us on our Facebook or Twitter pages!
Share on Tumblr
0