Despite my diminishing interest in animated movies and films, nonetheless, I'm still a fan and will always and forever craved for light, entertaining, yet inspiring cartoons. Even though I was disappointed with the declines of 2D cartoon movies at first, I have become more and more fond with 3D cartoon lately.
However, I have to admit that my sole reason to eagerly watch Brave is because this animated movie's plot is set in the medieval Scotland, which means there should be varieties and strong Scottish accent throughout the movie.
The 3D part is because I've never watched any animation movies in 3D before. (A confession of a small town girl whose towns she used to live throughout her life before always lacking 3D.)
Errrr, okay, maybe I should classify myself as a geek, not only when it comes to fonts (the complete explanation here), but also in terms of accents, especially English accents. It's just happening recently, really.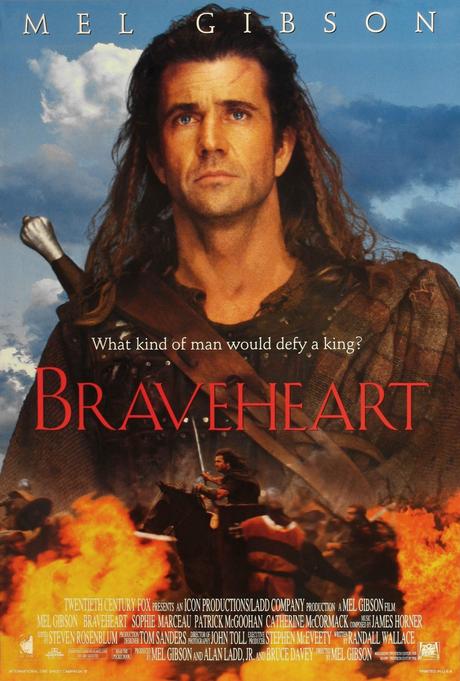 So lately I've been craving for Scottish accent, and have been desperately hunting, in the past few months, for historical Scottish movies. My effort ended in vain, of course, since the best one I could ever get is Braveheart. I'm specifically interested in historical Scottish movies set in (if there's any) the medieval time.
Perhaps, the main reason for this is (ahem) caused by (cough, cough) my intense reading lately in Amanda Scott's historical romance, more specifically The Border Trilogy (I wrote the review once here and here) and not so long ago, The Galloway Trilogy. Both trilogies include the real historical character Archibald Douglas, the 3rd Earl of Douglas, or also known (and, in the novels, referred to) as Archie the Grim. In The Border Trilogy, Scott also tells the story of Archie's predecessor James Douglas, the 2nd Earl of Douglas until his death in the Battle of Otterburn.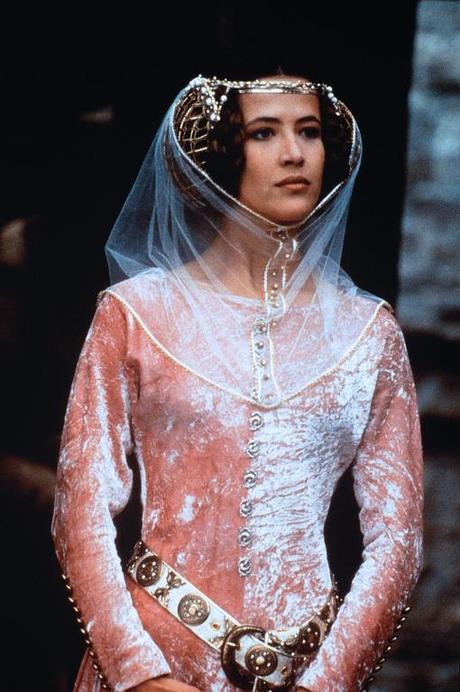 I like to imagine this is what Princess Isabel would look like.
I was hopelessly looking for movie set in the 13th to 14th century of Scotland, where I'm wishing that I could watch a movie on Archie the Grim, James Douglas, or Princess Isabel, James' wife. Anything related to stuffs that I have read in Scott's book, a magical world of Scotland she's taken me into–anything at all. Yes, a desperate attempt, indeed, for so far I've found naught.
One thing that really bewitched me so far in Scott's novels is the heavy use of Scottish English, a language and accent that I'm unfamiliar with. The English I've never known before.
I'm so stupidly obsessed that finally, upon watching Brave's trailer, I thought, "An animation is better than nothing at all!" and that's how I ended up in the theater last Wednesday, successfully convincing my friends to watch the movie with me.
 Rob Roy (a 1995 film) is next on my list.
Okay, back to the movie now.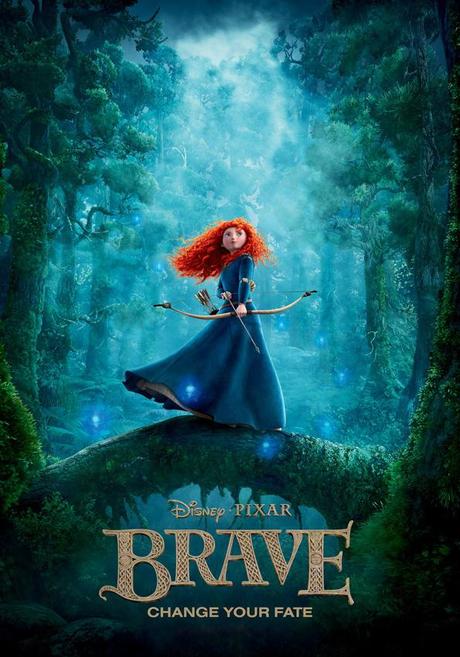 Brave tells a story of Princess Merida, a Scottish noblewoman, who was expected to be beautiful, elegant, calm, and definitely lady-like, but instead, growing up with a brave and strong father, she became a fierce, tomboy princess instead. Her favorite sport is archery, and she endlessly quarreling with her mother who had to remind her to not put her bow on the dining table, keep telling her to be calm, gentle and eventually forced her to wear a corset and a veil or drapery thrown over her head and surrounding her neck, just what a princess at that time should wear.
Unable to submit to each other's wish for themselves, Merida finally fled her castle after a heavy dispute with her mother the queen over a matchmaking competition made to find her suitor.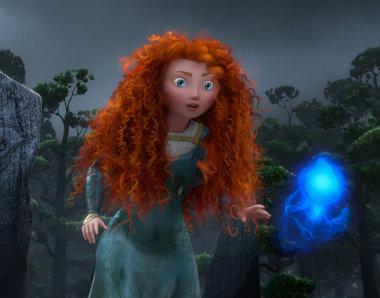 Merida seeing will-o'-the-wisp
Wandering aimlessly in the woods, her horse accidentally led her to the stonehenge, where she came across will-o'-the-wisp, which guided her to a witch's house. She asked the witch to give her a spell which could change her mother, but instead, it changes her mother into something very unexpected, something that eventually would endanger both their lives. The movie follows Merida as she sought ways for atonement.
Personally, at some points in the movie, I couldn't help but think that the main character, Merida, is no more than a spoiled teenage princess, who got angry upon not having her way. I do lack a thorough knowledge on the history of Scotland, but based on what I've read so far in Scott's historical romance novels, I know that not any lady, noblewoman, and especially any princess could escape skelping for behaving like Merida. Unless he wanted his people and perhaps the whole society to label him as ill-mannered or uneducated, not even Merida's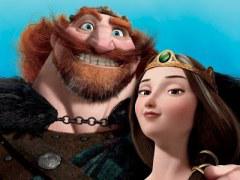 King Fergus and Queen Elinor
father could let his daughter behave like that. Well, of course, that could happen, and perhaps there were exceptions, but many would think that King Fergus (Merida's father) is a man who cannot control his daughter, and no one would think that anyone would ever want to have Merida. Even more absurd is the scenes where we could see very obviously how Queen Elinor (Merida's mother) evidently is actually the one in charge of the castle's and the kingdom's affair. This is, indeed, possible, but no man would ever let the public (especially the people he govern) see this, and even if the woman is actually the one in charge at that time, they would use tricks and words to let the man think that the woman is merely suggesting stuffs, but he is still the one in charge. The fact that women have more power men back then was completely humiliating, even if the woman was actually a baroness of her own and owned her own estates, hence could, and entitled to govern herself independently. But again, this is a movie, where anything could happen, isn't it?
Frankly speaking, perhaps heavily influenced by Scott's historical romance, in the end I kind of disappointed with the lack of romance in the movie. I was expecting a knight or a noblemen who would finally tame and won Merida's heart, but that didn't happen, of course. Nonetheless, I think the movie is worth watching.
There were many kids in the theater back then, and the movie itself is a beautiful story for children. It's light and entertaining for adults as well, for those who're looking for an uncomplicated story. As for the 3D, I agree with one review I once read, that 3D, indeed, adds a sense of real to the story, but not really necessary since the plot itself, I think, is a 2D story.
What about my thirst for historical Scottish stuffs? Well, I managed (only a bit, though) to satisfy my selfish desire for a while where I could savor the Scottish accent I heard throughout the movie, and now I could imagine better how the characters in Scott's novels would sound as they deliver their dialogues (before, I merely imagined someone with a thick British accent trying to converse in a Scottish English), but that is all, really.
"There is a drain, aye," Tetsy said. "But ye'll want yon sink clean when ye use it later, so I'll empty our basin outside. Yon scullery door opens to a path betwixt the walls with a drain that carries water straight to the cesspits."

(from Border Moonlight)
I was ecstatic, though, when there was a Celtic song sung in the movie (Scottish Gaelic, to be exact). I know, I know, I don't speak Gaelic, and I'm not familiar with the language (it's completely foreign to me), but I got interested in the language at first because of The Corrs' album Home. That's how I knew Gaelic as well. I'm not sure, though, that the Gaelic language used by The Corrs in their album and the one in the movie is the same one. I just wished that there were more songs in Gaelic, since, it is, after all, a historical Scottish movie.
I'm still desperately hoping that in the future, there will be an epic historical Scottish movies (hopefully related to James Douglas or Archie the Grim, hahaha) that could satisfy my thirst.