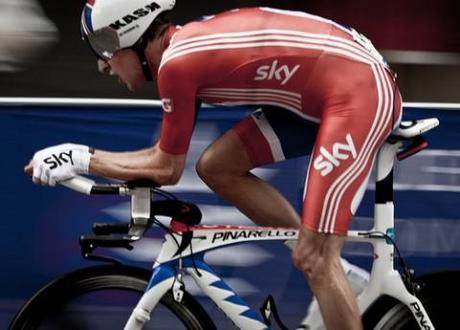 Bradley Wiggins set to win Tour de France. Photocredit: Kristian Thagersen
The background
Top Brit cyclist Bradley Wiggins, he of the sideburns and the love of Paul Weller, is set to win the Tour de France. He'd be the first from these foggy islands to do so since the race began in 1903. Wiggins currently has a 2 minute 5 second lead over his Team Sky team-mate Chris Froome, who hasn't challenged Wiggins' advantage, and has even slowed down to allow Wiggins to catch up. Wiggins' closest rival, the Italian Vincenzo Nibal, faltered at the last mountain stage.
This week, they do a 138 mile flat stage, and there will be a time trial tomorrow before the ceremonial journey to Paris on 22nd July. Wiggins is set to win. Commentators are excited.
"It was the first time in the whole of the race that I thought I'd won the Tour. There were almost tears in my eyes," said Wiggins, quoted on The Telegraph.
Wiggo epitomises how the French see the English
It's OK, though – the French are learning to love Wiggo, said Hugh Schofield on the BBC. One French cycling, fan, quoted on the site, said that they enjoyed the way he spoke his mind: "He can express himself in a way that is shall we say … virile." Initially, they were reluctant, as he has a changeable image – one minute charming, the next all bad-boy; he also wasn't keen on speaking in French (though he was born in Belgium.) It's a commonly held view across the Channel that Team Sky "have provided an efficient but boring masterclass in how to shut down a race." They see Anglo-Saxon teams as organised, but lacking poetry; Wiggins, however, epitomises how the French see the English: "stylish, slightly eccentric, gentlemanly, outspoken, and humorous."
Team mates working together
Richard Williams in The Guardian said that Wiggins' win "will be discussed as long as there are people alive who still remember it," and, no doubt, "for much longer." When Froome pulled ahead of Wiggins and began signalling back to him, some assumed that the former was showing he was "the stronger man in the mountains" – but actually, the two were discussing Nibali falling back, and the fact that Wiggins was now certain to win – "a seductive thought, and a dangerous one." All Wiggins now has to do is the time trial – a 53.5 kilomtre race from Bonneval to France, after a 222.5 kilometer transition stage. Wiggins was unperturbed: "But that's very much our domain … You'd put your house on me not losing that sort of time," he said.
Wiggo set to go into history
If he wins, said John Dillon in The Express, it will be "one of the most iconic images of the nation's sporting existence." He'll also "complete a revolution", as he battles to "rehabilitate" cycling from the drug cheats that have devastated it. He's successfully driven back the image that cycling is all about cheating. Wiggins, with his mod-style, is all about truth, and he's "blasting its message across the benighted Tour de France and into history."