During the WGC-HSBC Champions event in Shanghai this week, Keegan Bradley, Ian Poulter, and Hunter Mahan will be given the opportunity to ace the 17th golf hole at Sheshan Int'l golf course. If they succeed, performance tech innovator Power Balance will donate $300K to a charity of their choice and one lucky fan will be awarded $30K!
All three golfers have been at the top of their game recently. Ian Poulter took home the trophy at the Volvo World Match Play Championship in Spain in May, Hunter Mahan finished second at the Fedex Cup in September and Keegan Bradley won the PGA Championship in August more recently capturing the PGA Grand Slam of Golf on October 20.
"This is a fun, interactive way to give back to our golfing communities," said Josh Rodarmel, co-founder of Power Balance. "Golfers have consistently given us great feedback about our products and continue to comprise an important segment of our business."
If you believe that a hole-in-one will be an easy ace, even for great golfers like Mahan, Bradley and Poulter, think again. According to HSBCGolf.com, "Two holes, 16 and 17, play around and over the (rock) quarry, giving the golfer both an awe inspiring view while requiring great golf shots. These two holes will not only be the signature holes of Shanghai Sheshan Golf Club, but also of the whole
Shanghai region."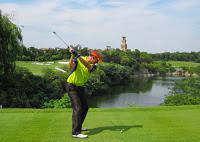 17th hole at Sheshan Golf Club
**********

Power Balance technology products are worn by a community of millions of everyday people and hundreds of professional athletes – from Drew Brees to Derrick Rose, Matt Kemp to all three golfers participating in this challenge.
The online sweepstakes began last week with promotional giveaways and more on the Power Balance website, Facebook and Twitter. 
Fans can enter the sweepstakes at http://www.powerbalance.com/holeinonechallenge. The winner will be chosen from online entries into the sweepstakes; no purchase is required to enter the contest. Florida and New York are not eligible for this sweepstakes.
Join the conversation on Twitter @Golf4Beginners and friend us on Facebook!
Posted via email from stacysolomon's posterous