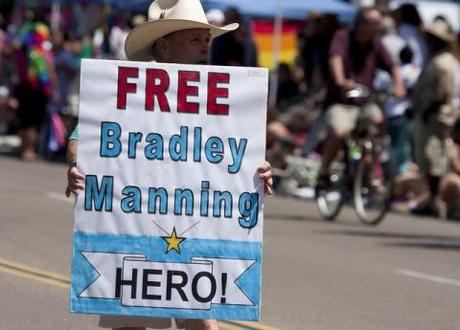 A Manning supporter in action. Photo credit: San Diego Shooter

The trial of ex-Army intelligence analyst Bradley Manning, who is in court facing charges of leaking 150,000 State Department cables to WikiLeaks, has been spiced up by claims that the 23-year-old alleged leaker was perhaps better connected to the Washington D.C. gay establishment than was previously thought.
The ongoing military hearing at Maryland's Fort Meade will determine whether Manning will be court-martialed on 22 counts of aiding the enemy, illegally sharing tens of thousands of classified government secrets, and other alleged crimes. He has already faced 18 months in pre-trial incarceration.
'Gay soldier' defence tactic. Ellen Nakashima and Julie Tate of The Washington Post assessed Manning's defence team's so-called "gay soldier" defence. They summarized the defence's portrayal of Manning as "a deeply troubled soldier struggling with issues of gender identity whose alleged leaking of classified material to WikiLeaks could have been prevented by superiors." "By airing superiors' failure to address Manning's personal issues, the defense team is 'trying to discover all the failures of the chain of command which would help them in setting up the mitigation argument for the sentencing portion of the proceeding,' said David D. Velloney, a military law expert at Regent University School of Law. But they probably would not suffice to beat the charges, Velloney said."
Did a White House media man (really) try and bed Manning? Manning's most explosive claim, which was examined in detail by Adrian Chen of Gawker, is that White House Director of Specialty Media Shin Inouye tried to sleep with him around the time he allegedly leaked to WikiLeaks. Inouye was appointed by President Barack Obama in to handle official communication with "specialty media outlets" including those representing the LGBT, Native American, and veterans and military family communities. "He's a friend of mine", Manning wrote of Inouye in an August 2009 chat with the transgender blogger Zinnia Jones. "White House contact (he's tried to sleep with me, uggh)", reported Chen. Blogger Jones provided the chat logs to New York magazine for a July profile of Manning, which published a redacted version of the logs with the reference to Inouye deleted, noted Gawker. Manning again mentioned Inouye in a chat with Adrian Lamo, the ex-hacker who would ultimately turn him into the authorities. This time he offered a hint of an official reason behind their connection: Manning wrote that Inouye was one of his "sources" in the White House keeping him abreast of Don't Ask Don't Tell "and the disaster that keeps going on with that", according to logs published by Wired. These suggestions that Manning might have been given sensitive government information by an admirer have trial watchers on the edge of their seats as the case unfolds.
Who is Bradley Manning? Gawker said Manning's "self-portrait" as "a cunning sexual strategist, screwing and seducing his way to influence among D.C.'s quasi-closeted military and political scene" "contrasts wildly with the mentally-disturbed, bullied and lonely Manning suggested by psychologists and military incident reports – one his attorney seems prepared to play up in his defense." "Strangely, Manning's connection to the D.C. gay establishment, not to mention the White House, has been glossed over", insisted Gawker. "This is certainly a relief to any influencers he knew—or "knew"—during his time on the scene but obscures the whole story of America's Public Enemy Number One. Manning wasn't just an desperate, attention-seeking soldier. He was also a young gay man with an activist bent, a presence at rallies and fundraisers, and, if his boasts are to be believed, a friend in the White House."