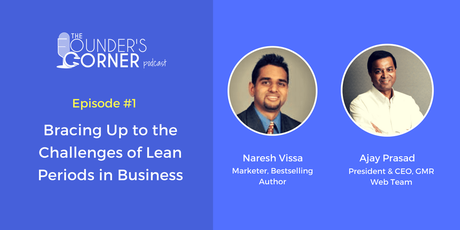 Entrepreneurs have to tackle various challenges during the first years of business to stay afloat.
While some startups have the going easier through VC funding, the majority are bootstrapped and have to make tough decisions to stay in business. Typical problems that entrepreneurs face include service or product offerings, pricing structure, customer acquisition, and legal issues.
Listen to our founder, Ajay Prasad discuss with Naresh Vissa about the growing pains entrepreneurs face. Listen to the first episode of The Founder's Corner Podcast.
Bracing Up to the Challenges of Lean Periods in Business [The Founder's Corner Podcast #Ep1]
With the ups and downs of entrepreneurship, what should you do to ensure your business wades through lean times? Below are some tips founders can use to ensure the success of their businesses.
1. Start lean
The beauty of digital businesses is that costs can be kept to the bare minimum.
If you are running a digital consulting or product business, you can keep costs low by working from home, library or restaurants. You only need your laptop and Wi-Fi to work. Having an office space is not necessary when starting your business if you provide services virtually.
Be creative in your business. Many times, you will have to assume multiple roles to run the business. Entrepreneurship is not easy but the rewards are worth it. Focus on key areas that will have an impact on your bottom line rather than the traditional "cosmetic" requirements of starting a business.
2. Hire experts
You can quickly grow your business and diversify your offerings by hiring the right people. Today, most millennials are comfortable with the idea of working from home.
Moreover, as the world becomes more connected, you can hire employees from anywhere to grow your business. Ensure the quality of work of your business is maintained by hiring employees that are already familiar with what you do.
One of the benefits of hiring remote workers is you can establish a team that has all the skills you need. Apart from this, some tasks can be performed at a lower cost by virtual assistants from countries like the Philippines, to your advantage.
3. Ideal customer
Not everyone that contacts your business will be an ideal customer. Develop your customer avatar and focus on acquiring and retaining them. This is especially important if you are running a subscription based business. Apart from this, develop complimentary offers that your customers can buy to extract maximum value from them.
You can determine your ideal customers by focusing on the problem you want to solve. Avoid the temptation of trying to serve all types of customers that come through the door.
4. Marketing
You need to find a way to make customers know about your products or services. After identifying your ideal customers, find out where they hang out on the internet. The marketing strategies to adopt will depend on the business you have. Be proactive in finding clients for your business.
Use various online marketing strategies to acquire customers. Some strategies like blogging are free or low cost and can bring you targeted customers for a long time.
5. Unique Service Proposition (USP)
Make your business stand out from the competition through your offering. Be known for "one" thing that customers cannot find from competitors. Differentiation is important as it will allow you to charge premium prices for your products/services.
If you do not have a USP, you can fall into the trap of being the lowest-priced service provider in your market. This model can be hard to justify in the long run.
The above are some ways that entrepreneurs can get through lean times during the initial years of their businesses.
Listen to more such episodes from The Founder's Corner Podcast on iTunes or Stitcher.