So, here's what happened this weekend at the domestic box office: Hunger Games: Catching Fire humbled Thor: The Dark World's comparatively meager business by enjoying the best November opening ever, Delivery Man bombed, and everyone else soaked up whatever business left over.

Let's break it down:
Top 10 Studio Estimates for the 11/22-11/24 Weekend Box Office (Domestic)
1. Hunger Games: Catching Fire (Opening Weekend)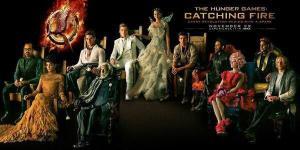 Weekend Gross=$161.1 million

Budget=$130 million
Foreign: $138 million in 63 territories this weekend.  It opened in Brazil last weekend, which when combined with this weekend's opening adds up to a current foreign gross of $146 million and worldwide gross of $307.7 million.
To paraphrase Jim Carrey from Batman Forever, "Thor: The Dark World's $86 million opening weekend was good; The Hunger Games: Catching Fire's $161 million opening is better."  A LOT better.  Heck, the only reason you would even compare the two is because they both came out this month.  Dark World did good business; Catching Fire did historic business.  It not only managed to eclipse last year's $152 million opening for the first Hunger Games but also set a record or two.  Let's run down where Catching Fire's $161.1 million opening places it in the record books:
In Actual Dollars
Biggest November opening of all time, ahead of the $142 million opening of Twilight: New Moon in 2009.
4th biggest opening weekend of all time, ahead of last year's $160 million for The Dark Knight Rises but behind Harry Potter and The Deathly Hallows Part 2 ($169 million), Iron Man 3 ($175 million), and Marvel's The Avengers ($207 million).
Biggest opening weekend of all time for a 2D-only movie, ahead of The Dark Knight Rises ($160.9 million)
When you adjust for ticket price inflation, Catching Fire still beats out the various Twilight sequels for biggest November opening of all time but falls to 8th among all-time opening weekends, regardless of month.  It also drops behind The Dark Knight Rises to have the second-biggest opening weekend of all time among 2D-only films.  Not surprisingly, if you throw out dollars entirely and just look at tickets sold Catching Fire still had the most-attended November opening ever and 8th most-attended opening since such things have been recorded.
Granted, some had expected an even bigger opening, perhaps Iron Man 3- big, but let's not get greedy here – $161 million in 3 days is amazing. The only way this could have done substantially better is if they had managed to stick to their original budget of $78 million.  Head here for a breakdown of how that budget ended up ballooning to $130 million. 
2. Thor: The Dark World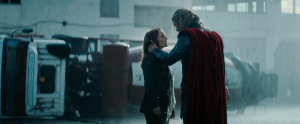 Weekend Gross=$14.1 million
Total Gross to Date=$167.8
Budget=$170 million
Foreign: $24.8 million this weekend for a new total foreign gross of $381 million and combined worldwide total of $548.8 million.
There's a difference between a box office hit and cultural phenomenon.  At least domestically, The Dark World is the former and not the latter.  It took Catching Fire a mere 3 days to gross almost as much, domestically, as Thor: The Dark World has in 17 days.  On top of all that, The Dark World cost $40 million more to produce than Catching Fire.  Ouch.
Of course, The Dark World will most often be compared to Skyfall, which came out last year on the same weekend that The Dark World did this year.  Due to the Thanksgiving holiday, an early November release like Dark World or Skyfall is not expected to do quite as well as a late November release like Catching Fire or Twilight.  Prior to this weekend, Dark World had been almost keeping pace with Skyfall.  Yeah, that's not true anymore.  The Dark World dropped 61% here in its third weekend, which is already bad since all of the recent Marvel Disney films have averaged 50% drops in their third weekends.  However, Skyfall dropped an astonishingly low 13% at this time last year (despite going up against the final Twilight film) meaning in its first 17 days it grossed $221 million vs. The Dark World's 17-day gross of $167.8 million.  At the risk of simplifying, audiences clearly liked Skyfall better last year than they do The Dark World this year.
It is really overseas where The Dark World has been absolutely cleaning up, allowing it to have now crossed the milestone worldwide gross of $500 million.  So,yeah, are we really going to weep that a giant conglomerate (Disney) has now made over $500 million worldwide on a $170 million budgeted film?
3. The Best Man Holiday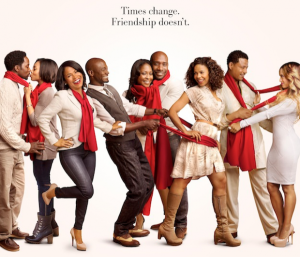 Weekend Gross=$12.5 million
Total Gross to Date=$50.3 million
Budget=$17 million
Foreign: It only opened domestically.  At the moment, the only scheduled foreign release is in the U.K./Ireland at the end of the month
Last weekend's surprise hit that earned an incredibly rare A+ score from CinemaScore (meaning the average moviegoer polled by the agency on Best Man Holiday's opening night considered it a perfect, flawless movie) dropped 58% in its second weekend.  That's noticeably worse than the 47% drop for last year's Think Like a Man, another African-American targeted film which shocked most with an opening weekend over $30 million.   To some degree this draws into question why we even pay attention to CinemaScore grades as surely a movie that earned an A+ would generate such word of mouth to do better than this in its second weekend.  After all, it's not like there was any new movie aimed exclusively at African-Americans which opened this weekend to offer Best Man Holiday any direct competition (that won't happen until Black Nativity opens on Wednesday).  However, Best Man Holiday was still able to do well enough to only slip 1 spot in the top 10, and beat out a new Vince Vaughn comedy (is that even a notable accomplishment anymore, though?).  Plus, there's already a sequel in the works.
4. Delivery Man (Opening Weekend)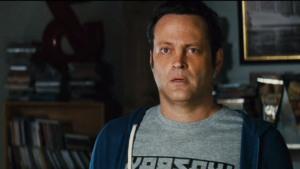 Opening Weekend Gross=$8.2 million
Budget=$26 million
Foreign: $1.2 million in international gross for a combined worldwide gross of $9.4 million.
This was a risky move that failed to pay off.  Distributor Buena Vista clearly positioned Delivery Man as comedy counter-programming to Catching Fire, even though after the $152 million opening of the first Hunger Games the safer move would be to not even try and compete with the sequel.  Delivery Man has Vince Vaughn starring as a man who discovers that sperm he donated to a sperm bank in exchange for money years ago has resulted in him being the father of over 500 children.  A clearly communicated premise, to be sure, but one that also brings with it a certain "ick" factor.  On top of that, Vaughn already bombed earlier this year in his Owen Wilson team-up The Internship, which opened to $17 million in June on the way to a $44 million domestic gross/$48 million foreign on a $58 million budget.  Luckily, the Delivery Man budget is far lower, and the audiences who saw it gave it a generous B+ CinemaScore grade (that is, of course, if we even care about those grades).  Still, this is the worst opening of any Vince Vaughn-starring film to open on over 1,000 screens.  What does that mean?  Nothing good.  

5. Free Birds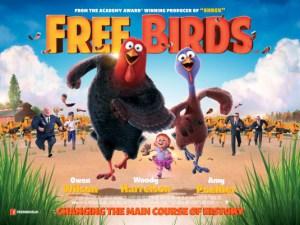 Weekend Gross=$5.3 million
Total Gross to Date=$48.5 million

Budget=$55 million
Foreign: It has opened in around 20 countries, but there is no official estimate as to combined foreign gross yet although rough estimates have it with an international gross at this point of around $10 million.
Free Birds might be getting a boost from being a Thanksgiving-themed film released so close to the holiday.  However, in 24 days it has grossed $48.5 million, which is just barely better than the $47 million 24-day gross of 2013′s lowest-grossing animated film to date, Escape from Planet Earth.  That film ultimately ended with a domestic gross of $57 million while costing $15 million less to produce than Free Birds.  Now, Free Birds faces the doubly whammy of trying to keep making money once Thanksgiving actually passes as well as facing competition from Disney's animated opus Frozen, which is expected to do big business when it opens wide this Wednesday.
6. Last Vegas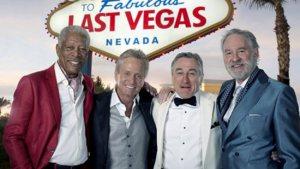 Weekend Gross=$4.4 million
Total Gross to Date=$53.9 million
Budget=$28 million
Foreign: Information about its performance this past weekend is not yet available, but prior to this weekend it had grossed a combined $8.6 million foreign which now adds up to a worldwide total of $62.5 million.
In its fourth weekend of release, Last Vegas dropped 48%, which is easily its highest weekend-to-weekend drop to date.  It is now just shy of being the highest-grossing film in the 3-year history of distributor CBS Films, trailing only the $54.3 million of Woman in Black.
7. Jackass Presents: Bad Grandpa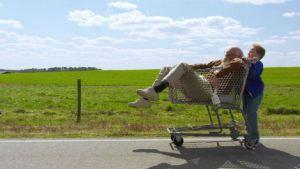 Weekend Gross=$3.4 million
Total Gross to Date=$95.4 million
Budget=$15 million
Foreign: Information about its performance this past weekend is not yet available, but prior to this weekend it had grossed a combined $33 million foreign which now adds up to a worldwide total of $128.4 million.
Bad Grandpa has yet to do so, but is pretty much set to end up with a domestic gross over $100 million.  Try wrapping your head around that one.  On the list of top domestic-grossing films of 2013, it has now passed Elysium and 42 while trailing Olympus Has Fallen, Captain Phillips, and This is the End.  
8. Gravity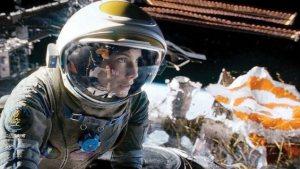 Weekend Gross=$3.3 million
Total Gross to Date=$245.5 million
Budget=$100 million
Foreign: $35.5 million in China alone since it's Tuesday opening, 20% of which came from IMAX theaters which set a record in China.  It now has a combined foreign gross of $331.5 million and worldwide gross of $577 million.
By now, it's simply a matter of keeping track of where exactly Gravity ranks among the top-grossing films of the year.  It is currently the 5th highest domestic grossing (ahead of: Fast & Furious 6; behind: Monsters University) and 8th highest worldwide grossing film of 2013 (ahead of: Thor: The Dark World; behind: The Croods).
9. 12 Years a Slave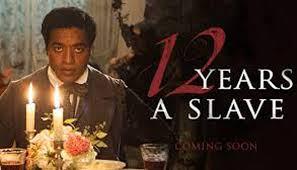 Weekend Gross=$2.8 million
Total Gross to Date=$29.3 million
Budget=They're Not Telling
Foreign: Outside of film festivals, it will not make its international debut until mid-December.
The point was made, recently, in Entertainment Weekly that 12 Years a Slave's reputation as being a brutally un-enjoyable viewing experience due to its realistic depiction of slavery might work against it come awards season.  The argument pointed to Brokeback Mountain as another movie which gained such a "tough watch" reputation that Oscar voters might have been more swayed by the comparatively easier to take viewing of Crash.  By extension, perhaps such a reputation is preventing 12 Years a Slave from becoming a breakout box office hit.  However, it makes it all the more impressive that regardless of which new film comes out 12 Years a Slave keeps sticking around at the bottom half of the top 10, on path to a final gross as high as $40 million.
10. Dallas Buyer's Club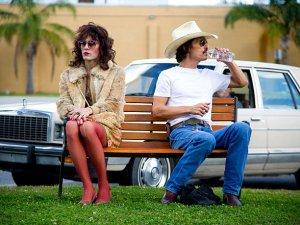 Weekend Gross=$2.7 million
Total Gross to Date=$6.4 million
Budget=They're Not Telling
Foreign: Outside of film festivals, it will not make its international debut until mid-December.
Last weekend, Dallas Buyer's Club finished just outside of the top 10 after expanding to play on 184 total screens.  This weekend, it expanded wide (though still only playing on 666 screens), and enjoyed a nearly 60% surge in business.
Source: 
BoxOfficeMojo.com
What Happened Outside of the Top 10?
Who Fell Out of the Top 10?: Ender's Game (from #7 to #11), Captain Philips (from #9 to #12), and About Time  (from #10 to #13). Oh, the rueful fate of Ender's Game, that it would look to launch a franchise but instead fall out of the top 10 in just its fourth weekend.  It now sits at $57 million domestic/$79 million worldwide on a $110 million budget.  Captain Philips has now crossed $100 million domestic, although just barely ($100.7 million), and About Time has run out of time in the top 10.  At $13.7 million domestic/$56.7 million worldwide it is not up to classic Richard Curtis fare like Love Actually but is a vast improvement over his last directorial effort, Pirate Radio ($8 million domestic/$36 million worldwide).

Notable Performances from Films In Limited Release:  Playing at only the El Capitan theater in Los Angeles, Frozen grossed $237,606, easily the best location average of the weekend.
What's Up Next?: Oh, come on.  Most everyone will just use the holiday to see Catching Fire with family.  There will be plenty of competition, though, such as the wide releases for Disney's Frozen and Fox's awards contender The Book Thief.  Also receiving wide releases are the African-American leaning holiday film Black Nativity, and  the incredibly bizarre Sylvester Stallone written/produced and Jason Stratham/James Franco-starring Homefront.  Spike Lee's potentially ill-advised remake of modern Japanese classic Old Boy and the Steve Coogan-Judi Dench dramedy will both play in 500 screens, technically qualifying as limited releases but enough screens that if your town is big enough you might get either or both films.  All of the above will open/expand on Wednesday (11/27), getting out into the market just before Thanksgiving.
Jeez, enough with the numbers already.