In 2010, a friend talked me into seeing Despicable Me with her, my first time, her second. She swore it was hilarious, and she was right. However, the thing she most raved about beforehand were these odd little yellow things in the movie called "minions." They looked like bananas with cartoon faces and wearing overalls, communicated via a weird gibberish language, and were not opposed to cross-dressing while parading as a husband, wife and small child at a big box chain store. They absolutely stole every scene they were in, only rivaled in the rest of the film by the cute little girl who clutches a stuffed animal and maniacally exclaims "It's so fluffy!"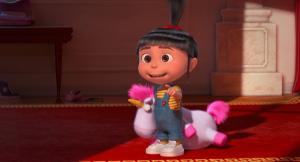 I ultimately enjoyed Despicable Me so much that I felt I owed my friend a proper thank you for introducing me to Gru and friends. She thought the minions were the cutest things in the world. Perfect. There had to be plenty of stuffed minion toys out there, right? Nope. There were limited edition toys on Ebay with a minimum bid of a hundred dollars, and there was a waiting list for some minion toys on Amazon, with a vague message indicating new product was maybe on the way but God knows when. That was it.
It's safe to say that I'd have no problem finding a minion toy today. Universal Pictures is in the middle of one of its biggest-ever marketing campaign to promote Minions, the Despicable Me prequel detailing how the minions hooked up with a new master named Scarlett Overkill (Sandra Bullock) but ended up, largely through improbable incompetence, stealing her evil plan to rule England. According to Bloomberg, "The studio has decorated theaters with giant Minions, put yellow labels on half a billion Chiquita bananas and joined with more companies than ever, including Amazon.com Inc., General Mills Inc., McDonald's Corp., studio parent Comcast Corp. and Snapchat Inc. Partners alone have delivered $593 million in ads and promotions."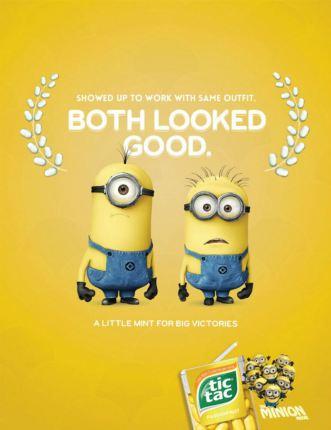 Job well done, apparently, because over the weekend Minions set a record for best opening day ($46.2 million) for an animated film, and ended up with the second-biggest opening weekend ($115.7 million) for an animated film. The record still belongs to Shrek the Third's $122.5 million in 2007. Overseas, where Minions got an early start a couple of weeks ago, it earned an additional $130.7 million from 56 international markets this weekend for an early foreign haul of $284.1 million and worldwide gross of $403.5million. It actually set opening weekend records in 25 different countries, and had the second biggest debut for any film, live-action or animation, in Mexico and Russia.
"Audiences of all ages, and especially kids and families, just love these characters, and we had a tremendous marketing and merchandising effort," Universal's domestic distribution chief Nick Carpou told The Hollywood Reporter when asked to comment on Minions eye-popping debut. "We have now opened three movies this year to over $100 million — Minions, Furious 7 and Jurassic World — something no other studio has done in history."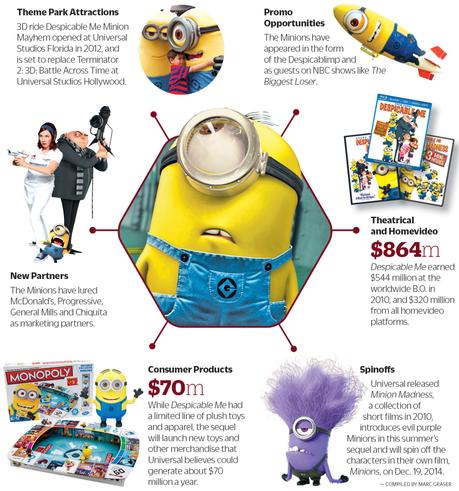 The Minions were already a huge deal for Universal by the time of Despicable Me 2, as per this Variety graphic
The minions began their takeover of the franchise with Despicable Me 2 in 2013, where they have far more screen time (at the expense of Gru's three adopted daughters). The closing credits scene is actually the minions literally auditioning for their own solo movie. I thought Despicable Me 2's quality took a dip due to giving us way too much of the minions, but I was in the minority. It became the third highest grossing animated film of all time, with a final slash line of $368m domestic/$602m international/$970m worldwide.
A spin-off was a logical next step, and Universal quickly re-though its initial decision to date Minions for Christmas 2014. Both Despicable Me movies had been July releases. It made more sense to give Minions the same treatment, pushing it back to July and kicking off the marketing campaign with TV commercials in December and a $4.4 million Super Bowl ad. Now that the film is here the minions are everywhere, adorning many a cereal box and real world items which kind of look like them, such as yellow Tic Tacs, Twinkies, and Chiquita bananas. The Minions, as Vulture recently argued, have also overtaken the internet, serving as the go-to choice for memes right now.
Why are they so popular? The Despicable Me franchise started off as another post-Shrek animated film giving sympathy to the devil, making a protagonist out of a traditional antagonist and offering up some sly genre parodies along the way. See also: Megamind, Hotel Transylvania, Monsters University, Wreck-It Ralph. The minions are silent movie character extensions of that idea. They are kid-friendly, ultra-cutesy embodiments of so many nameless henchmen serving Bond villains over the years. Hilarious, yes, but still just complimentary pieces to the story of Gru and his daughters, yet now in Minions they have overtaken Gru, even if they are due to reunite with him in Despicable Me 3 (due 6/30/17).
In attempting to explain why they are such a popular meme, Vulture kind of nailed it:
With their yellow skin and exaggerated facial features, Minions are essentially anthropomorphized emoji. They're cute, they're enthusiastic, they're kind of gross, and they're also struggling through life: In short, they're exactly the way most online communities see themselves. Aside from that, they don't really have individual personalities, which makes them the perfect canvas upon which to project whatever desires you want.
But why are they so popular with everyone, not just with people creating internet memes? The answer most likely lies in the universal appeal of physical comedy. Throughout the Despicable Me movies and now in Minions, the cartoon henchmen usually travel in threes, echoing The Three Stooges both in number and also in the way one tends to be the leader, another the idiot and the other a younger, more innocent figure. They are slapstick comedy machines, and their lack of a discernible language actual eliminates the language barrier, making them more universal. They are the perfect animated characters for an era overrun with concerns for the global marketplace. We make blockbusters movies less concerned with story and character in favor of spectacle and action because the latter options are considered language-neutral and play better overseas. Well, now with Minions Universal has given the world a movie all about cute little banana-things which mostly mumble and fall down a lot.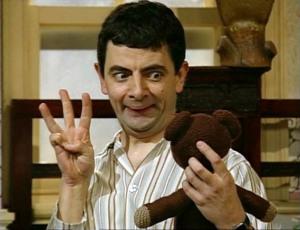 Really, the Minions are the animated version of Mr. Bean, Rowan Atkinson's classically bumbling buffoon who rarely spoke a single word of dialog and was beloved everywhere in the world other than the UK, where he was considered an embarrassing cultural export. As summarized in The Guardian, "Since the first Bean TV show was broadcast in 1990, its 14 half-hour programmes have been sold to more than 200 TV territories worldwide and shown on more than 50 airlines. The last Bean film, Mr Bean's Holiday, was a global smash hit, No 1 in 21 countries and top of the international box office. And if you ask a non-Brit to describe Mr Bean, these are the words they deliver back: hapless, awkward, self-conscious, childlike, disaster-prone … and British."
Mr. Bean was so universally recognized as one of cinema's greatest idiots that when a young British sailor named Arthur Batchelor was blindfolded and interrogated by Iranian guards after his ship strayed into Iranian waters in 2007 they kept referring to him as "Mr. Bean." He told The Mirror, "All I could make out in their language were the words 'Mr Bean'. They were laughing at me … making me feel about three inches tall. I asked the interpreter what was going on and he said: 'They think you look like Mr Bean.' They were trying to make me feel like a fool, hoping that I would give away secrets to prove that I wasn't."
That's one reason that the British do not like Mr. Bean, and the Minions don't have any of that baggage. They are even more universal than Mr. Bean in that they are not singularly identified with a country. Heck, despite usually having regular-sounding, gendered human names like "Kevin" they're usually quite gender-neutral, although if you had to guess you'd say they're all male. The genius in their comedy is as old as film itself: "dumb, cartoonish visual jokes, something any child would understand, silly ideas executed with sufficient dexterity to make it funny beyond words."
In his 2006 essay about Little Miss Sunshine and Borat, film critic A.O. Scott looked at the universal appeal of physical comedy, from the silent era to the present. Read one of his conclusions, but think of it in application to the Minions:
The genius of a well-executed gag is that getting it requires neither schooling nor explanation. There may be social commentary or moral instruction in the situation itself — as there frequently is in Chaplin's films — but rarely polemic or topical satire. Nor does the humor appeal to the audience's sense of superiority, since even as we find the condition of a given character ridiculous, we cannot do so without at the same time marveling at the ingenuity of the performer who plays him. And the laughter that results is commonly and properly characterized as helpless. It overrides our sensibilities and sensitivities, our politics and our better judgment, disables our intellectual capacities and leaves us speechless
Or, to put it more succinctly, sometimes we can all laugh at someone falling down. However, it's incorrect of me to completely characterize the Minions as modern silent movie characters. Every now and then, we do make out a human word mixed in with their gibberish, and it's usually something perfectly juvenile for a kids movie, such as Despicable Me 2's Beavis & Butthead-esque gag with the Minions laughing, saying "Bottom" and laughing some more.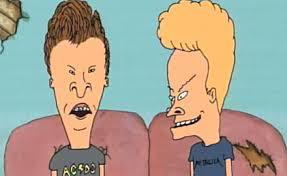 Huh-huh, huh-huh. They said butt. Huh-huh, huh-huh
This Weekend's Actual Box Office Top 10 Totals (7/10-7/12)
1) Minions (Domestic Debut)
Production Budget=$77m
Weekend Gross (Domestic)=$115.7m
Weekend Gross (International)=$130.7m
Domestic/International/Worldwide=$115.7m/$288m/$403.5m
2) Jurassic World
Production Budget=$150m
Weekend Gross (Domestic)=$18.1m
Weekend Gross (International)=$23.1m
Domestic/International/Worldwide=$590.6m/$877.2m/$1.46b
It's now the fifth highest grossing film of all time worldwide, and could still catch Furious 7 ($1.511b) and The Avengers ($1.518b). It will also soon become only the fourth film to ever cross $600m domestic, joining The Avengers ($623m), Titanic ($658m) and Avatar ($760m).
3) Inside Out
Production Budget=$65m
Weekend Gross (Domestic)=$17.6m
Weekend Gross (International)=$19.1m
Domestic/International/Worldwide=$284.1m/$151.8m/$435.9m
Because Universal dropped Minions overseas a couple of weeks before its domestic bow, Disney decided to stagger Inside Out's international release. So, countries which have already gone crazy for Minions, like Japan and the UK, will soon finally get Inside Out,
4) Terminator: Genisys
Production Budget=$155m
Weekend Gross (Domestic)=$13.8m
Weekend Gross (International)=$47.3m
Domestic/International/Worldwide=$68.8m/$156.1m/$224.9m
Domestically, it only declined 49% this weekend, which is better than normal for most blockbusters. In 2009, Terminator Salvation dipped over 60% in its sophomore frame. However, those percentages mean rather little when you remember Salvation had $90.9m at the same point in its release cycle, well ahead of Genisys' $68.7m. So, the saving grace will come overseas, and Genisys was the second highest-grossing film at the overall foreign box office this weekend, with a respectable $47.3m from 60 markets. It's a reminder that both Terminator 3 ($150m dom./$283m int.) and Salvation ($125m dom./$246m int.) were also more warmly received overseas. However, the only significant country left for Genisys is China, which has not yet given it a release date. Also, it's worth noting that there does appear to be some pushback against the overwhelmingly negative early response to the movie. Last week, it had a 4.9/10 rating on IMDB; today, it's up to a 7.0/10 (from 44,800 voters).
5) The Gallows (Debut)
Production Budget=$1m
Weekend Gross (Domestic)=$9.8m
Weekend Gross (International)=$1.2m
Worldwide Debut=$11m
The Gallows is a found footage horror movie centering on students who resurrect a failed high school play 20 years after a horrific accident in a small, Nebraska town. If you've ever wondered how exactly such a micro-budgeted flick starring no one you'd know ends up in theaters, check out Collider's oral history. It all started when two young filmmakers, Travis Cluff and Chris Lofing, put up a minute of footage on YouTube, improbably catching the attention of producer Dean Schnider. He joined to produce their movie, and became their manager, telling Collider, "These guys were working for barely any money. They were coming back and forth to Fresno. They were going into the studio. It was really a passion project for everyone. Nobody ever, ever, ever thought that it would end up with Warner Bros." The found footage genre may be kind of over as a box office force, but don't tell that to Cluff and Lofing who never imagined their movie making nearly ten million dollars or playing in nearly 3,000 theaters.
6) Magic Mike XXL
Production Budget=$15m
Weekend Gross (Domestic)=$9.6m
Weekend Gross (International)=$10.3m
Domestic/International/Worldwide=$48.3m/$20.5m/$68.8m
Magic Mike ended its run with $113m domestic/$167m worldwide, and its sequel is not going to match either of those totals. However, after its disappointing debut it only declined 25% this weekend, suggesting fantastic word-of-mouth.
7) Ted 2
Production Budget=$68m
Weekend Gross (Domestic)=$5.6m
Weekend Gross (International)=$12.4m
Domestic/International/Worldwide=$71.6m/$53.2m/$124.7m
8) Self/Less (Debut)
Production Budget=$26m
Weekend Gross (Domestic)=$5.37m
Weekend Gross (International)=Less than $100K
Worldwide Debut=$5.43m
It must have been bittersweet for Ryan Reynolds at Comic-Con this weekend. Everyone there treated him like a hero, giving his Deadpool trailer a standing ovation. However, by the time he took the stage he had to know his current movie, Self/Less, was yet another box office dud in a career full of them, most notably Green Lantern and R.I.P.D. Self/Less is a body-switching sci-fi thriller, and it was made outside the study system, co-starring Ben Kingsley and directed by Tarsem Singh (The Cell, Immortals). According to THR, "A good chunk of the movie's budget was covered through foreign presales."
9) Baahubali: The Beginning (Debut)
Production Budget=$40m
Weekend Gross (Domestic)=$3.5m
Weekend Gross (International)=$26m
Worldwide Debut=$29.5m
An old-fashioned historical epic, Baahubali is the most expensive movie in India's history, and it has been split in half, with "The Beginning" appropriately serving as Part 1. As described by The Guardian, "[Baahubali]'s a throwback, the kind of peppy serial that would have graced the multiplex in the days before product-placement, billion-dollar PR campaigns and obligation 3D, when the sole components required for a blockbuster were a hero, a villain, a few fights, a few songs, and a happy ending." It set a record for biggest opening weekend in India for an actual Indian-made film.
10) Max
Production Budget=$20m
Weekend Gross (Domestic)=$3.4m
Weekend Gross (International)=Nothing
Domestic Total: $33.7m
What Left the Top 10?:
Spy – Current total: $103m domestic/$219m worldwide on a $65m budget
San Andreas – Current total: $150m domestic/$449m worldwide on a $110m prod. budget
Me and Earl and the Dying Girl – Current total: $5m domestic
Dope – Current total: $15m domestic
Spy has turned into Melissa McCarthy's biggest international hit (and by a very wide margin), and San Andreas is easily The Rock's biggest hit outside of the Fast & Furious franchise. Despite being the talk of Sundance, Me and Earl never really broke through with audiences. Dope ended up doing better for itself despite the absence of any recognizable actors – Me and Earl at least has Connie Britton and Nick Offerman in supporting roles.
What's Up Next?: Ant-Man will probably follow in Marvel's post-Avengers tradition of opening well above expectations while Amy Schumer's first movie, Trainwreck from director Judd Apatow, is on track for a debut in the high-teen millions. R-Rated comedies have mostly disappointed this summer, but Schumer seems primed for a major breakthrough. At the very least, every pop culture site that obsessively posts clips from the latest episodes Inside Amy Schumer adores her. Lately, she's been in the headlines for the wrong reasons, defending herself after being accused to trading in racist humor, but that just means even more articles out there functioning to remind people that she has a new movie coming out.