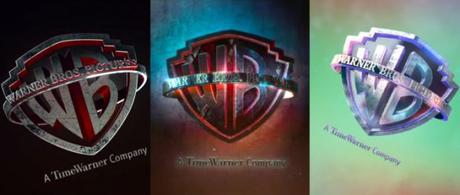 DC movie. Massive hype. Record-high opening in the US/Canada. Record-big second weekend drop. Sadness, frustration, anger.
Blah, blah, blah...
Been there, done that. First it was Batman v Superman (-69%). Now it's Suicide Squad (-67%). Next year it could be Wonder Woman and Justice League. Obviously, it's all quite bad. WB's two big DC movies this year now rank near the top of the all-time biggest second-week drops for superhero movies, joining the likes of Hulk (-69%), Elektra (-69%), Origins: Wolverine (-69%) and last year's Fantastic Four (-68%) debacle. For BvS, that translated to a box office run which fell $130m short of expectations: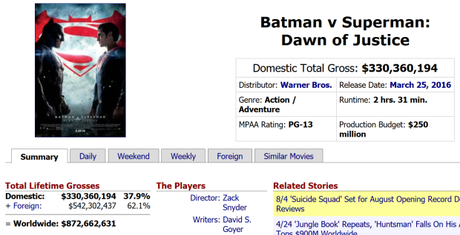 Suicide Squad
at least has a lower bar for success, with $750m-$800m worldwide reportedly being the goal. Here's where it sits after 10 days: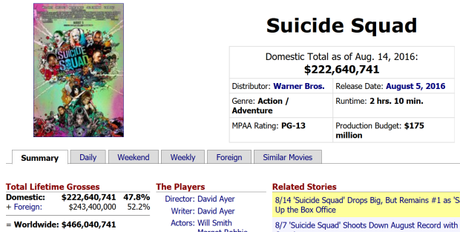 But just because
Suicide Squad
plunged at the domestic box office this weekend doesn't necessarily mean it's also doing the same thing in every country around the world.
Or does it?
We always hear about box office in us (domestic) versus them (foreign) terms, or maybe us, China and everyone else. Makes sense. The US and China's combined global box office gross is more than the next 19 foreign markets in the world combined. However, a movie as big as Suicide Squad still comes out in all of those countries, and pretty much anywhere else in the world that has a theater.
In fact, Squad is currently playing in over 30 countries, including biggies at the global box office market like South Korea and Australia and relatively small players like the Czech Republic. However, at the time of this writing second weekend data is only available for 12 of Squad's countries, 3 of which (Slovakia, Bulgaria, Iceland) are showing the film in less than 30 theaters. Additionally, those three will contribute less than $1m in total box office to Squad's global take. As such, I collected the second-weekend data from the 9 other countries, all of which have already passed the $1m mark in Squad box office and are exhibiting the film in at least 60 theaters. I focused specifically on the percentage drops in each country, and then compared those results to the drops experienced by BvS and Man of Steel.
The question: Is Suicide Squad's second-weekend domestic plunge happening everywhere else in the world, and/or is it declining roughly on par with what BvS did in the same territories?
Note: Among the listed countries on the following chart, South Korea is the 5th biggest international box office market, Australia is 8th, Mexico is 9th, the Netherlands are 15th and the rest are outside the top 20, as per the MPAA.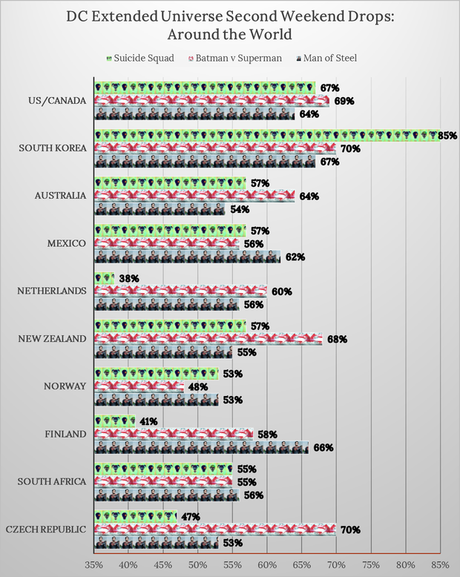 So, South Korea (look at the 85% decline!) and Norway turned on
Suicide Squad
faster they turned on
Batman v Superman,
Mexico and South Africa seem to regard the films as equals and Australia, Netherlands, New Zealand, Finland and the Czech Republic all seem to prefer
Squad
to
BvS
. Heck, several of the countries from that last group also dug
Squad
more than
Man of Steel
.
Across this subset of countries, Squad does not appear to be declining quite as dramatically as it is in the US nor is it not uniformly on par with BvS everywhere else in the world.
Here's how that compares to three films from the Marvel Cinematic Universe, specifically using Guardians of the Galaxy as a Suicide Squad comp (same release slot, same lots of things other than quality) Civil War for BvS (hero vs. hero angle, released one month from another) and Iron Man 3 for Man of Steel (they came out the same summer)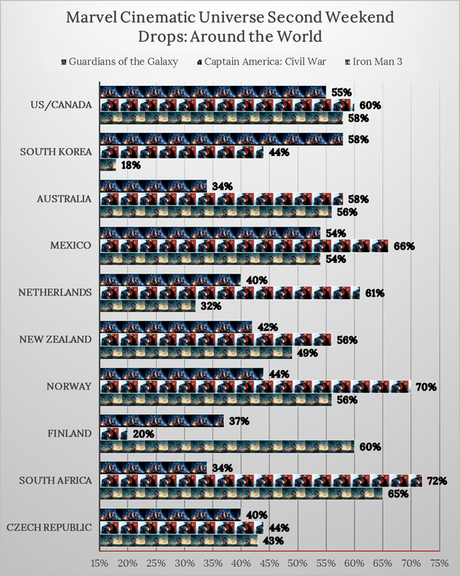 Source: BoxOfficeMojo