09/16/2011 – by Cynthia Wright
Maryland State Police have charged 19-year-old Alexis D. Simpson with first degree murder in the stabbing death of her college roommate, Dominique Frazier. The two were roomed together at Bowie State University.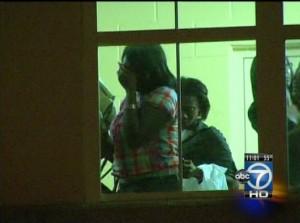 Students React
Currently, authorities believe that Frazier was stabbed over how loud an iPod was being played but that hasn't been confirmed. Rumors have also circulated that the scuffle might have been about Frazier (whose Twitter had #TeamLesbian on it before it was taken down) and Simpson's interest in the same girl. Either way, no one is entirely sure what caused the situation to escalate. The police have obtained a search warrant for the on-campus suite that Frazier and Simpson shared with two other students.
Excerpt from International Business Times:
At about 8 p.m. Thursday night, police from nearby Prince George's County received a 911 call of a cutting incident in the school's Christa McAuliffe Residential Community building. Police found the victim, later identified by Maryland State Police as Dominique T. Frazier of Washington, unconscious in the hallway on the second floor of the dorm. Frazier was taken to a nearby hospital, where authorities she died a short time later. She was 18.
While Simpson, at first, fled the scene, she turned herself in four hours later. Frazier's body will be transported to the Office of the Chief Medical Examiner in Baltimore for an autopsy.