This post may seem odd as I actually live in Bangkok but living here I do always feel like a visitor and, as Bangkok is a multifaceted city, at times I just like an escape to unfamiliar surroundings. For this Bangkok's boutique and design hotels are to thank, those which bring something new and exciting to the city and those which escape the blandness of generic international brands. Also we do like a bit of luxury. Birthdays, celebrations, unplanned romance or just a break from the cat; here are our favorite design and boutique hotels in Bangkok city, where the hotel is the destination.

---
1. Tenface Hotel (Upper Sukhumvit)
Tenface was the first of my obsession with Bangkok boutique hotels, a personal favorite and one of the more affordable of this list. As an interior design student I brought Fanfan to Tenface to woo her with the outstanding concept and creativity of this original, luxury boutique hotel (I won my kudos for it). Tenface Hotel is urban, edgy and the design is inspired by the mythical Thai fable of Ramakien following the journey of Tosakan a ten-faced giant who has the ability to see the world different to others. For me it is the ideal urban hideaway and for tourists it encourages the independent travellers to get out and experience the city for themselves with free sim cards, skytrain passes and expert advice from the hotel's 'entertainment guru' who is 'in the know' with offbeat attractions and events in the city. While the location isn't ideal it only takes a short taxi to find both Sukhumvit's entertainment district and Siam's central shopping area. The Chit Lom Skytrain station (BTS) also a short walk (or complimentary tuk-tuk).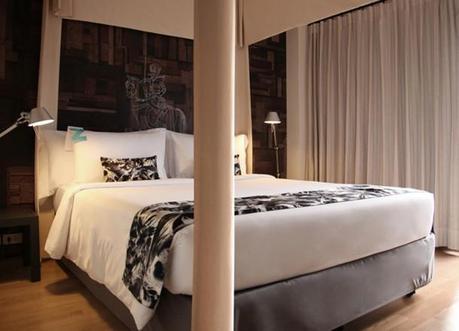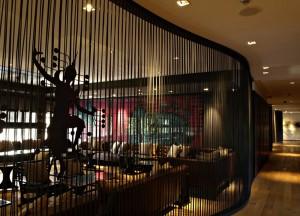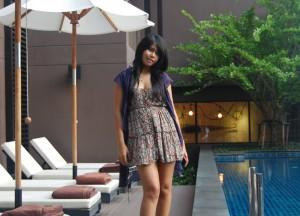 ---
2. Praya Palazzo (Riverside)
Located on the banks of the Chao Phraya River, the Praya Palazzo Hotel offers a charming riverside experience which in contrast to my high-rise, urban surroundings is a welcome break. It tops my to-do list for boutique hotels, to date unattainable as one of the more expensive boutique hotels of the city (and rightfully so). This place is sincerely beautiful, set in a historical mansion dating back to the ancient kingdom of Siam, now renovated to a stylish, luxury boutique hotel. While hidden from the chaos of Bangkok's central areas Praya Palazzo is still within easy reach of the Old City and Rattanakosin Island. A short journey brings you to Bangkok's top historical and cultural attractions including the Grand Palace, Reclining Buddha, Temple of Dawn (Wat Arun) and Bangkok's Chinatown. Access to the hotel is only by traditional wooden barge.
BTS: Phaya Thai   –   Prices Start: 4,248   –   Full Details >>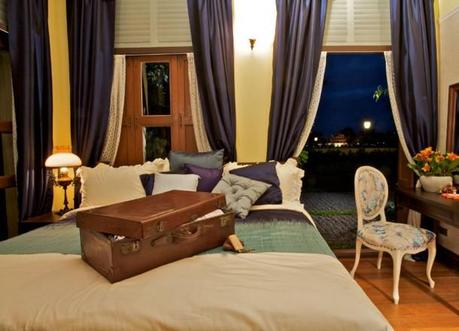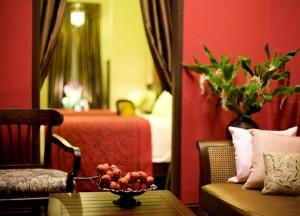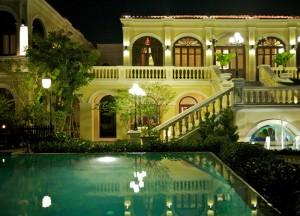 ---
3. The Sukhothai (Sathorn / Silom)
Capturing the beauty of the past, the Sukhothai, named after the ancient Siamese capital, is the most 'Thai' of our collection and boasts refined interiors against enchanting Thai artistry. Everything about this boutique hotel is luxury, the suites of teak flooring, luxurious Thai accents and views overlooking the surrounding gardens and decorative Chedi water feature, the Sukhothai is undeniably beautiful. The location is within a six acre compound in the less busy Sathorn area of Bangkok and offers an oasis of tranquility away from the chaotic hubbub surrounding. If you can pull yourself away from the compound a walk (or quick taxi) finds the lively entertainment district of Silom and the nearby Sala Deang Skytrain (BTS) station. Alone the 'Celadon Restaurant' is worth a visit, a multiple award winning Thai restaurant including "Best Restaurant in Bangkok" by Travel and Leisure Magazine (2011).
BTS / MRT: Sala Daeng / Silom   –   Prices Start: 5,400   –   Full Details >>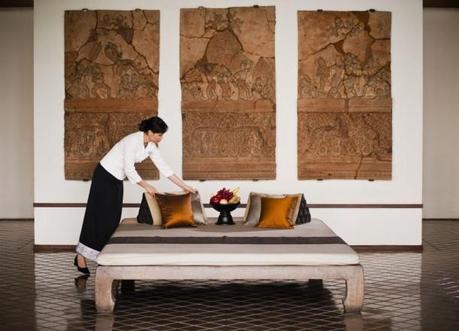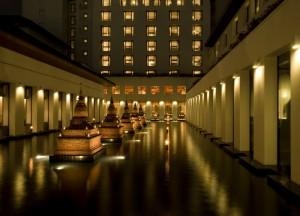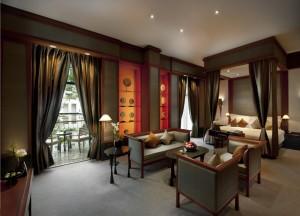 ---
4. S31 Hotel (Mid-Sukhumvit)
This would be my go-to hotel for visitors to Bangkok's Sukhumvit area; mostly for the views. While many boutique hotels fail to reach heights of surrounding buildings, the S31 hotel starts on the 8th floor meaning all suites bring top Bangkok city skyline views; views which seamlessly blend with the hotel's minimal design. The S31 Hotel was created by an award winning architect (Sumej Jumsai) and the boutique hotel brand 'the S Group' have two similar urban retreats nearby – the S15 Hotel and one for the budget traveller The S33 Hotel. Every suite includes an eight foot wide bed, goose down bedding, windows across an entire wall and freestanding bathtubs. The perfect urban hideaway. *Note pay that little extra for a corner Junior Suite with two glass walls and panoramic views. S31 sits on the main Sukhumvit Road between Phrom Phrong skytrain (BTS) and the Asoke Skytrain Station.
BTS: Phrom Phong   -   Prices Start: 2,800   –   Full Details >>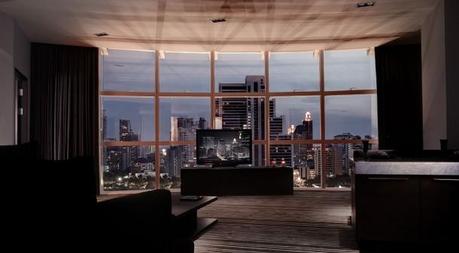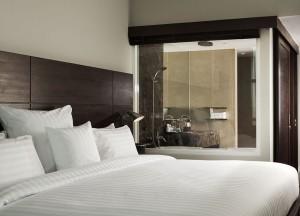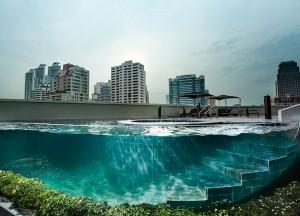 ---
5. Shanghai Mansion (Chinatown)
An escape not only from Bangkok but Thailand and the 21st century. At Shanghai Mansion you're whisked back to the romance of old Shanghai with suites draped in canopies, lanterns, mustards and clarets. As expected this vintage, boutique hotel is found snug in the center of Yaowarat Road; the main street of the central Chinatown hubbub. It also gives the ideal vantage point for exploring Bangkok's Old City and the famous temples within. A short taxi (or long walk) finds the Hua Lamphong underground (MRT) and train station giving access to Bangkok's convenient rail networks. To replicate the experience without staying at Shanghai Mansion try their swinging onsite 'Cotton Jazz' bar.
MRT: Hua Lamphong    -    Prices Start: 2,200   –  Full Details >>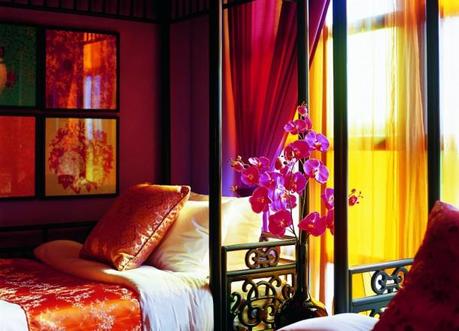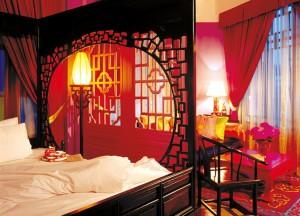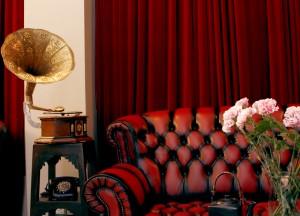 ---
6. The Metropolitan (Sathorn / Silom)
So the Metropolitan Hotel is bigger than boutique but the design and onsite treats hold it in my top design hotels in Bangkok. The Metropolitan is authentic yet urban with clean lined style against local teak and Thai silk bedrooms and limestone and mosaic bathrooms. The main pull for most however is the onsite Nahm, an award winning restaurant of Michelin Starred chef David Thompson. Nahm is now rated in the top 50 restaurants of the world and if you plan to do a lot of eating, there are few better places to stay. The Metropolitan Bangkok is found in the Sathorn area not far (short taxi) from the lively Silom area and Sala Daeng Skytrain station.
BTS / MRT: Sala Daeng / Silom    -    Prices Start: 3,120   –   Full Details  >>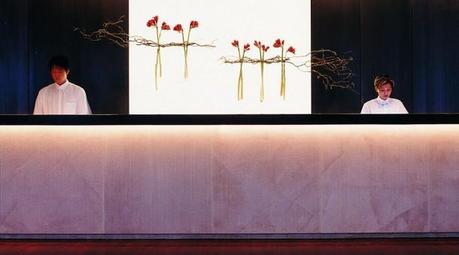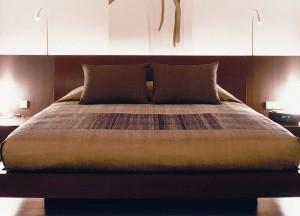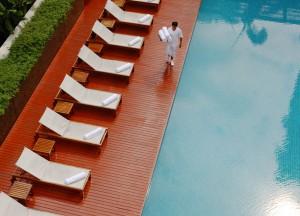 ---
7. Hansar Hotel (Silom / Sathorn)
I know very little about Hansar…. other than it wins a whole lot of boutique hotel awards and their Vertigo Suite is in the slickest I've ever seen. With multiple awards the Hansar Hotel shows to lead the way in urban boutique hotels worldwide; and it boasts enchanting views, architectural elegance and timeless style. Hidden in a secluded compound away from the 24 hour bustle of Bangkok's entertainment areas Hansar is yet just a quick taxi to find the heart of the city. A short walk will find the Ratchadamri Skytrain Station (BTS) and Lumpini Park.
BTS: Ratchadamri   –   Prices Start: 4,996   –   Full Details >>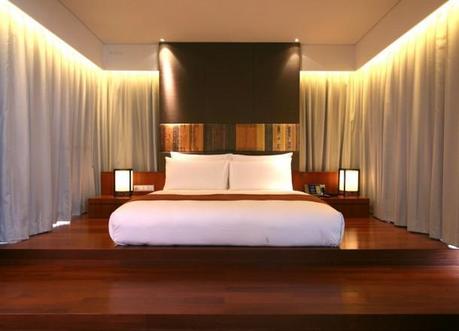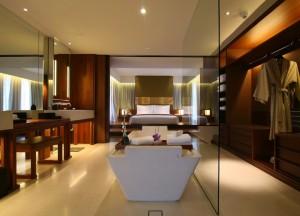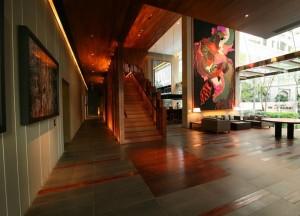 ---
8. Hotel Muse (Central Siam)
Hotel Muse wins the list hands down for exceptional design and décor. While not exactly 'Thai' this plush, urban-residential accommodation devotes 'turn-of-the-century' grandeur and its themed concept makes for the perfect escape from city surroundings. The on-site food and drinks venues are equally as distinctive with the Speakeasy Rooftop bar quickly becoming one of Bangkok's 'hippest' hangouts, alone worth a visit. The Muse Hotel is located on Langsuan Road a short walk from Chit Lom skytrain station (BTS) and a quick stop from Central Siam shopping district. Two stops in the opposite direction finds Sukhumvit's top entertainment and restaurants.
BTS: Chit Lom    -    Prices Start: 4,675   –   Full Details >>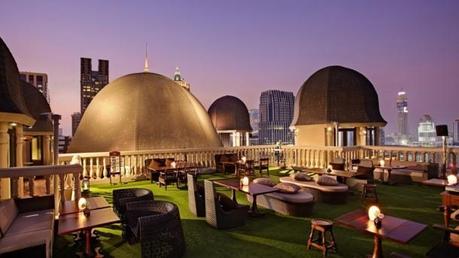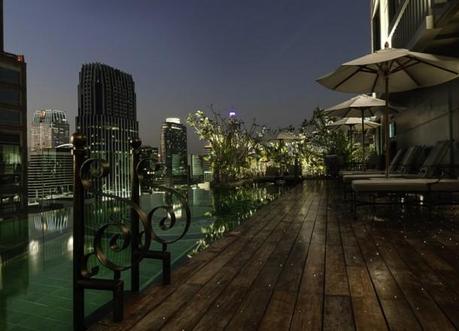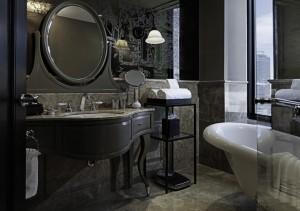 ---
9. Ma Du Zi Hotel (Mid-Sukhumvit)
Ma Du Zi models itself on privacy and discretion as this one-of-a-kind boutique hotel allows advanced 'reservations only' and prohibits walk-in customers. Again the hotel never gives out guest names and 'Guest Codes' or 'Secret Words' are used to identify hotel guests. Ma Du Zi is therefore the perfect Mr and Mrs Smith experience. Additional pleasures at this boutique hideaway include infinity bathtubs, Jacuzzis and the catering to every, exclusive guest need. Ma Du Zi is located a short walk from the Asoke / Sukhumvit interchange where both Skytrain (BTS) and Underground (MRT) meet. A popular hotel with the local hipster crowd (maybe).
BTS / MRT: Asoke / Sukhumvit   –   Prices Start: 3,799   –   Full Details >>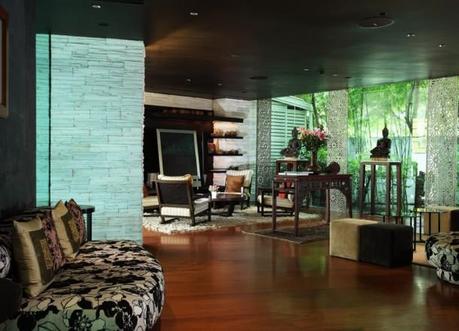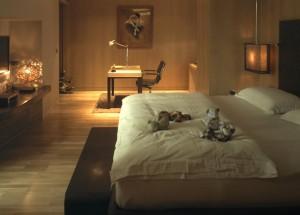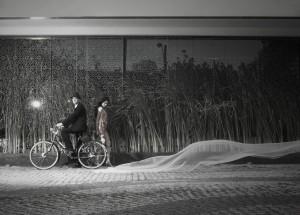 ---
10. Lebua Hotel (Riverside)
Possibly the most famous hotel in Bangkok yet the hotel itself gets continually overlooked. The Lebua Hotel is famed location of the alfresco restaurant and bar, Sirocco and Sky Bar, a top spot for tourists and well known for its appearance in the Hangover II movie (try the Hangovertini). But the hotel itself needs its own mention, with breathtaking vistas over Bangkok and the passing Chao Phraya River, you get everything the bar offers yet it's not overpriced. Lebua Hotel is found on the top floors of the State Tower building, next to the Chao Phraya River, and within walking distance of the convenient Skytrain network (BTS) at Saphan Thaksin station.
BTS: Saphan Thaksin    -    Prices Start: 5,064   –   Full Details >>