Good morning fellow bloggers! For those of you in the U.S. today is a day filled with BBQ and family for a holiday that, well, I've never really understood the meaning of myself. Labor Day.  Which, let's be honest sounds like a day where we should be doing labor rather than taking the day off from it.  Although I'm working all day today at the department store.
For the last week ever.
Because, ladies and gentlemen (those who don't follow me on twitter), I have gotten myself a day job.  In the great battle of should I work in education or publishing, the universe has decided (and in line with what I was hoping, I'll add) and in one week from today I will start as an Acquisitions Editor for a publishing company.  I'm not going to post the name of that company since I still want this blog to stay personal and not work related, but it's not one of the big five (I'd hate to live in NYC) and it's fairly close to where I live now.  So, basically, the perfect job at a remarkable company doing work I can get up in the morning and get excited about.  Does it get better than this?
Yes.  Yes it does.
Because I also got in the mail a belated birthday present from my best friend doing an internship down at Disney (yes, we are as awesome as we sound).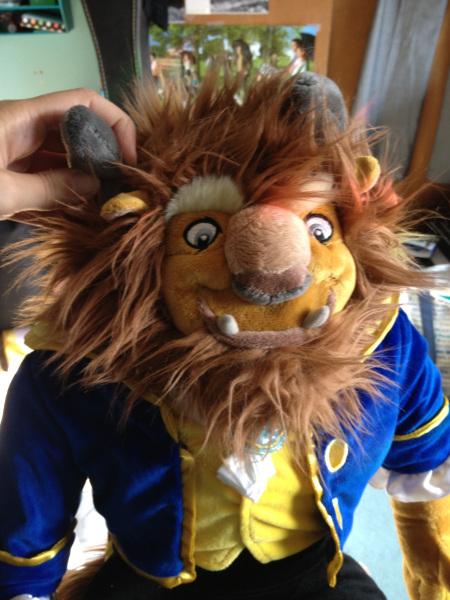 Is this not the most awesome stuffed animal/beast ever?  I was given specific instructions to post a picture on my blog with my present.  I was told "it'd be cool if you posted it on your blog so the whole world can see what an awesome friend I am"  Right, Sam?  (no, those weren't her exact words, I'm paraphrasing…and exaggerating….  But thank you for the most awesome gift ever  (this is your thank you note, don't expect a card ;P)
Well, I've already rambled on for longer than I like so this week's craft will be postponed.  I'm not sure how the blog will end up once the full time job starts (then it'll be full time job and grad school…the horror!) but I really love the blog so I'm going to try and keep it as up to date as possible with maybe a few empty days here and there.  But no promises.
Hope you all have a good week this week.  Enjoy your holiday! Enjoy your week!  And do something crafty!